Galaxy Nexus + Galaxy S3 = The Newly Announced Galaxy Premier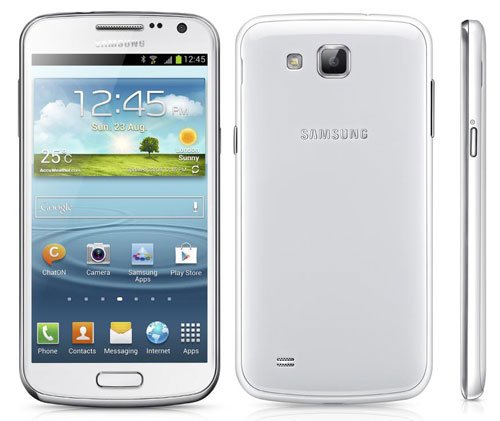 Samsung has officially announced the Galaxy Premier, which is basically an updated Galaxy Nexus that looks like a Galaxy S3 (running Touchwiz). While it's certainly a nice device, and almost powerful enough to be considered high end, the current price point that it's listed at has already pretty much killed its chances for success in my eyes. Let's have a closer look at it.
Here is a quick spec rundown:
4.65 HD Super Amoled Display (1280 x 720)
8MP back cam
1.9 MP front facing cam
Full HD recording support
8GB and 16GB versions with expandable memory up to 32GB
1.5Ghz dual core processor (not sure which one is being used, but it doesn't seem to be anything Exynos)
Android 4.1 Jelly Bean
NFC
S-Beam
Touchwiz UI
HSPA and LTE (depending on region)
2100 mAh battery
Certainly not a weak device...but hold on. The issue isn't specs or design here, but the price. Unless this is a mistake, the device will sell in the Ukraine for 5555UAH, which converts to 525 Euro (681 US dollars). I just recently purchased my Note 2 for 540 Euro, which is superior in every single way to the Galaxy Premier, which is what makes me wonder what the hell Samsung is thinking.
I honestly hope this is a mistake, as you can purchase a Galaxy S3 here in Germany for the same price (which is also superior to it in every way). I'm not sure what Sammy's logic is for placing this device at this price point, and I certainly hope that the price drops before its release. Speaking of release, it will be available starting in November/December of this year.
It's kind of hard for me to get excited about this device if it does indeed cost this month. But until the official release date, I'm guessing that price could quickly change. It definitely needs to, especially considering that 300 dollar price tag for the much more powerful Nexus 4.
What do you guys think? At what price point would this device have to be for you to consider buying it?
Let me know what you think in the comments below!
Picture credits: sammyhub.com/