Samsung Galaxy Q (GT-B9150) Has Flexible Display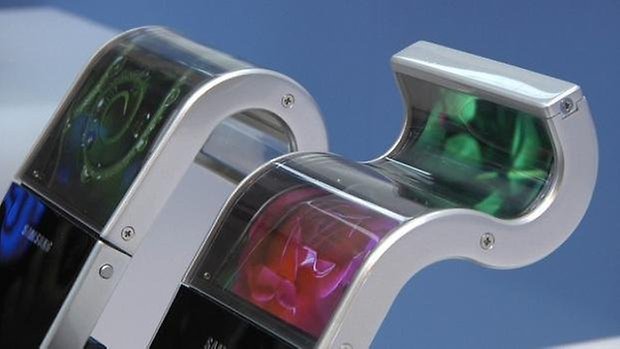 It goes without saying that prior to any huge event, there will be plenty of rumors flying around, and the same can be said for the Samsung Galaxy Q, also known as GT-B9150 if model numbers are your cup of tea. So far, the kind of specifications concerning the Samsung Galaxy Q that you read about here should be taken with a pinch of salt, but if they turn out to be true at this year's Mobile World Congress announcement, then it should be a smartphone that will definitely generate its legion of fans by virtue of its foldable Super AMOLED HD display.
Yes sir, Samsung GT-B9150 aka Galaxy Q will come with not one, but a dual Super AMOLED HD display that can be folded, of all things. Visual quality is not compromised either, as this foldable display will carry a resolution of 1,920 x 1,080 pixels, running on a dual-core 1.7GHz Exynos 5250 processor which we wished could have been quad-core.
Other than that, you get 2GB RAM that will be accompanied by an 8-megapixel shooter at the back, with a 2-megapixel camera in front. The beefy 3,500 mAh battery ought to be enough to make sure that the Samsung Galaxy Q comes with decent battery life for an entire day's use, and it will be powered by the latest Android 4.2.1 Jelly Bean operating system.
It is nice to see Samsung's research and development in the flexible display technology segment bear fruit at long last for the consumer. Interesting times are definitely ahead, and we do wonder just how much of a premium will Samsung slap on the Samsung Galaxy Q when it finally hits the markets.