Samsung Galaxy S3 On Preorder?? Have a look here! (I Call BS)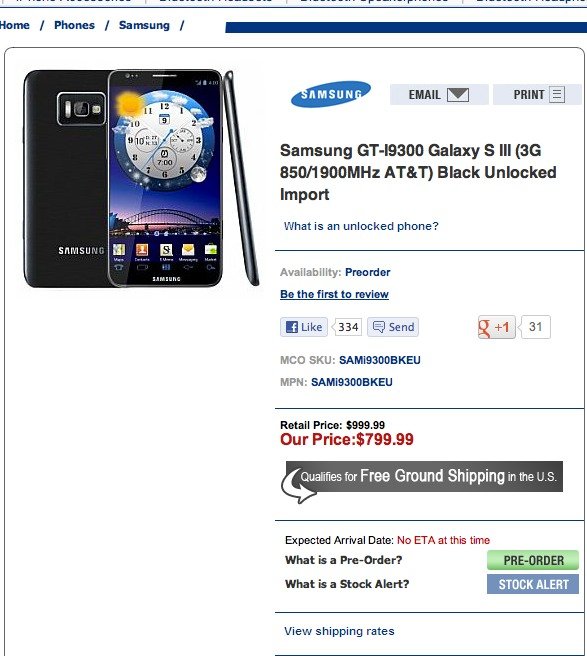 What...the...eff...is....this? Ok...one of 5 things are happening right now: 1.I'm drunk 2. I'm dead and heaven has mobile phones 3. I'm dead and hell has mobile phones. 4. This is complete BS 5. It's the most insanely dumb/brilliant marketing scheme I have ever witnessed. What am I ranting on about? Well, as you can see from this picture, apparently you can pre-order the Samsung Galaxy S3 from this website...um......now?
Well, I don't know about you guys, but I'm gonna quickly call BS on this one (as I'm sure most of you are). I mean yes, the picture does show what I'm HOPING is the Galaxy S3. But have a look at the product description:
"Samsung Galaxy S3 is rumored to be company's next flagship. It is said that it will run Android 4.0, under the hood will be a Samsung developed 1.8GHz quad-core CPU with 2GB of RAM, 32GB of internal memory and a microSD slot aboard. The screen will be 4.65 inches of Super AMOLED III delight. Super AMOLED III, according to the tipster, is being developed specifically for this model".
Umm.....yeah. That really sounds legit doesn't it, and might I add is a fine piece of high quality writing! I mean my God...they actually say that "it is said it will run Android 4.0", which is a clear indicator that they don't actually have the phone. The phone is apparently selling for 799USD, but I wouldn't go for your wallet in this case, as who knows where your money is actually going.
Then again, imagine if this was just a marketing ploy from Samsung....:-D
The website that the "I'm pretty sure this is BS" preorder can be placed on can be found here.