Black 64GB Samsung Galaxy S3 Now Available Online With A Big Price Tag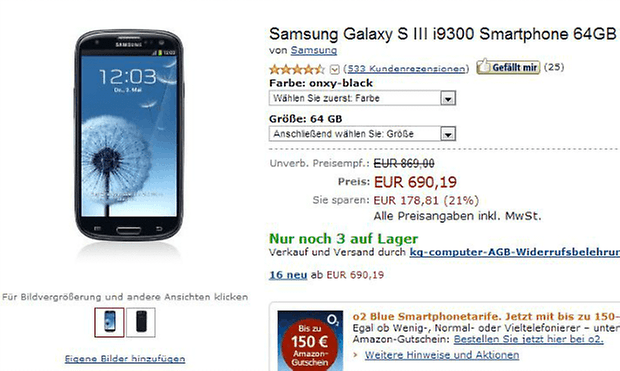 We all know that the Samsung Galaxy S3 has been a smash hit with consumers worldwide, and with it's powerful hardware, sleek design, and the amount of aggressive marketing that Sammy is using to push it, it's no wonder. Rumor has it that more color variants and a mini version are on the way, and today a black 64GB version of the Samsung Galaxy S3 has popped up on multiple online retail sites (Amazon included). But be warned...it comes with a pretty hefty price tag.
Android Authority found the black version of the device on 2 Italian websites and on Amazon Germany. In Italy, it can be purchased on ePrice and Marcopolo 799 Euros. That's over 1000 US dollars folks, and is certainly no small chunk of change for a smartphone. Interestingly enough, Amazon Germany sells it with a much cheaper price tag of 690 Euros, which is around 892 US dollars. I never thought I would live to see the day that I could build a high end gaming PC for the price I pay for a smartphone!
If you're interested in shelling out the bank for the phone, it can be purchased on Amazon Germany here, on ePrice (Italy) here, or at Marcopolo (Italy) here.
Would you guys shell out this much bank for a black 64GB Samsung Galaxy S3?
Let me know what you think in the comments below!