Samsung Galaxy S3 Takes After The Human Torch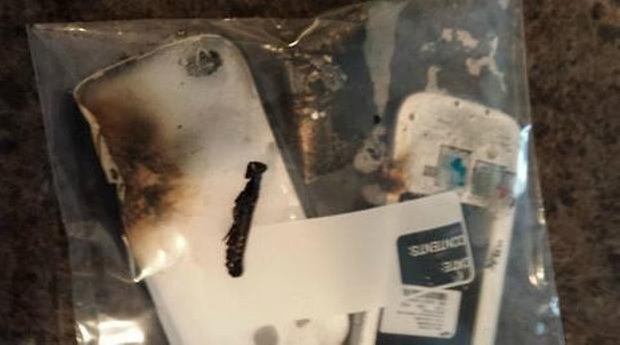 "Flame on!" was most probably the phrase that a certain Samsung Galaxy S3 owned by a Reddit user exclaimed at approximately 3.15am EST, where it burst into flames approximately an hour after it was plugged in to recharge its drained battery in order to have it be ready for a brand new day's worth of emails, phone calls, social networking and text messages. Granted, there has been reported cases of lithium ion batteries spontaneously combusting in the past, but this could very well be the first documented case of a legit, unrooted and stock Galaxy S3 to date if it is a bone fide occurence.
The owner of the now burnt Samsung Galaxy S3 has ranted on Reddit, and below is his recap.
Last night at about 3:15am EST (about 1 hour after i plugged it in and went to sleep) I was awoken by a loud noise and a weird squeaking sound. (I charge my phone while I'm sleeping on my bed right next to me)

So, I woke up, and saw a ton of smoke coming out of my phone – it also smelled REALLY bad. Half asleep, I jumped out of bed and turned the light on, only to see that my phone was just beginning to go on fire. I dumped a glass of water I had in the room on it to stop it from burning...then woke up my brother to come help. The smoke smelled so bad and wafted through the entire second floor of my house. I had a foam mattress pillow top that had a hole burned through it too–which we later threw out because it was still burning throughout. Also, some of the plastic on my phone was melting and kind of shooting out of it, and some landed on my pinky finger and burned some skin off (very small burn though).

Does anyone have any suggestions what I should do? Call Verizon? Samsung? Have a lawyer call them? I'd also like to get some type of replacement phone in the meantime...
To the numerous Samsung Galaxy S3 owners out there who are reading this, have you felt your Galaxy S3's battery end up exceptionally hot, so much so that you actually feared it bursting into flames in the process? I am assuming that you have a stock version of the Galaxy S3 with original parts thrown in.