[Video] Samsung's New Galaxy S4 Commercials Make Us Feel Things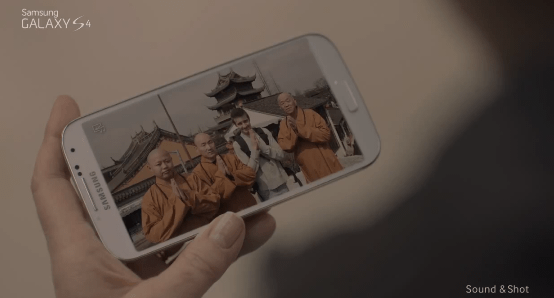 Samsung's marketing machine kicked into high gear today as the company released three new ads for their soon-to-be-released Galaxy S4. Each depicts a distinctly Samsung feature – Sound Shot, S Translator and Group Play.
Samsung has already spent millions of dollars renting out Times Square and Radio City Music Hall for the big Galaxy S4 reveal, and it's clear they've spent a lot more money on these brilliant new ads. Each shows how Samsung's features work seamlessly in real life situations.
The first ad, for Sound Shot, begins with a shot of a mother and son embracing before his departure. While he's out of the country, exploring a new culture, he sends home pictures also include a short audio clip – of musical instruments, bells ringing, and a note telling her he misses her. It's a very effective ad, and I could see myself using this feature a lot. It's also unique to the Galaxy S4.
In the second at, for S Translator, we can see how the feature might help someone navigate around a new city, and even talk to strangers if we don't have basic command over another language. This feature isn't unique to the Galaxy S4 – Google Translate's latest Android app works roughly the same way — but the viewing public probably doesn't know this, and it's still an effective and emotional ad. Group Play, meanwhile, allows multiple phones to play the same track at the same time – turning half a dozen phones into a boombox – which is helpful if you're trying to get pumped up before a football game. I can't see myself using this feature much – and doubt my friends have the phones required for it – but it's a cool feature nonetheless, and also unique to the Galaxy S4.
I wonder how much Samsung paid for the commercials and how many more will follow. Given the fact that the company spent over $400 million on ads last year (more than any other mobile manufacturer) I bet it was a lot, and I'm sure we'll see a few that go after the iPhone 5 soon enough.
Let the ad wars begin!