Samsung Galaxy S4's Exynos 5 Octa Outperforms HTC One + Sony Xperia Z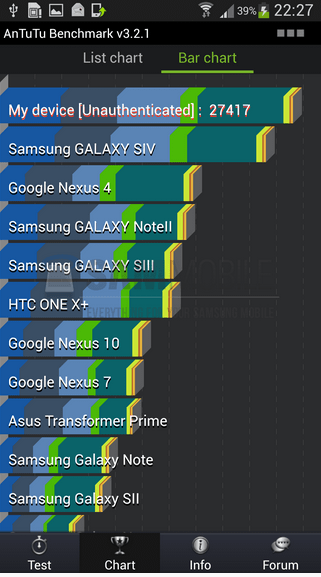 The results are in and the Galaxy S4's Exynos 5 Octa processor has beaten every other Android there.
On Quadrant, the Samsung GT-19500 model (a more technical way of saying the Galaxy S4 with Cortex-A16 Exynos 5 Octa chip) scored 12,726 points, which is higher than the HTC One, previously the fastest smartphone running stock out there. An even greater difference can be seen in the Galaxy S4's AnTuTu test scores, where the Exynos 5 Octa scored 27,417 – 10% higher than the highest score ever recorded.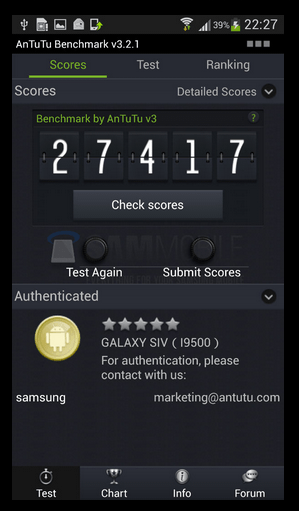 Together, AnTutu and Quadrant are all-around benchmarks that gauge nearly every component of the device – CPU, GPU, RAM, storage, etc. If a chip scores highly in both tests, you can be assured it will perform incredibly well in day-to-day tasks.
The Exynos 5 Octa processor contains both "big and little cores." The Cortex A 15 cores (big) are paired with energy efficient Cortex A7 (little) cores that take over when non-demanding tasks are being performed. The Cortex A15 is an incredibly fast processor, but it's too power hungry to be used alone in smartphones; thus, Samsung decided to pair it with the A7.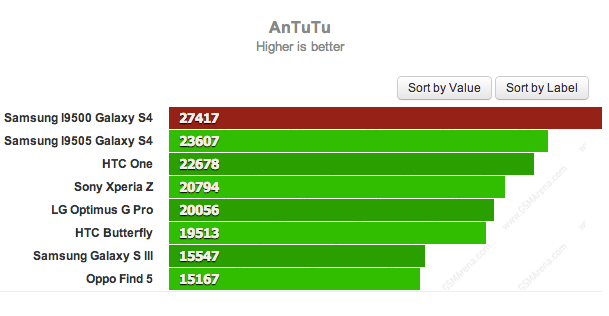 Not every Galaxy S4 out there is going to ship with the Cortex A15 though. At least initially, U.S. consumers – as well as those in Canada and Sweden – will see the Snapdragon 600 in their Galaxy S4 devices. The good news is that even the Snapdragon 600 has performed incredibly well in benchmarks as well, with a score of 23,607. That's faster than every other phone on the market except for the Galaxy S4 with an Exnos 5 Octa chip,
So, in summary: both variants of the Galaxy S4 are faster than any other Android (or iOS or Windows) device out there, but the Galaxy S4 with an Exynos 5 Octa Chip scored 27,417 to Snapdragon's 23,607. Both phones will doubtless have enough power and speed to be able to sustain intense multi-tasking and any demanding app you throw at them.