Smartphone Smackdown: S4 vs. HTC One, Xperia Z and Optimus G Pro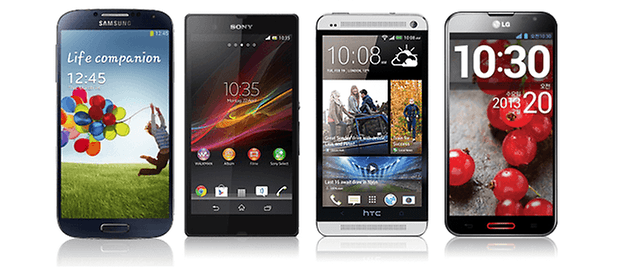 There have been a lot of comparison charts popping up recently, pitting the Galaxy S4 against a range of other phones, including the iPhone 5 and the Nokia Lumia 920. But, this being an Android, site, I think we can all agree we'd prefer to not be shackled by iOS or deal with the limited app ecosystem of Windows. How does the Galaxy S4 compare to the leading Android phones recently released? Here's a look at how the Galaxy S4 stacks up against the Sony Xperia Z, HTC One and Optimus G Pro: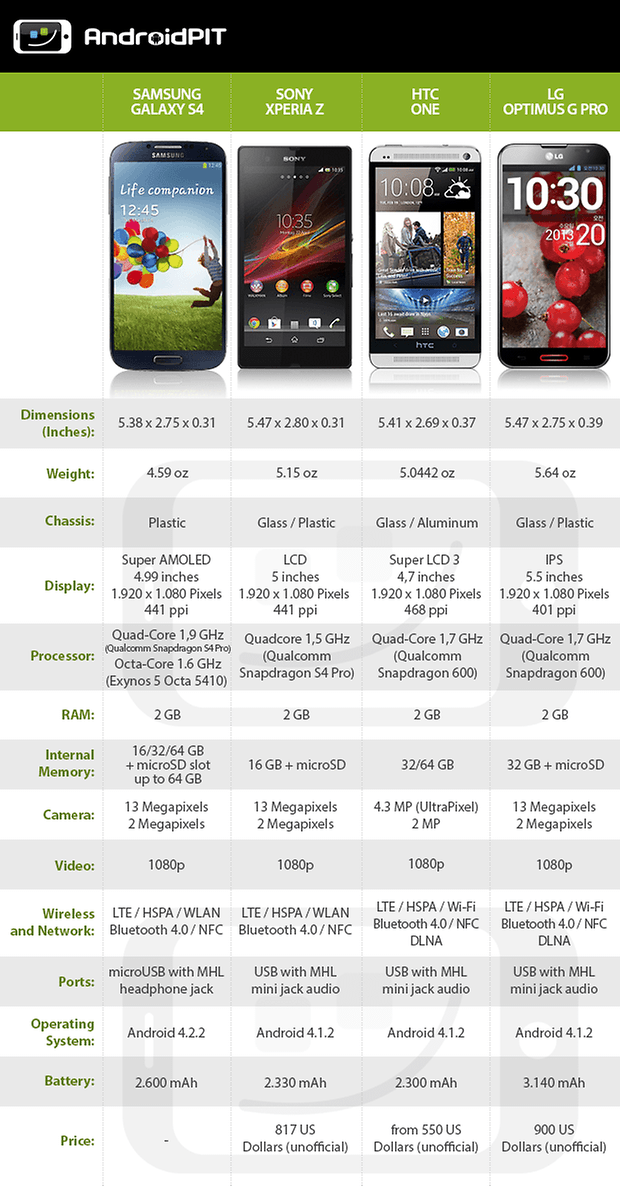 Android OS Version
The Galaxy S4 ships with Android 4.2.2, giving it a tiny leg up over the competition. The HTC One, Sony Xperia Z and LG Optimus G Pro ship with Android 4.1.2. That means, you'll be able to use new features like Photo Sphere and the new and improved lockscreen on the Galaxy S4, but not on any of its competitors.
Winner: Galaxy S4
Design
This one's a toughie. While the Galaxy S4 and the Sony Xperia Z are both thinner than the HTC One, the One is supposedly the most beautiful Android ever designed. This is not surprising; HTC's biggest selling point is its design and materials. That said, the Galaxy S4 is the lightest of them all, and ties for thinnest. So if that kind of thing is most important to you, the Galaxy S4 wins. Still, have you felt the HTC One? It feels amazing in the hand. The LG Optimus Pro is far too thick to compete in the design realm.
Winner: HTC One
Display
The HTC One, Sony Xperia Z, Galaxy S4 and LG Optimus G all have a 1080 x 1920p displays. But when it comes to PPI, the HTC One clearly wins, with a pretty incredible 468 pixels per square inch. The Galaxy S4 and the Sony Xperia have around 440 pixels per square inch, while the LG Optimus G has just 400 ppi. The Verge calls the HTC One the best-looking display ever created.
Winner: HTC One
Battery
In terms of sheer size, the LG Optimus G wins this segment, with a 3,140 mAh battery (the HTC One, Galaxy S4, Sony Xperia Z have 2300 2600, and 2330 mAh batteries, respectively). But we'll have to run a full battery of tests before we decide who wins this match.
Predicted Winner: LG Optimus G Pro
Processor
At least on paper, the Galaxy S4 has the fastest processor chip around, with a massive 8 cores, capable of speeds up to 1.9 GHz. The HTC One has a speedy 1.7 GHz quad-core processor, while the Sony Xperia Z has a 1.5 GHz quad-core processor. The LG Optimus G's 1.7 GHyz processor should suffice. In hands-on demos, ALL of these phones are fast, and it's not likely you'll notice a difference between them. But at least on paper, the Galaxy S4 wins for now…
Winner: Galaxy S4
Camera
The Galaxy S4 and the Sony Xperia Z both have 13 MP cameras, with a wide range of features. The HTC One has a 4MP Ultra Pixel camera which is supposed to be able to take in more light for superior night time shots. In the Verge's tests, the HTC One performed quite badly, while the Sony Xperia Z shined. We have no idea how the LG Optimus G's camera will perform, but it's also packing a competitive 13MP. We're guessing the Galaxy S4 will also perform well, but we can't really decide between the Xperia Z and the Galaxy S4 quite yet.
Predicted Winner: Galaxy S4 or Sony Xperia Z
Extra Goodies
Do you want a waterproof phone or one that doubles as a TV remote. Do you like the idea of the HTC One's blink feed – which curates all of your social networking and news feeds into one homepage or would you prefer a bunch of Samsung apps that help you train for a marathon, play games wirelessly among friends or share music via NFC? This one's all up to you.
Winner (our opinion): Galaxy S4
Conclusion
There are so many considerations to make when choosing a smartphone that it's impossible to declare a winner in a field where each competitor is so different. That said, I'm sure many will appreciate the wide range of special features Samsung has baked into its latest and greatest. It's a competitive entry that not only competes well on the spec side, but also brings a few irresistible innovations to the mix. Ultimately, the HTC One is the better bet, design-wise, but its camera is so bad that I'm guessing many won't bite. The Xperia Z is a gorgeous phone, but it doesn't have enough features to really compete in the big leagues. Which phone do you want to buy?