Samsung Galaxy S6 Edge Android update: latest news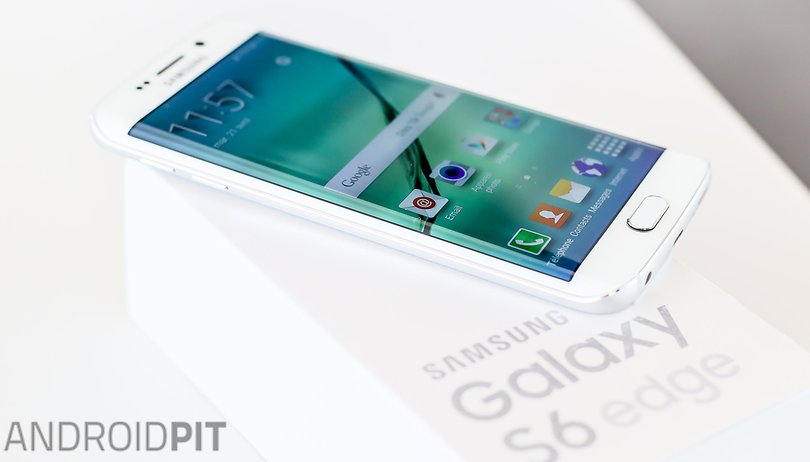 After a rather long wait, the Samsung Galaxy S6 Edge finally received the Android Marshmallow update in March 2016. With both the Samsung Galaxy S7 and Galaxy S7 Edge receiving the Android Nougat update recently, hopes are high that Samsung's 2015 flagship will follow suit. The latest news is that Samsung has started to rollout a Nougat update to Samsung Galaxy S6 Edge devices in Europe, India and Sri Lanka.
Samsung Galaxy S6 Edge Android Nougat update
AT&T has recently announced that the Galaxy S6 Edge will be receiving an update to Android 7.0 Nougat. The rollout has already begun and is being distributed via OTA, so it may take a couple of days to reach your device. The update weighs in at around 1.3 GB so you will need to ensure you have enough free space to download and install Nougat on your S6 Edge. The latest update includes Samsung Cloud and Samsung Pass, including a number of other fixes and enhancements. AT&T has also confirmed that the update will include the security patch for April as well.
For Europe-based Samsung Galaxy S6 Edge devices, the wait for Android Nougat finally appears to be over. Samsung began rolling out its Nougat update on March 29, arriving with the build number G928FXXU3CQC2. It also brought along with it the long awaited Android security patch for March as well as a few bug fixes. The OTA update may take a few days to reach you, but there's always the option of installing the update manually via the Settings.
If you were hoping to receive a timely Android Nougat update for your Galaxy S6, your hopes have just been crushed.
@harri_ashley The software update for the Samsung Galaxy S6 and S6 Edge has been delayed while we review its quality. 1/3

— Samsung UK (@SamsungUK) February 27, 2017
In a tweet to a user on Twitter, Samsung UK confirmed that the Android Nougat update for both the Galaxy S6 and Galaxy S6 Edge has been delayed for a quality review. While we can only support Samsung in this step to ensure that future Android roll-outs are bug free and work seamlessly with their devices, it is slightly frustrating that users are still waiting for the Nougat update eight months after its general release.
Samsung Galaxy S6 Edge Android Update
| Samsung Galaxy S6 Edge | Android 5.1.1 | Android 6.0.1 | Android 7.0 |
| --- | --- | --- | --- |
| Verizon | Yes | Yes | Yes, delayed |
| T-Mobile | Yes | Yes | Yes, delayed |
| AT&T | Yes | Yes | Yes, delayed |
| Sprint | Yes | Yes | Yes, delayed |
Galaxy S6 Edge Android Marshmallow update
Verizon took to the airwaves on April 1 with news that was definitely not an April Fools joke. The carrier announced that it is beginning to roll out its Marshmallow update. The update will wash over the US in waves, so keep checking your device by going to Settings > About device > Software update.
For full details, visit our Android Marshmallow update overview.
Android 5.1.1: RAW support and lower ISO values
As expected, the international Android 5.1.1 update delivered support for RAW images and lower ISO values. Samsung didn't make the changes public, though, perhaps because they are not available via the stock camera or gallery app. If you want to shoot in RAW format and view images later, you'll need a third-party solution such as Camera FV-5 and Adobe Lightroom.
Galaxy S6 Edge Android Lollipop update
Sprint Galaxy S6 Edge Android update
Sprint has rolled out Android 5.1.1 to the Samsung Galaxy S6, bringing it up to build G925PVPU2B0F7. The update arrives at around 563 MB and brings with it some typical bug fixes and improvements.
Ensure your battery is charged to at least 50 percent before downloading the update, and check our Android 5.1 features page to see what else is included with the new software version.
T-Mobile Galaxy S6 Edge Android update
T-Mobile customers started to receive Android 5.1.1 in June 2015. The key feature to be added was Guest Mode, which lets you set up your phone so other people can use it without stumbling upon things you don't want them to. Read more about the improvements included in the T-Mobile update at the link.
Verizon Galaxy S6 Edge Android update
Verizon updated the Galaxy S6 Edge to Android 5.1.1 in August and followed that up with a fix for the Stagefright vulnerability in October and support for Wi-Fi calling in December.
AT&T Galaxy S6 Edge Android update
On September 25, AT&T released an OTA update, upgrading the S6 Edge to Android 5.1.1 Lollipop. The update also included a bundle of new additions, such as Android Pay, and offered up some improvements to audio and performance. The software version is LMY47X.G925AUCU3BO12.
Have you received the Android 5.1.1 update for the Galaxy S6 Edge? Are you looking forward to Marshmallow? Let us know in the comments.