Samsung Galaxy S8/S8+ Oreo update rolls out (again)
Well, here we go again. The official Android 8.0 Oreo update for the Galaxy S8 and the Galaxy S8+ is once more rolling out to users in Germany, with other markets expected to follow soon so long as everything goes smoothly this time.
The story of Oreo on the Galaxy S8 and Galaxy S8+ has not exactly been a triumph for Samsung. After a looong period of testing, Samsung took almost two weeks to roll out the final version of Oreo after the end of the beta period. Here's how to check for the update on your device and download it.
Android Oreo OTA rollout resumed
The relief of Android fans after the long wait was soon cut short after users reported that their devices were randomly restarting after the update to Oreo. The rollout was halted, but now Samsung has resumed the process and users in Germany are now once more receiving the OTA update, this time hopefully without any problems.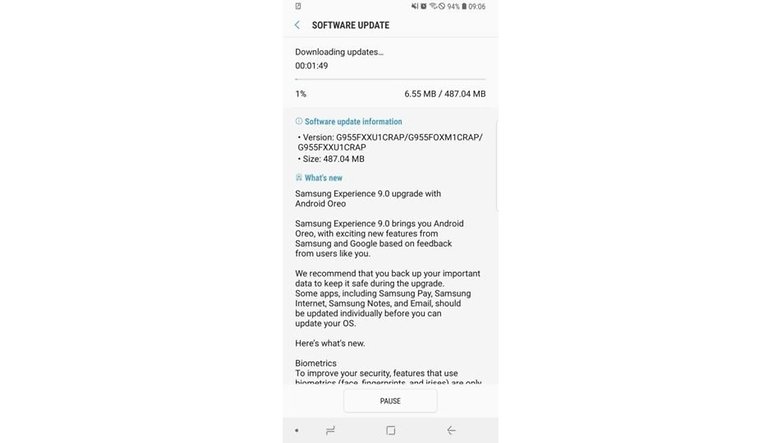 Android 8.0 Oreo's superpowers will soon be available to owners the Galaxy S8 and Galaxy S8+, along with the latest February 2018 security patch and the new version (9.0) of the Samsung Experience UX.
We managed to get Oreo on our own device during the initial rollout, so if you'd like a little preview of Oreo and the new Samsung Experience on the Galaxy S8, check out our first impressions in this article.
Updates take way too long to arrive
What do you think?
While the update will first be available in Europe, and likely first to owners of unlocked devices, we'll update information on US carriers as it becomes available.
Samsung Galaxy S8 and S8+ Android update
| | | | |
| --- | --- | --- | --- |
| Samsung Galaxy S8/S8+ | Android 7.0 Nougat | Android 8.0 Oreo | Android P |
| T-Mobile | Yes | Expected | ? |
| AT&T | Yes | Expected | ? |
| Sprint | Yes | Expected | ? |
| Verizon | Yes | Expected | ? |
| Unlocked | Yes | Expected | ? |
Samsung Galaxy S8 and S8+: how to get the latest version of the operating system
To check if your device already has latest the software update, follow these steps:
Step 1: Open the Settings on your Galaxy S8 or Galaxy S8 + and scroll to the bottom. Then tap the available option, Software Update;
Step 2: Then tap Download updates manually and see if any updates are available. If it exists, download the required files, and then tap Install;
Step 3: This step can take up to twenty minutes, depending on the upgrade. When you are done, you will see a message that the process has been completed successfully.
Remember that you can always choose to have the updates download automatically from the same menu.
If you have any questions, let us know in the comments! Let's hope the story of Oreo on the Galaxy S8 has finally reached its happy ending.