Galaxy Tab 11.6– 2 GHz Dual-Core With 11.6" HD Display In The Works?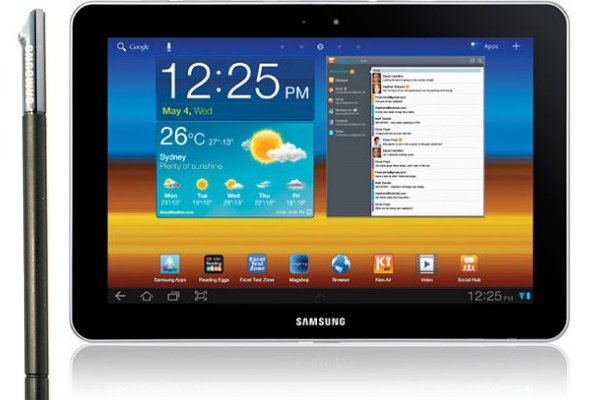 With the Samsung Galaxy S3 wiping the Android rumor mill into a frenzy, it's hard to avoid writing about Samsung's next great Android super phone. But with the most recent reports that the next Galaxy phone wont be making an appearance at this years Mobile World Congress in Barcelona, what else is there to write about? The Galaxy S3 is THE next major event in the world of Android and it's hard to imagine a MWC with out a Galaxy device...
Thankfully, Samsung is a company that rarely disappoints and if the latest rumors can be believed, they have a new Galaxy tablet in the works, the likes of which we've never seen before.
Last years Mobile World Congress saw Samsung introduce the Galaxy S2 – the best (at least by pure sales power) smartphone on the market– so it would be only fitting, if the Korean electronics giant would also introduce a device that could climb to the top of the mobile throne. Samsung very well may have found that device in the form of a new Galaxy tab sporting 2 GHz Exynos 5250 dual-core processors and a massive 11.6" display. Why do you need an 11.6" display you might ask? Well to make way for a 2560x1600 pixel resolution. (Yes, that sound you just heard was film geeks around the world cheering at once)
Of course, this is all just rumor and speculation but this isn't this first time those specs have made the rounds meaning it's even money, that a Galaxy Tab 11.6 is actually in the works.
The most recent round of Galaxy Tab rumors come courtesy of Taylor Wimberly from Android and Me, who supposedly got his hands on one of the rumored beasts at the CES in Las Vegas last month. If the rumors can be believed he even snapped a couple of quick beauty shots of the new Galaxy tablet but, much like with photos of Big Foot and UFOs, was quickly instructed by shadowy men in dark suits to delete his proof.
In the meantime, others have come forward to tell their tale of the latest from the Samsung labs; According to other reports, the Samsung Galaxy Tab 11.6 will come with an S-Pen– which makes sense given the international success of the Galaxy Note. Other reports say that the Galaxy Tab 11.6 will only be slightly larger then it's 10.1 inch cousin. The increased screen size will come by minimizing the display border mean the next Samsung Tab is looking to be nothing but display.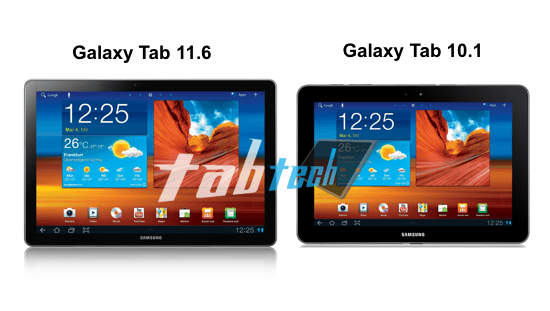 (picture: tabtech)
Personally, I don't own a tab as I think that my fleet of three laptops are more then enough to cover my daily needs. But it is getting harder to resist the pure power that OEMs are packing into the coming generation of Android devices.
I had been playing with the idea of getting a Galaxy Note as my next Android device but, if these rumors pan out, I might just keep my Xperia Play and opt for a Galaxy Tab 11.6"
What do you guys think? Is your next device a phone or are you going to make the jump to the upper leagues and take on an Android tablet? Let us know in the forum or in the comments below!