Samsung Rolls Out ICS Update For Galaxy Tab 10.1 (In Italy)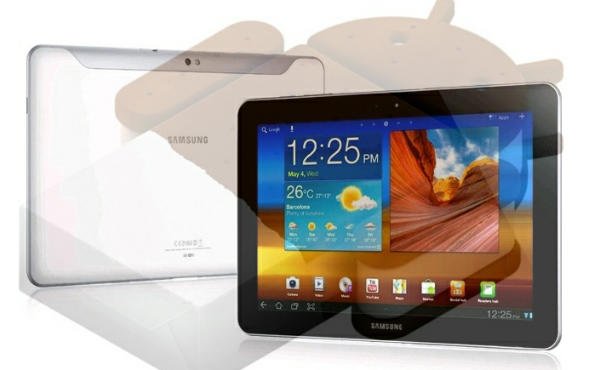 The Samsung Galaxy Tab 10.1 was the first Android tablet that I ever owned, and it sure did leave a mark on me. It was an amazing device, and showed me just how useful a tablet could truly be. The tablet came with Honeycomb out of the box, and owners of the device have been asking Samsung for a very long time about an Ice Cream Sandwich update. Well, owners of the device will probably be happy to know that the ICS update for the Galaxy Tab 10.1 has officially started rolling out in Italy, and is on it's way to additonal countries and additional Samsung tablets in August.
This particular upgrade is for the P7500 model, which is the 3G variant of the tablet, and can be updated via OTA or Samsung Kies (if you're in Italy). While this update is country specific, users in other countries should keep their eyes peeled, and should occasionally go into "settings" on their devices to manually check for the update. The rest of the 10.1, 7.0, 7.7, and 8.9 models are scheduled to receive the update in August, so you shouldn't have to wait long.
Here are some additional details about the update, courtesy of Sam Mobile: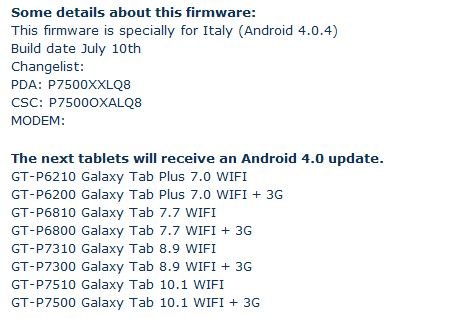 I can tell you as a previous user of the device that ICS is ALOT faster & smoother on the Galaxy Tab 10.1 ( I rooted mine and threw an ICS ROM on it earlier last year). We still don't have word on a Jelly Bean update, but if it took Sammy this long to roll out an ICS OTA, I honestly don't know if Galaxy Tab 10.1 owners should keep their hopes up too high on seeing it.
But even if you don't receive JB, or are simply tired of waiting for ICS, there's always XDA Developers. The Galaxy Tab 10.1 is LOVED in the developer community, and there are some fantastic ICS AND Jelly Bean ROMS already available for the device. It is also one of the easiest devices I have ever rooted (literally takes less than 5 minutes..you flash 1 file, and you're done).
It's good to see more and more phones and tablets being updated to ICS, and fingers crossed that a Jelly Bean update will shortly follow!
Picture credits: androidauthority.com