Samsung Galaxy TabPRO 8.4 vs LG G Pad 8.3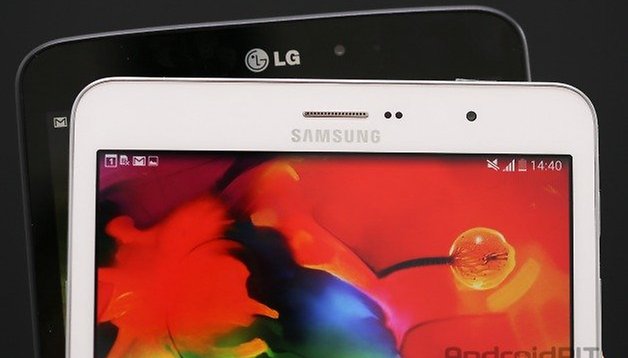 During the CES 2014, Samsung unveiled a series of TabPRO tablets, one of which is the Galaxy TabPro 8.4, an Android device whose high resolution puts it in the same league as the Apple iPad Mini Retina. A slightly older device, the LG G Pad 8.3, also comes in direct competition with the Samsung tablet. Having been first shown at the IFA 2013, its Full HD display and powerful quad-core processor still propel it into the high end of Android tablets. Today we'll take a closer look at the LG G Pad 8.3 and Galaxy TabPRO 8.4 and see how both fare in a direct comparison.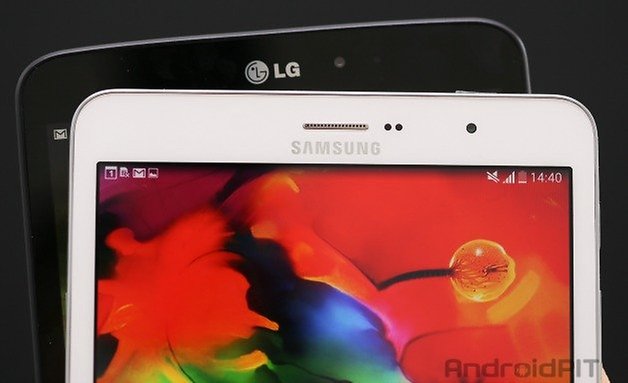 Design
Despite the 0.1 inch difference in diagonal measurement, the two couldn't be more different stylistically. For starters, Samsung opted for glossy white plastic on the front and pristine white fake leather on the back (it's also available in black). Though plastic in general may not always come off with a high quality look, Samsung has mastered plastic-chic. The same can't be said for the LG G Pad 8.3 on the other hand, whose plastic with an aluminum shine is almost dull in comparison (even with the slightly glossy finish) and accumulates greasy fingerprints all too quickly, especially with the black model. Though we can't say for certain in the case of the the white model (which we don't have in the office) it does appear to be a smidgen more elegant.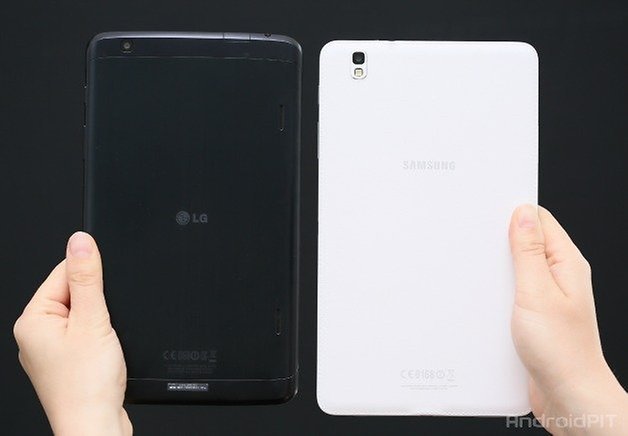 Both offer a solid grip, thanks to the G Pad's rubberized edges and Samsung's textured leather material. Though the Samsung tablet is slimmer, they both weigh approximately the same.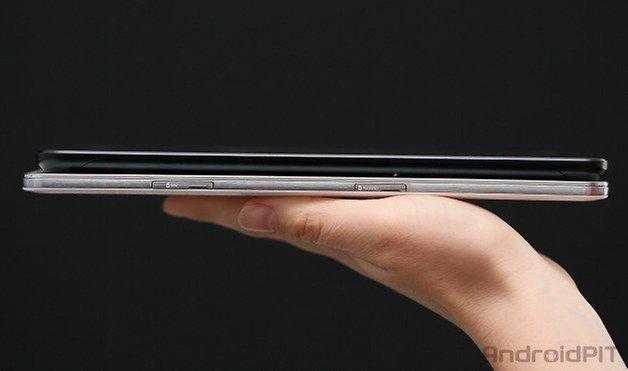 Display
Samsung and LG both packed excellent displays on their tablets, though Samsung's device comes out on top because of the WQXGA resolution (2560 x 1600 pixels, 359 ppi), as opposed to the G Pad's Full HD (1920 x 1200 pixels, 271 ppi). The resolution on the TabPRO puts it head to head with Apple's own Retina screen technology, as we discuss in our TabPRO 8.4 review.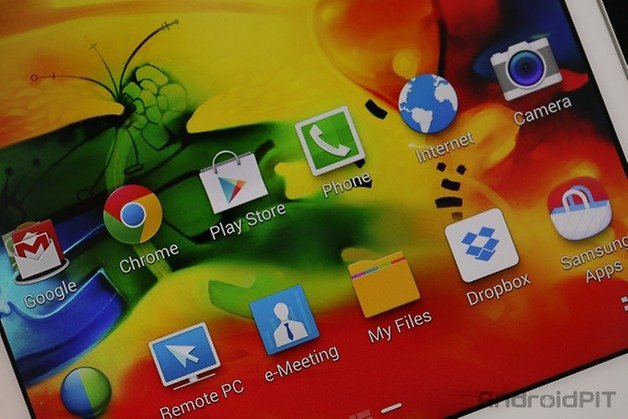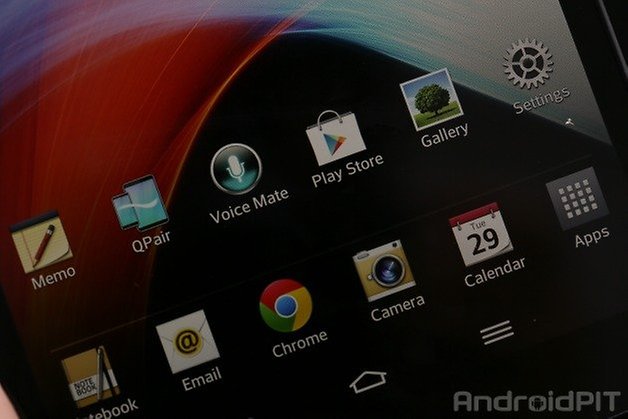 Both tablets have a display ratio of 16:10, which is commonly believed to be better suited for movies, and indeed, watching videos, playing games and viewing images in general on the TabPRO proved to be really enjoyable. Though the same can be said for the G Pad, Samsung's tablet of course performed better as expected, thanks to its higher resolution. If you have the G Pad on its own however, this shouldn't pose a problem to the average user, who can still benefit from a great viewing experience.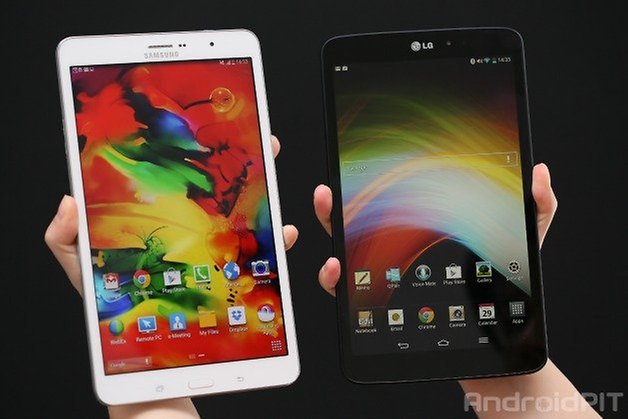 System
The Galaxy TabPRO 8.4 runs the latest version of Android, 4.4 KitKat, right out of the box. The LG G Pad 8.3 came with Android 4.2.2 Jelly Bean, but has recently jumped right over Android 4.3 to receive Android 4.4 KitKat, which rolled out in April of 2014. LG and Samsung loaded their own user interfaces onto their tablets. Samsung's TouchWiz skin has been spruced up since the CES 2014, now including My Magazine on the home screen, a customizable news feed occupying a central place displaying events, messages etc similar to Flipboard. LG's Optimus UI is just as bright as TouchWiz, offering the same amount of customization and wallpapers.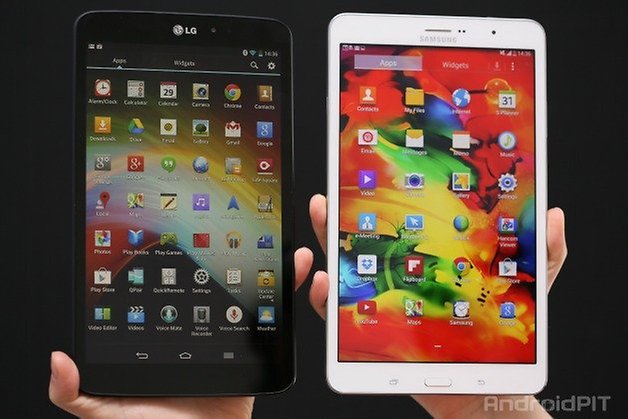 Samsung and LG filled the tablets with their own individual multitasking functions, such features being characteristic of tablets in general. Samsung offers a Multi Window mode where two apps can be opened at a time. The apps are retrieved from a side pull-out bar and either divide up the display entirely or can float over top of other apps.
LG offers Slide Aside and QSlide, the first of which allows the user to save and switch between three apps using a three-finger swipe gesture, and the second opens apps in individual windows that float over top of other apps or the home screen. The window sizes can be manually altered and its entirety can be faded using a slider. These apps are stored in the notification bar or you simply press the QSlide icon in each individual app.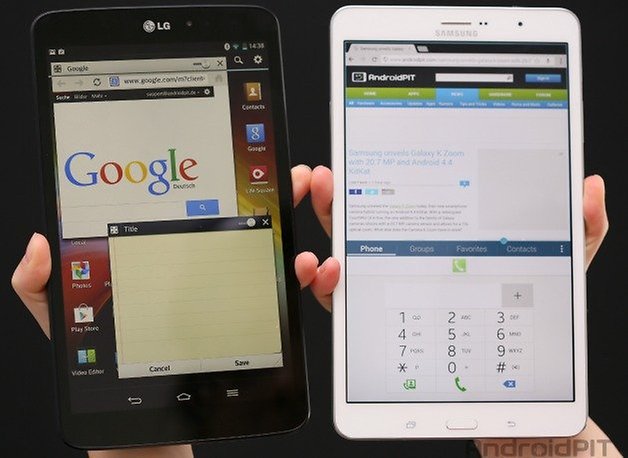 In terms of gestures, the LG tablet acquired the KnockOn function like the G2 which activates the display by knocking twice on it. The TabPRO has the usual Samsung gestures, like Air jump or Air browse and Air-Call accept.
Performance
The Samsung Galaxy TabPRO 8.4 is powered by a quad-core Snapdragon 800 processor clocked at 2.3 GHz, while the G Pad 8.3 has a quad-core Snapdragon 600 processor, running slightly slower at 1.7 GHz. The response on the TabPRO was much faster and more smooth in general, but wasn't void of lags when I started to open and use more apps in Multi Window mode. The G Pad had some lags as well, for example, switching from landscape to horizontal view responded quite slowly and when returning to the home screen after closing an app.
Camera
Tablets don't generally take the best pictures and don't offer the most ergonomic way to snap a few shots, and this is no different with both the Samsung and LG tablet. The LG G Pad shoots with 5 MP, while the TabPRO is slightly better with 8 MP, though neither promise any photographic miracles, unless you have superb lighting conditions. The front facing cameras of 1.3 MP for the G Pad and 2 MP on the TabPRO will offer a sufficient picture when it comes to making video calls, which is good considering tablets usually offer a great Skyping experience.
Battery
The TabPRO battery packs a capacity of 4,800 mAh, slightly better than the 4,600 mAh battery on the G Pad. The TabPRO lasted for 7 hours of continuous video watching. In the case of the LG tablet, watching videos on YouTube had the battery running low after just 6 hours, however it charged quite rapidly, full after only 30 minutes. After the update to Android 4.4 KitKat, the battery life improved significantly.
Tech Specs
Another key difference and plus about the TabPRO is that it has a model that allows mobile data usage, as opposed to the G Pad which only allows internet connection via Wi-Fi.
| | Samsung Galaxy TabPRO 8.4 | LG G Pad 8.3 |
| --- | --- | --- |
| System | Android 4.4.2 + TouchWiz | Android 4.4.2 + Optimus UI |
| Screen | 8.4-inch LCD, 2560 x 1600 pixels, 359 ppi | 8.3-inch LCD, 1920 x 1080 pixels, 283 ppi |
| Processor | Snapdragon 800 Quad-Core 2.3 GHz | Snapdragon 600 Quad-Core 1.7 GHz |
| RAM | 2 GB | 2 GB |
| Internal memory | 16/32 GB + microSD | 16 GB + microSD |
| Battery | 4,800 mAh | 4,600 mAh |
| Camera | 8 MP (rear), 2 MP (front) | 5 MP (rear), 1.3 MP (front) |
| Connectivity | HSPA, 4G/LTE (i9505 model), NFC, Bluetooth 4.0 | Bluetooth 4.0, USB 2.0, Wi-Fi, GPS, QPair |
| Dimensions | 219 x 128.5 x 7.2 mm | 216.8 mm x 126.5 mm x 8.3 mm |
| Weight | 334-338 g | 338 g |
| Price | 369 USD (16 GB) on Samsung USA | 265.99 USD on Amazon USA |
Conclusion
Though I personally have come to love the Samsung fake leather look, which is of course a matter of taste, in my eye there is no denying that Samsung has mastered the plastic-look: the TabPRO just screams premium. It just feels sexy and is comfortable to hold. The G Pad 8.3 has a fake aluminium shimmer despite also being made of plastic and I would snap a cover over the top of its bland chassis in a heartbeat. Design put aside, though the TapPRO slightly outperforms the G Pad in most areas, the matter of price is for many a deciding factor. The very competitive and attractive price for the G Pad of around 265 USD makes it a winner in terms of price/performance ratio. The TabPRO in comparison was originally sold for 399 USD (16 GB) but has since been reduced to 370 USD. If you are looking for an almost perfect tablet with an awesome viewing format and great multitasking features, go for the Samsung tablet. If you are a zen person who won't flip out because of a few lags here or there, try the G Pad, whose functionality, display and price, make it an Android winner.