It's Not A Phone, It's Not A Tablet..Introducing The Samsung "Mablet"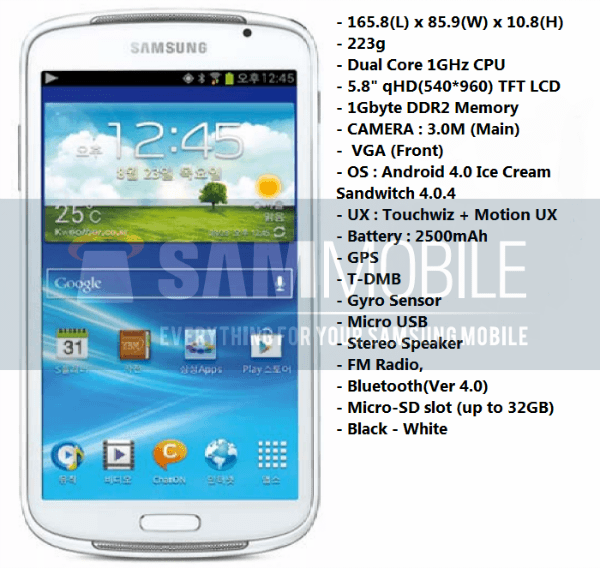 I know what you're thinking: What the hell is a "mablet"? Well, the Note is considered a hybrid phone+tablet due to its size, thus the name "phablet (phone+tablet). But what happens when you have a 5.8 inch device without the phone feature? Phablet obviously doesn't work. "Big ass media player" isn't much of a marketing slogan either (I rather like it).So what is this mysterious device that Samsung might just release at IFA in a few weeks? Well, MP3/Media Player+tablet = my new creation: Mablet. Oh yeah.
FYI: I have patented the word "mablet", so don't even think about stealing it. Matter of fact, anytime anyone says the word "mablet" from now on, 15 cents will go straight to my bank account (LOL).
All jokes aside, what is this device, and should Samsung even bother to release it? Let's have a look at the specs:
5.8 inch TFT display (540x960)
223 grams
Dual core 1ghz CUP
3MP back cam with VGA cam on the front
Ice Cream Sandwich out of the box
2500 mAh battery
Gryro Sensor
Stereo Speakers
Micro USB
FM Radio
MIcro SD slot(supports cards up to 32GB)
Available in white or black
I mean, it doesn't work as a phone, yet it's too small to be considered a tablet. While the Note makes sense from its size (mainly due to phone functionality), I'm a bit worried that the size of this device and the fact that you can't call from it. This might encourage consumers to either A: Buy a 7 inch tablet (not so good for Sammy, unless it's one of their 7 inch tablets), or B: Buy a Note (not so bad for Sammy).
I don't know about this one Samsung. I mean sure, I was skeptical about the Note in the beginning, and it ended up being a hit with consumers. This device is pretty cool in terms of design, but if you take away the calling functionality from the Note, you basically end up with a "kind a sorta" tablet. Are there really that many consumers looking for something like that?
Sammobile (a very reliable source) seem to think that this device could see the light of day at IFA at the end of this month, and AndroidPIT will be there live to watch it go down.
What do you guys think of the mablet aka "kinda sorta" tablet aka "big ass media player"?
Let us know what your opinions in the comments below!
Picture credits: SamMobile Via Phandroid