False Advertising? Samsung Responds to Galaxy S4 Gigabyte Scandal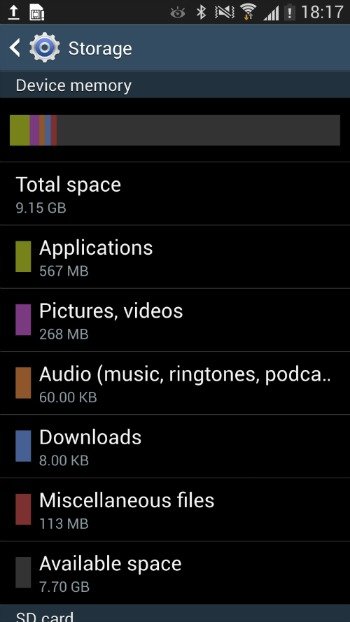 Samsung has gone on the defensive after drawing criticism from irate fans who discovered that the 16GB version of the Galaxy S4 actually only has around 9GB in useful memory. The reason? The bulk of the phone's storage space is taken up by the Samsung's operating system (Touchwiz) and built-in apps.
Samsung has responded to the complaints with a curious statement, claiming that the bulk of the GBs goes towards the display:
For the Galaxy S4 16GB model, approximately 6.85GB occupies [the] system part of internal memory, which is 1GB bigger than that of theGalaxy S3, in order to provide [a] high resolution display and more powerful features to our consumers."
Samsung then added that users who wanted more storage still had options. "To offer the ultimate mobile experience to our users, Samsung provides [a] microSD slot on Galaxy S4 for extension of memory," the company wrote.
While Samsung isn't exactly lying here, they're not telling the whole truth. While users CAN add photos, videos and music to their external SD card, they're out of luck when it comes to storing their apps on an external card. Cutting-edge games like Real Racing often take up as much as 1.2GB, which would quickly eat into the 9GB allotment. In essence, what you're paying for is a 16GB phone with only 8GB in system memory, and only more if you want to shell out for an external memory card for your pictures, videos and music.