 Samsung's Closing Statements: "Consumers Deserve a Choice"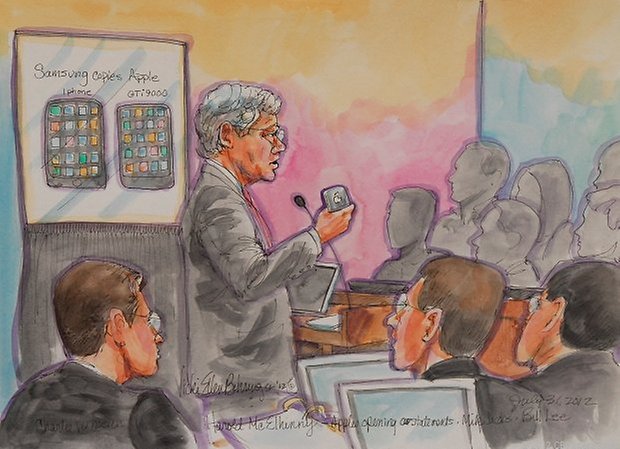 The Samsung vs. Apple trial is nearing its finish and that means Samsung just delivered their closing remarks.
In them, the company's lawyer, Charles Verhoeven, argued that what Apple is trying to do is stymie the competition and establish a monopoly in Silicon Valley. "You'd think that if Apple is going to come in here and ask for over $2 bilion in damages they might have used all the money to have an expert come in here and say people were deceived. But they didn't. Apple is seeking a competitive edge through the courtroom," Verhoeven said.
Samsung's lawyer then went on to suggest that Apple's current strategies run counter to the ethos of Silicon Valley. "Think about Silicon Valley, the way it used to be, back in the day... now there's tens of thousands of tech jobs. That's because of free competition. Consumers deserve a choice. Competition is what's built this country."
Samsung's design changes, Verhoeven argued, is similar to the way all technology evolves. "Just think about walking to a Best Buy store. All of the TVs there look the same. they're all minimalist designs. After Blackberry, what happened to the competition? Every single one came out with a QWERTY phone."
Patenting the Rectangle
According to Samsung, what Apple is actually trying to do is much more sinister: patent the rounded rectangle with a touch screen. More specifically, Vorhoeven argued that Apple is trying to claim Samsung's devices look the same as theirs when they clearly don't; not only are their screens not all flat, but they don't have the same size bezel, have different sizes of front faces, and they even have different-sized displays. "Details matter when you're talking about design," he put plainly.
As far as Apple's claims that Samsung copied their icons, Verhoeven is even more dismissive, claiming Apple's core design witness, Susan Kare, presented insubstantial evidence of Samsung's copying. Samsung thinks the vast majority of their icons and apps look markedly different from Apple's "There's only two icons that Dr. Kare says were similar. The phone and clock... I would submit that the vast majority of the icons are substantially different." And he added, "Let's not pretend you can patent a colorful row, a colorful matrix of icons."
Does Anyone Actually Mistake a Samsung for an iPhone?
Samsung also thinks its important to look at timing, and brought out a piece of evidence showing that the design of phones hasn't, in fact, changed before and after the iPhone. Furthermore, Samsung argued that the design of the original Galaxy Tab 10.1 was being researched before the iPad, and brought emails to prove just that.
Samsung then ended on a strong note, arguing there was no plausible way someone could mistake a Galaxy S2 for an iPhone, which forms the basis of Apple's arguments. "Apple's own surveys show that design / color is important for only 1 percent of iPhone buyers," Samsung's lawyer said. "Let's use common sense."
According to those who were there, the jury was riveted by Samsung's testimony at the start of the statement but grew more weary and bored-looking by the time Verhoeven got into more of the complexities of patent law. The jury will likely spend over a week deliberating. Apple has also delivered closing statements, which we will summarize soon!