Samsung Strikes Back, Claims Apple Copied From Diamond Touch, LiveTile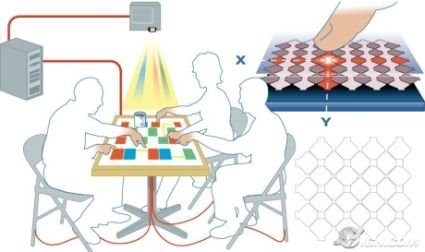 With Apple's main case against Samsung over, now its the Korean firm's chance to prove that the technology Apple is claiming was novel in the first iPhone was actually copied from other companies. On that end, Samsung is claiming Apple stole the "bounce-back" feature – or the way screens bounce back into place if you've scrolled past a certain threshold – from companies Diamond Touch and LiveTile.
Diamond Touch was a projection-based touchscreen surface developed in 2001 by Mitsubishi. It was a massive, immovable piece of technology that was more a prototype than anything else. But it allowed users to pull an image down in a window, while letting go caused the image to snap back to its orginal position, similar to Apple's bounce-back feature. Samsung proved that DiamondTouch was accessible in the Mitsubishi lobby and even revealed that the company had given a presentation to Apple.
However, as it was revealed during Apple's cross-examination, Diamond Touch didn't have the bounce-back feature when it was shown to Apple. So, that's one strike against Samsung's argument, although it's still possible Apple workers could have seen or even touched the display at its other location at the Mitsubishi HQ.
Next, Sammy claimed the bounce-back feature was also featured in the LaunchTile system, which was a tile-based UI for mobile devices, built in 2004. With this innovation, users could swipe back and forth or zoom up a level to provide a birds-eye view of all the tiles. Samsung showed that, when swiping from screen to screen, the last point scrolled to would bounce back to its initial state if the user didn't go past a certain threshold. It did so in a similar, but inverse, way compared to Apple's bounce-back.
Even though these two instances don't completely replicate the bounce-back technology found inside Apple's iPhone, they still could plant doubt in the minds of the jury that Apple was the first to come up with these ideas. No doubt we'll be seeing even more instances of "prior art" in the days to come.