Samsung's Super Bowl Ad Stars Paul Rudd and Seth Rogan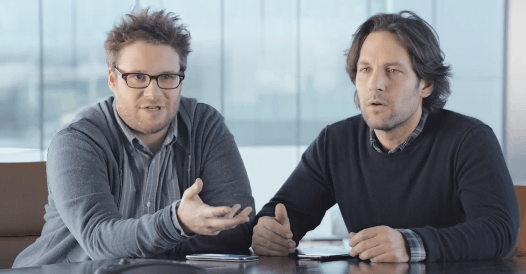 Samsung just made a commercial for the Super B–l, which is a big football game that you can't reference directly in a commercial without paying the NFL a huge fee. So what did Samsung do? Transform their own frugality into the commercial's main conceit.
In this clever little ad, starring comic geniuses Paul Rudd and Seth Rogan, as well as Bob Odenkirk – star of AMC's Breaking Bad – Samsung attempts to bypass the S—r Bowl censors by clever alluding to the big game over and over again without explicitly saying what they mean to say. It's meta, it's silly, it has nothing to do with their upcoming Galaxy S4 but I liked it nonetheless.
Samsung's been laughing all the way to the bank recently, so it comes as no surprise they now have the cash to team up with Hollywood's A-List to sell their smartphones. A few months ago, Sammy snagged James Franco to shill for their Galaxy Note 10.1 tablet, and now they're after an even bigger audience with the latest Superbowl ad.
Clearly they're trying to build hype for the "Next Big Thing" – ie, the Galaxy S4 – but that device won't be officially revealed until late March. Until then, we're probably going to be seeing a lot more ads like this. Grab your popcorn, and get ready for Samsung's big show.