Samsung thinks outside the box: Tablet with a flexible display As with everything else that they've released recently, Samsung has another hot thing about to come out of the oven, and this time, it's not a smartphone. On a Dutch blog a picture has surfaced showing a tablet with a flexible display. The kink-tablet not only looks really cool, but also the technical data is even more interesting.

Given the technical equipment of current mobile devices, it's been thought that the end to top of the totem pole has been reached in terms of technical specifications and screen resolution. Therefore, it makes sense that companies are starting to look in different directions in order to promote innovation: Samsung, LG and others have been working on flexible displays that can bend and rotate. At CES 2013 Samsung recently showed a prototype smartphone with flexible display Youm.
The rendering of the Samsung tablet, which has appeared in mobileaks.nl is so far one of the most interesting and beautiful examples of such a flexible display. Where the pictures come from and whether they are actually genuine is still in question, as Mobileleaks refers to a "tipster" with inside sources.
Nevertheless, it is worthwhile to take a look at the device in question and the tipster provided some technical specs to go along with the rendered pictures.
· Flexible AMOLED Screen
· 1.920 x 1.080 Pixel
· 10.1 inches
· 2 GB RAM
· 32 GB internal memory
· Processor: 1.6 GHz Exynos 5 Octa
· Front Camera: 3 Megapixel
· Battery: 8.000 mAh
So far, the tablet looks like it can be bent, much like a laptop. A built-in stand on the back provides stability for it when it's in this position. Although a rear camera is missing, the front camera still provides an acceptable resolution for video chats.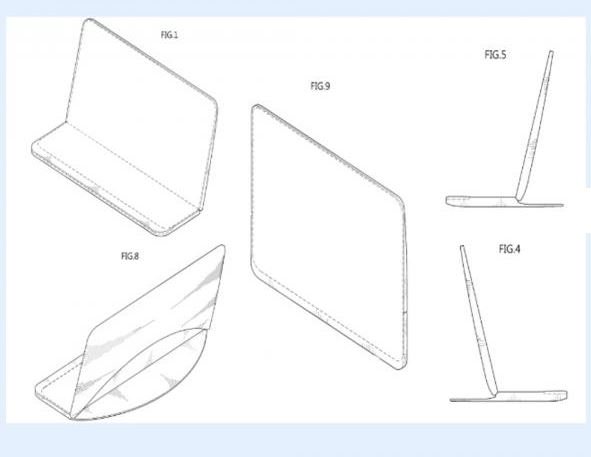 This does sound pretty realistic and it matches the patent on a flexible display that Samsung recently filed, but again, nothing has been confirmed officially. As always with rumors of this kind: they give us a taste of what might come. However, what ultimately ends up on the table could be completely different from what we expect.