San Francisco Travel Guide - Sightseeing Deluxe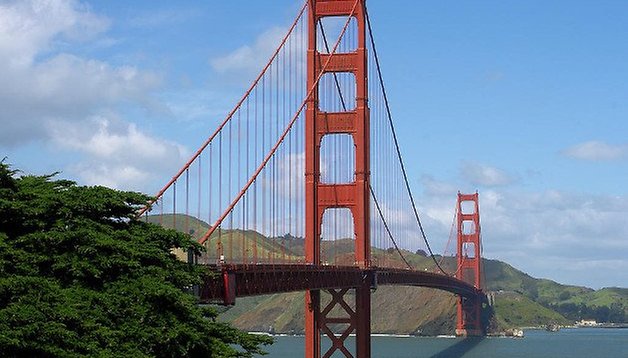 San Francisco is one of the most beautiful cities on the U.S. West Coast. I have had the pleasure to stay in this beautiful and vibrant city for some time, so, when looking for travel guides I came across the San Francisco Travel Guide by Triposo. In order to find out whether the San Francisco Travel Guide (and the other guides by Triposo) are worth your time, I tested it out for you!
Good
✓

Good and extensive information

✓

Many recommendations and suggestions

✓

Good social media links

✓

Some really useful extras
Bad
✕

Only available in English
| | | | | | |
| --- | --- | --- | --- | --- | --- |
| Reviewed on | Android version | Root | Modifications | Reviewed version | Latest version |
| Google Galaxy Nexus | 4.3 | No | | 2.1 | 4.5.7 |
Features & Use
Upon first starting the app you get the main overview page. Here you will find tabs to the three main areas of the app as well as a local clock, weather display and a currency converter. It should also be mentioned that the app is completely in English, which could be problematic for foreign visitors with limited English language skills.
The app is divided into three main sections:
Things To Do (suggestions for things to do, places to go)
Travelpedia (a kind of travel guide)
Practicalities (all kinds of useful information)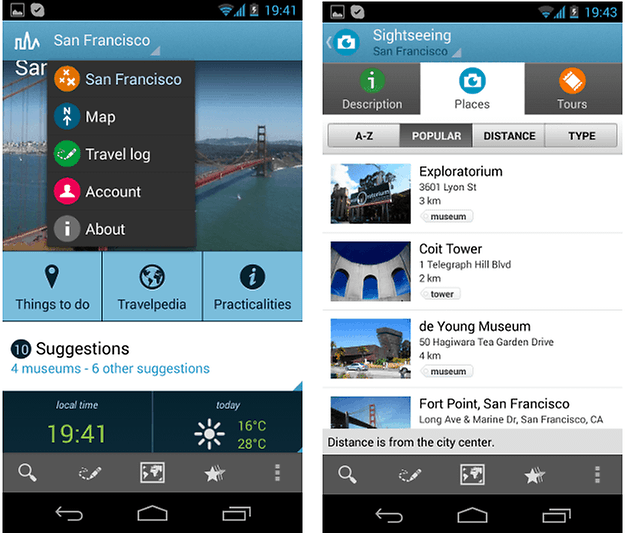 In the "Things To Do" section the user will find a variety of offers and recommendations. This leads to an overview of different sub-categories in which you can select a field of interest. Thus, categories such as sightseeing, nightlife, events, shopping, beaches, sports, or simply ''located nearby'' are available. In each category, one finds again a number of different recommendations, which can be sorted alphabetically, by popularity, distance or type. If you open an entry, you will find, in addition to pictures and a description, links to Wikipedia and Yelp . The reviews on Yelp can be seen within the app, so you can get an impression of the recommendation quickly and without fuss.
In addition, entries can also be seen quite easily and quickly on a map. Personal additions can be made to your favorites and, along with photos and a few sentences, can be added to your own travel diary. This diary can be linked to Facebook so that if desired, you can let your contacts join in on your journey, even if only via Facebook! It is also quite nice that the various descriptions can be read and everyone has the opportunity to change entries and expand upon them.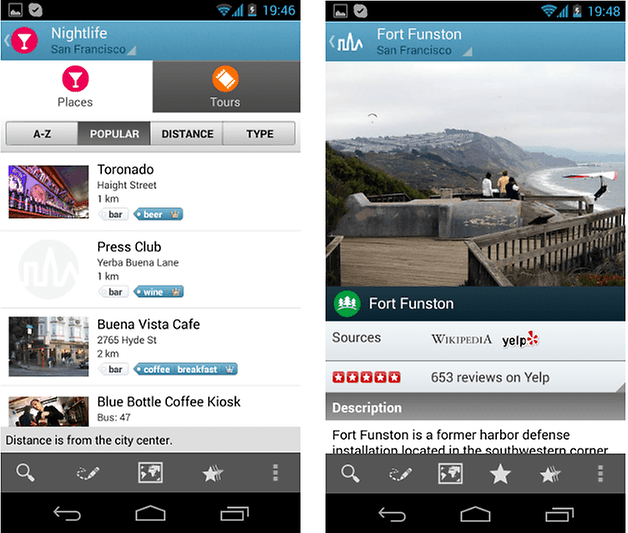 ''Travelpedia'' is the second major area of this mobile travel guide. Here you will find all sorts of information about the city in which you currently are. Thus, the user will find, next to a small introduction, comprehensive information on the history, culture and architecture, festivals and food and art of their current city. This area is built like Wikipedia (which is the source of almost all information provided) and consists of different expandable topics. Also in this area is the possibility to have the texts read aloud. For example, you could be quite at ease strolling through the city whilst having all kinds of information read out to you.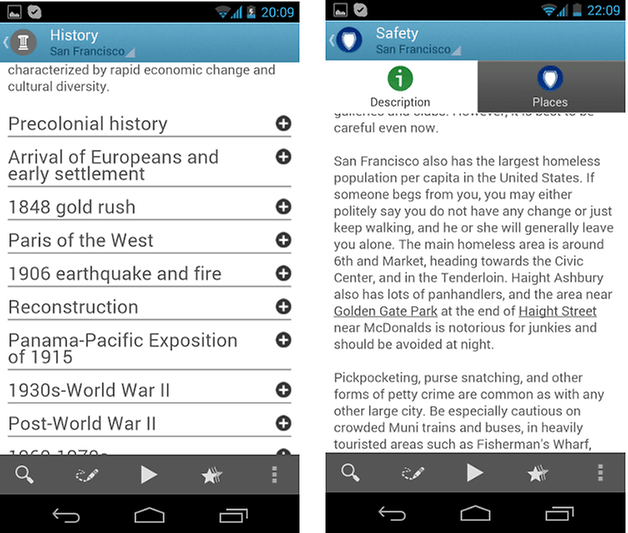 In the last major section of the app, ''Practicalities,'' the user will find a lot of useful information very quickly as well as brief overviews. These include overviews of the various bus stops in the area, hospitals, supermarkets, parking lots, alternative public transportation options and much more. Everything you need quickly but often can't find fast enough is right here at your fingertips. You will also find information about difficult neighborhoods to avoid for example, which is of course, great knowledge to have beforehand!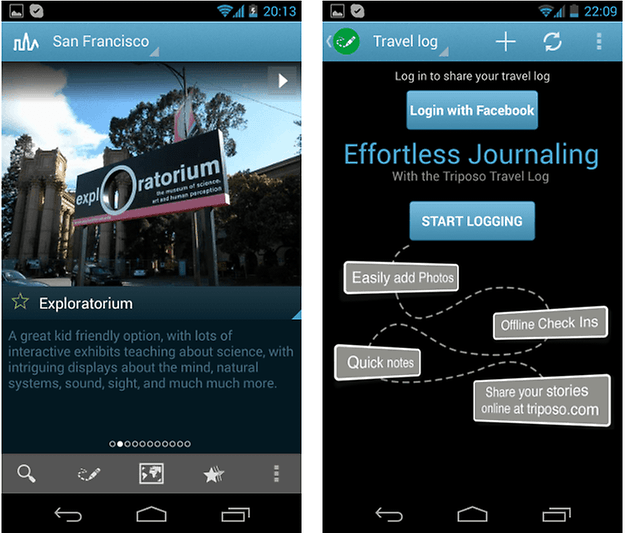 It should finally be mentioned that the use of the San Francisco Travel Guide is internet-dependent, meaning you will need to have a Wi-Fi or 3G connection to make use of the app. Especially when you are traveling in another country, this information is very helpful to know upfront. Very cheap prepaid data plans are a wise choice for these situations, as roaming charges are far too expensive.
Screen & Controls
In this category the San Francisco Travel Guide convinced me fully. The app is clearly designed, easy to use and includes a whole range of useful features to further add value. These include not only the favorites function and diary function, but also the weather display and the currency converter which are infinitely useful. Being able to view the places listed directly on the map is also very helpful. All things considered, I have no negative comments to make in this category.
Final verdict
Overall, the San Francisco Travel Guide satisfies expectations fully. There is really nothing to complain about. The number of entries may vary from city to city, but it is precisely the fact that anyone can add any new entries that a certain amount of diversity is guaranteed. In addition, we find that not only the usual tips, but also sometimes ''insider'' information is available, which is not necessarily included in any regular travel guide. Although the origin of the bulk of the information is from Wikipedia, this does not undermine the value of this app. Of course it is something else again when you can have a brand new edition of a thick, heavily researched guide book, but for a mobile version you really can't go past the information provided here! The only criticism I can think of is that the app is only available in English as mentioned above. This fact can't even make a dent in the quality of this app though and as such it gets five stars from me.