ScribMaster draw and paint – with instant messenger!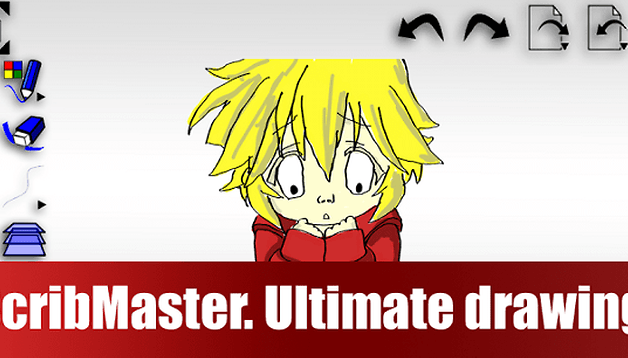 Previously, creative work of particular significance was not possible on smartphones or tablets. The Android platform lacked compelling apps with which one's own creative power could be effectively implemented. But now this has changed. Not only are there hundreds of photo editing apps available, but also many good drawing and painting apps. On example of the latter is our current test candidate, ScribMaster draw and paint. What the the app delivered in terms of mobile creativity can be found in the following app test review.
Good
✓

Interesting and unusual concept

✓

Easy to use

✓

App works with vectors

✓

Stylus support
Bad
✕

Stale user interface

✕

Minor problems here and there
| | | | | | |
| --- | --- | --- | --- | --- | --- |
| Reviewed on | Android version | Root | Modifications | Reviewed version | Latest version |
| Google Galaxy Nexus | 4.3 | No | | 6.3 | 2018.1 |
Features & Use
ScribMaster draw and paint is not only a drawing and painting app but also an instant messenger. So your creations can be sent directly to other ScribMaster users or be shared with your friends via Facebook. ScribMaster works with vectors, unlike some other similar apps, which makes zooming in and out without pixelation possible. This makes working with ScribMaster images much more pleasant, especially on smaller screens.
After starting ScribMaster, the user has the opportunity to run through a little tutorial in which the basic functions and features of the app are explained. In addition, there is also an overview of all the tools and their functions directly in the main window. There's also photos to explain the basic operations.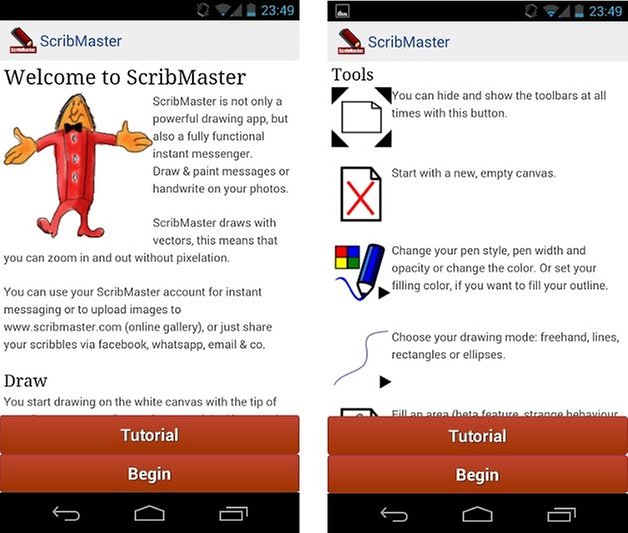 ScribMaster provides a number of different tools which users will most likely already know from programs such as Gimp or Photoshop. For drawings and painting there are, of course, appropriate tools like brushes and pens, which are available in various thicknesses and styles. In addition, the color and transparency can be changed as well as the color of a circled area. You can select various kinds of pens, such as airbrush, pencil, or a calligraphy pen. In addition, there are several drawing modes: freehand, lines, rectangles, circles and waves.
Another well known tool is the paint bucket. This allows the user to fill enclosed areas with a specific color. A note from the developer in the Help section, however, suggests that in certain circumstances it may lead to problems, since this tool is still in a sort of beta phase. During my trial period I could hardly find any errors, however, if a very large area is colored, it may not be possible to color another area, since no more memory is available.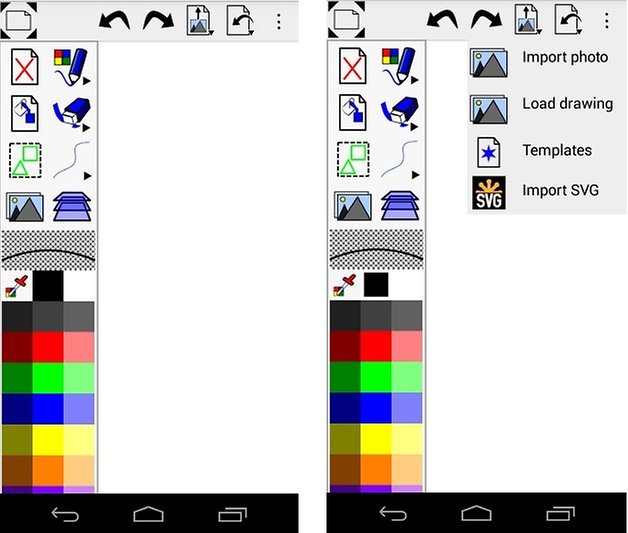 Naturally there is also an eraser function that can be adjusted in size to correct any errors. The Selection Tool is another small but nice tool that lets you quickly and easily select individual elements and move, copy and paste theme elsewhere.
ScribMaster also permits working with layers, which is a great help, especially in complex drawings. Additional layers can be added quickly and you can delete layers just as easily through the corresponding window. The user can show or hide individual layers and arrange the order of the levels. A background can be added from the gallery or via the corresponding photos shortcut in the layers window. Furthermore, a colored background can be set or you can use a transparent background.
The color palette shows the available colors for the various drawing tools or for selecting backgrounds. Unfortunately, choosing outside the palette is not possible. Thus, the color selection is quite limited, even though you can traditionally select colors directly from photos in mainstream tools.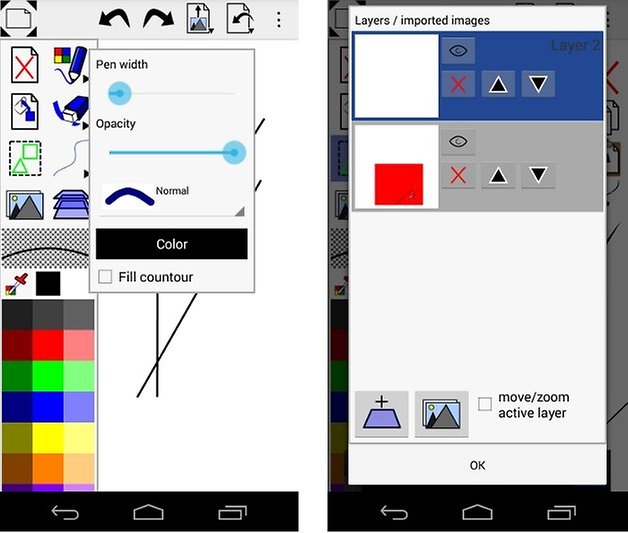 You can hide the toolbar quickly and easily to allow for a less cluttered work space. In addition, pre-stored images can easily be loaded and templates opened, but the latter is only a premium option, so it is not available in the free version. Images can be saved via the menu button as JPG and SVG. The latter is especially recommended for unfinished works or if they are to be processed again later, for example, on the PC. Here one should be careful, however, because due to some limitations of the SVG format, not all tools are supported or exported.
However, as already described, ScribMaster is not just a normal drawing and painting app: a fully-functional instant messenger app is also integrated. To use this, you must first create an account - provided you have not done so already. For registration you require only a user name, an email address and a password. Then you can invite friends to see your images or they can be sent as an instant message. In addition, text messages can also can be sent. The user is notified of new ScribMaster messages in the notification bar.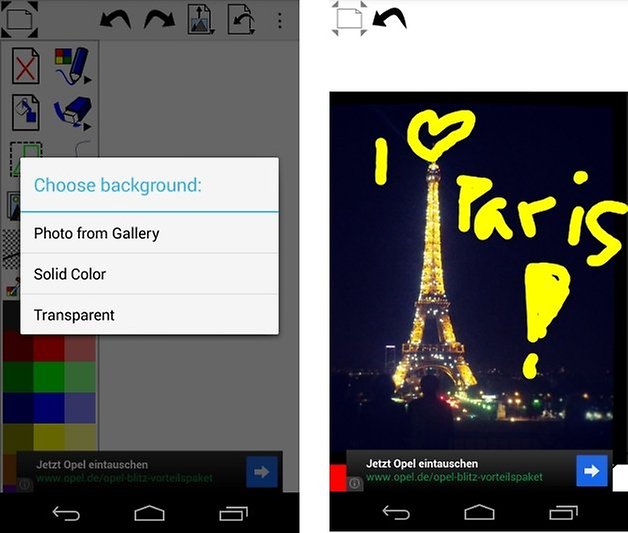 A look at the settings is also worth including here, not only for the various settings regarding the behavior of the app and the messenger, but also because there's the possibility for "stylus only" input – because ScribMaster draw & paint also comes with stylus support for devices like the Galaxy Note.
Screen & Controls
Anyone familiar with programs like Gimp or Paint would most likely have already tried many drawing and painting apps, and will find ScribMaster draw and paint easy to control. All the necessary tools are housed in a corresponding strip, which can be easily hidden when needed. Also, the basic operation is clear and easy to understand for any newcomers to this kind of app. The work itself is also designed to be very pleasant, even on displays with less than five inches of screen size. The only real criticism: the user interface is quite simple and old-fashioned, but it's possible it has been deliberately designed that way. All in all, ScribMaster performed pretty well in this category.
Speed & Stability
While the bulk of the time ScribMaster draw and paint ran without any problems. There were no problems with the speed and it only crashed once without warning. It is even possible to leave the app during an active session to answer, for example, a message and then switch back in without losing your project. Unfortunately though, occasionally a project was lost due to an error whilst doing this, so the user should exercise that age old reminder to save regularly and always just before exiting the app, just in case.
Price/Performance Ratio
ScribMaster draw and paint is available for free in the App Center. In the free version banners appear at the bottom. In addition, in the free version not all functions are available. By purchasing a Premium Key for 2.00USD you will not only remove the banners, but also unlock all functions.
Final verdict
ScribMaster draw and paint pursues an interesting and unusual concept - the combination of instant messenger and drawing app. However, the combination of these two areas of the app could be a little better designed. The app itself works pretty well, even if from time to time something is not quite working as it should and the scope of the tools and available colors could be expanded somewhat to extend the functionality. All in all though, ScribMaster left a very positive impression.