Apps and a gadget to spice up your sex life on Valentine's Day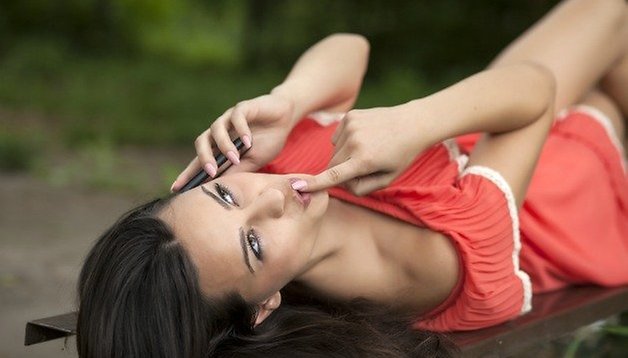 Valentine's day is this Friday and whether you celebrate or boycott it, it makes us think about how Android affects our love lives and even the more intimate moments. Does technology and even more specifically Android have a positive or rather negative effect on this part of our lives, whether it's about finding a soulmate or simply for some sexy times or just a person to keep us company during those long winter nights? Here are some apps and gadgets that could indeed spruce up your love life or even get you one, just in time for Valentine's day!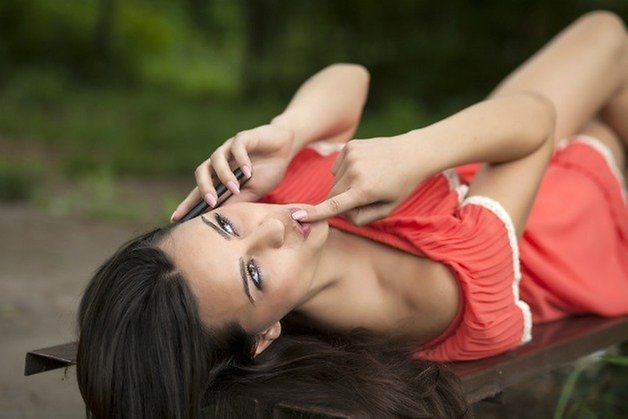 Lovense: the long distance love toys
Long distance relationships or having a partner that is often away on business can be the pits, which is why Lovense sex toys controlled by an Android app is a gift from the sex gods themselves. There's a toy for ''him and her'' called Max and Nora where couples stimulate by each other via the Body Chat app. Even if you can't be together on Valentine's day, it doesn't mean things can't get hot and spicy remotely. The toys are safe, waterproof and work via bluetooth for 'bi-directional control'. It's based on action-reaction: when one person's uses theirs, it sends commands back to the other and vice versa for real-time interaction. the Lovense isn't just available for Android, but also iOS, Windows or Mac computers, so that your operating system doesn't stand in the way. The toys cost 159 USD each, while the app is free.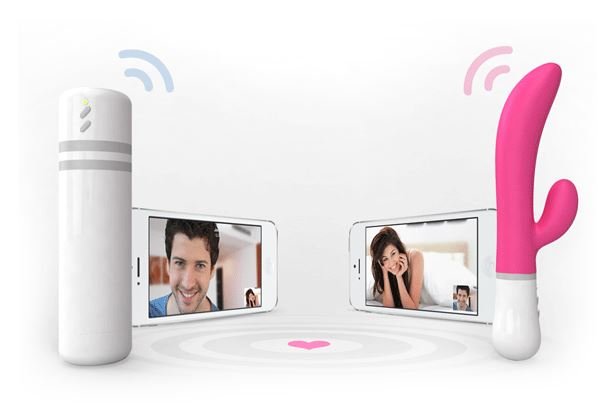 Between
To keep things intimate between two parties, Between, an Android social app for couples, is perfect. For both your eyes only, you can share photos, chat, send voice mails and a personalized schedule just for things you want to do together, all of course top-secret. You can pour your favorite photos and memos into your own memory box as well as take advantage of offers via the Event box to plan that next awesome date.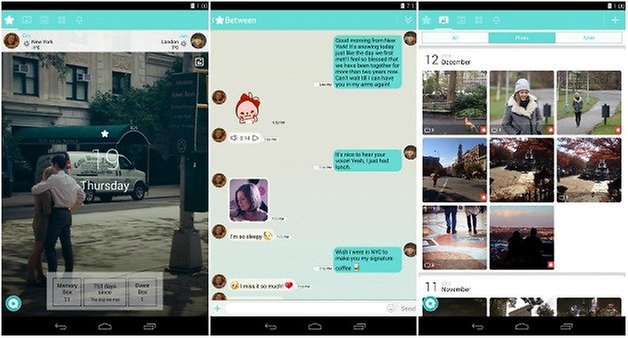 Sexy Vibes
I wouldn't say that this is the best sex toy that you can get, but if you are a little short on cash these days, here's an app that actually turns your own smartphone into a personal toy. This may seem a little odd, but Sexy Vibes actually comes with different modes like 'fluffy bunny' or 'washing machine', which are user-submitted. Quoting from some users, it's better to remove your phone cover and to use over clothing, not that I've tried this myself, of course. The app also includes live text and voice chat, some classy music and customizable themes.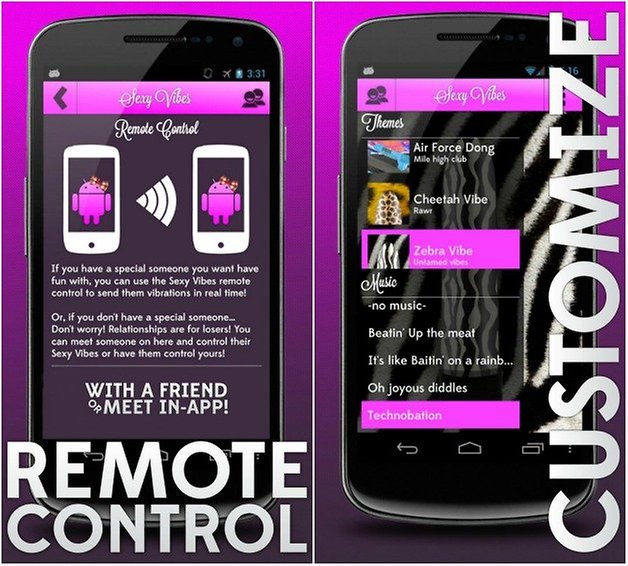 iKamasutra Lite
If you lack imagination or would like to grab a few new ideas, iKamasutra Lite already holds an enormous following who love the app's diverse positions all tastefully drawn. You can track your progress and search for positions by controlling sliders for intimacy, complexity and strength. There's even a to do list so you don't forget and a serenading sitar to keep things flowing. Feeling indecisive, there's a shake function that will randomly pick a new position for you and if you really are interested in the topic, you can keep personal notes for each one for next time. There's a share function for social networks and emailing, but you might just want to keep this on the down-low.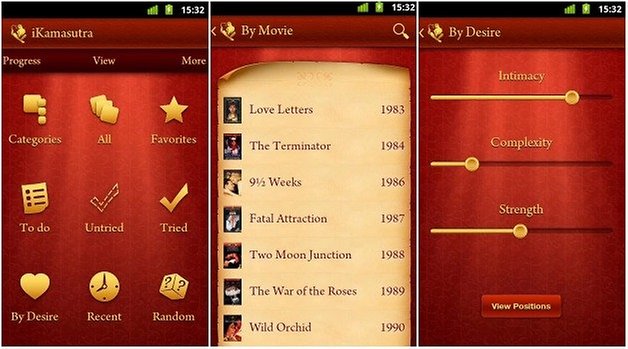 Install iKamasutra Lite from the Google Play Store
Badoo
When you start using a dating site for meeting new love interests or even just friends, the worst thing is signing up for one with few users. You need to go big or go home with dating apps, so that'S why we've listed the top in dating apps, Badoo. With limitless choice, you are bound to find someone that tickles your fancy. In fact, with over 200 million users, you can use this app from your Android smartphone and your PC and find people nearby in over 180 countries and 20 plus languages.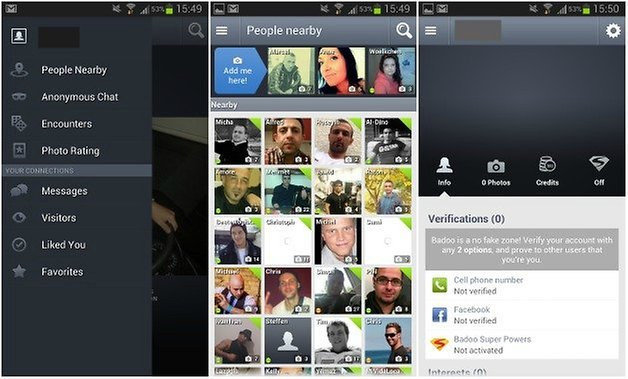 Install Badoo from the Google Play Store
Sex Drive
If your significant other has an iPhone and you want to explore the depth of iOS's intimate apps, then check out Sex Drive. The app plays two different tones with slightly different frequencies played in each ear separately. When your brain syncs with these frequencies, it produces binaural beats or tones which actually increases your sex drive. Unfortunately the app isn't available for Android, but dating a iOS user could actually have its benefits.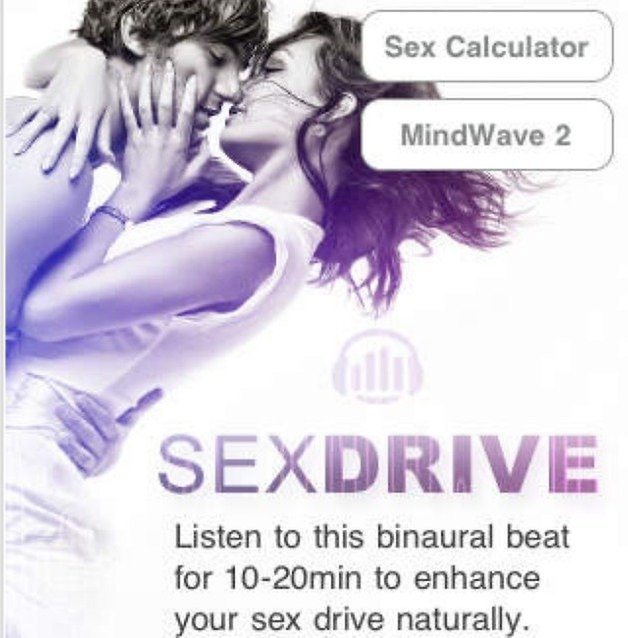 Are you planning on doing anything for Valentine's day?