Shellfire VPN: browse on Android anonymously and securely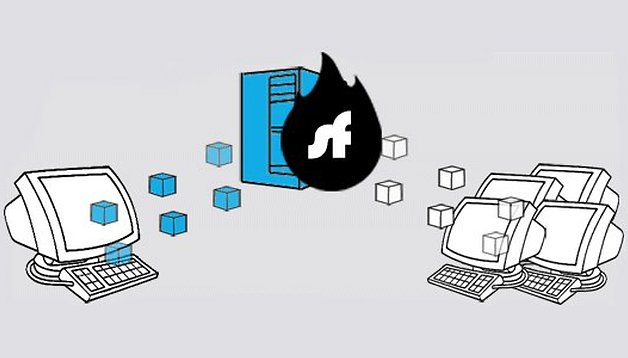 Shellfire VPN offers the possibility to surf the internet anonymously and securely on an Android device since all of the data is redirected over the so-called Virtual Private Network. Today we'll explain how it works as well as review the app, Shellfire VPN.
Good
✓

Transparent service (lots of details are visible)

✓

Very good bandwidth in the PremiumPlus package

✓

Simple and uncomplicated controls
Bad
✕

The free version offers limited YouTube usage (and some other apps)

✕

No protection for malware like other services
| | | | | | |
| --- | --- | --- | --- | --- | --- |
| Reviewed on | Android version | Root | Modifications | Reviewed version | Latest version |
| Google Nexus 7 | 4.4.2 | No | | 1.41 | 3.01 |
Features & Use
When first launching the app, you'll have to create a user account and log in immediately. Once this is done, you'll be directed to the main page of the app, which is divided into three tabs:
First tab: Connect
Here, the current app status will be displayed as well as the selected VPN, the server status, how this connection is encrypted and how fast it is. To connect to the VPN, you simply need to press on the same button and confirm when the message appears (this only happens the first time). In fact, the entire app can be put into action with the press of a button.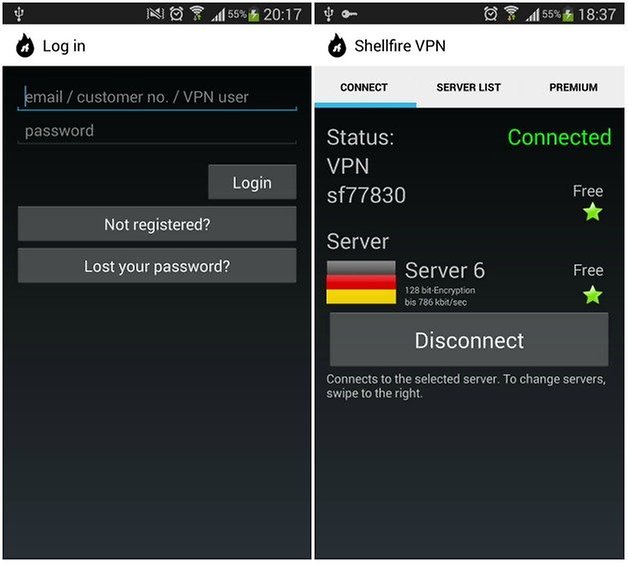 What's more, this app only runs in the background, therefore you can close the app at this point in time once it has all been set up. But what exactly happens now, you may ask? Shellfire redirects all data files (internet communications) to a new server provided by the app, just like a detour on a street. The entire connection is therefore encrypted and cannot be read by third parties, like when in public areas with unencrypted Wi-Fi networks. Moreover, websites or apps can now no longer determine your actual location, since the server is "interposed" and is now recognized as a virtual location. So you could pretend to be living in the USA and watch all the YouTube videos or use exclusive "US-only" services. Watching Hulu videos is just as possible as using Zattoo-Abos from Switzerland.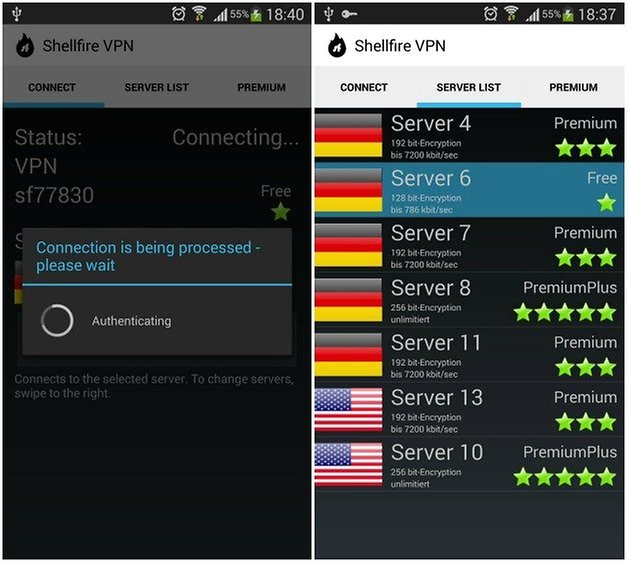 Second tab: Server list
The second tab on the main screen of this app shows all available servers provided by Shellfire. There are many to choose from:
Germany
Switzerland
Netherlands
France
Great Britain
USA
More countries are planned to be added to the app, so the user can be even more flexible.
Third tab: Premium
The last tab provides detailed information in graph form about the various payment models and their benefits.
If you already have a subscription, you can get an overview of your account information here, as well as see other details, like the duration of your subscription.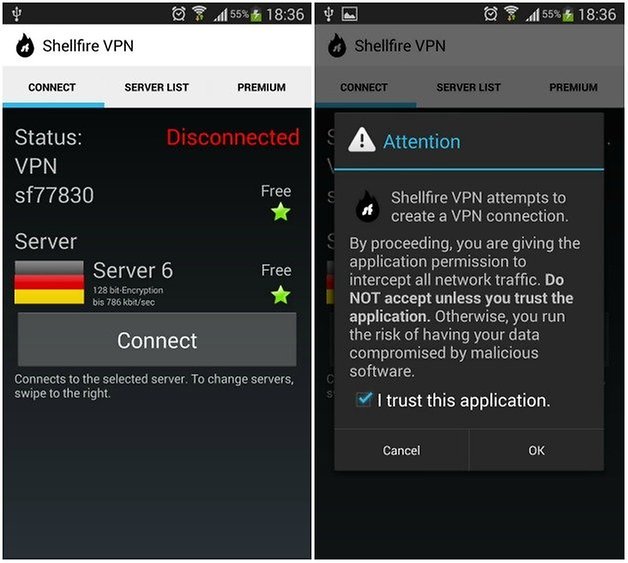 Screen & Controls
Since the app is actually not actively used, the user interface takes on secondary importance. Nevertheless, the design is very practical, though very aesthetically pleasing. The three tabs provide an intuitive structure and the settings are also clear.
The app itself is very stable and fast (connecting to the VPN only takes a few seconds).
Speed & Stability
The connection speed itself depends on your cost model. In the free version, the bandwidth of only 768 kbit/s is available, with Premium, 7200 kbit/s, and Premium Plus provides unlimited speed. Having Premium Plus is a pleasure to use. If you were none the wiser, you would have no idea that you were even using a VPN.
Price/Performance Ratio
Shellfire offers several different payment models, which can also be booked for varying periods of time. Here are the various prices:
24 hours premium, no subscription: $0.99
24 hours premium plus, no subscription: $1.99
1 month premium, no subscription: $5.99
1 month premium plus, no subscription: $11.99
premium, monthly subscription: $4,80
premium, yearly subscription: $54,85
premium plus, monthly subscription: $10,92
premium plus, yearly subscription: $116,71
Subscriptions can be booked monthly or yearly.
The main differences between the free, Premium and Premium Plus packages comes down, on one hand, to the server selection and on the other hand, to the speed and security.
Final verdict
Shellfire VPN is a great service for surfing with a virtual network! The speed, flexibility and encryption do a lot to impress, especially in the paid versions. Being able to use the internet in a more safe, anonymous and freer way is great. Even if this service is more expensive than existing alternatives, I like it better. Connecting to a VPN worked quickly and without any problems to report (like I've encountered with the U.S. Premium Plus server). Connection speed stayed the same. The only negative thing I can point out is the lack of protection against malware on the side of the server, like you have with Hotspot Shield.