Earn Free Stuff Just for Visiting Stores with Shopkick Everyone likes to earn rewards. I'll go out on a limb and say that everyone likes free stuff too. In fact, all I have to do is cry out "free stuff over here," and everyone will come flocking like sheep. You watch the views on this article rack up, if only because I've mentioned the word "free".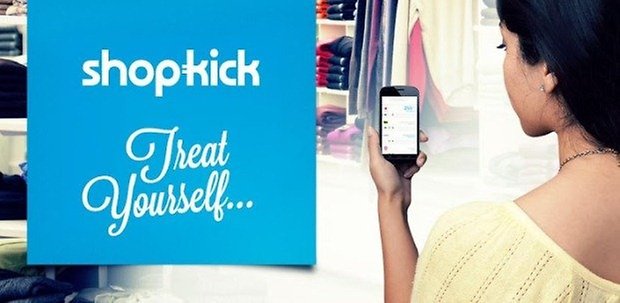 When completing personal achievements, or doing activities, there is always some kind of reward. It may not be the same every time, but there is always something motivating us to achieve that end goal. With shopping, a lot of times the prize is the item that you purchase.
One of the greatest rewards is of monetary value. Brushing all that positive mumbo jumbo aside about there always being some kind of reward, It's certainly exciting to earn physical rewards too.
It's even more exciting when you can track your rewards individually; I'm referring to a system like the standard credit card programs that give points for every purchase. People love to see their progress in something, me especially.
Why else do you think game achievements are such a prominent feature on gaming platforms now? Game achievements essentially allow us all to track our gaming prowess on a more personal level.
I'm enrolled in every reward program I can be. That way, whenever I make a purchase with my credit or debit cards, I get reward points. Sure, I've never redeemed my points for anything substantial, but the free gift cards to restaurants and stores of my choice aren't too shoddy either.
Unfortunately, not everyone can participate in the reward programs like I do. Some folks don't have access to a credit or debit card and others just don't feel like dealing with the hassle of enrolling.
What if I told you there was a program that offered you points, just for visiting a store? That's right, a program that gives out currency just for visiting a place, and you don't even have to buy anything!
There is such a program and it's called Shopkick. You don't have to do much to participate either. Just install the mobile app on your phone, and register using your email, Facebook or Twitter and then you're good to go!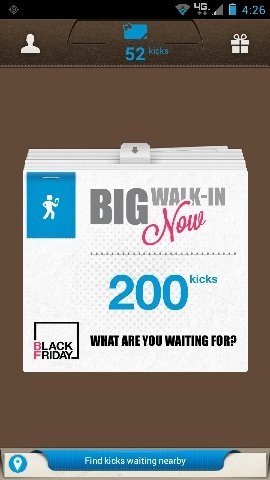 With Shopkick, you earn points called "kicks" for visiting certain stores and completing various objectives. The phrase "kicks," clearly comes directly from the term, "get your kicks." If you ask me, I love to get my kicks.
When the app is open, you can look up activities nearby that will earn you kicks. It even lists various objectives you can complete in order to earn more points. For example, right now I can walk into a Verizon store and scan the item barcode for a particular item to receive 200 extra kicks.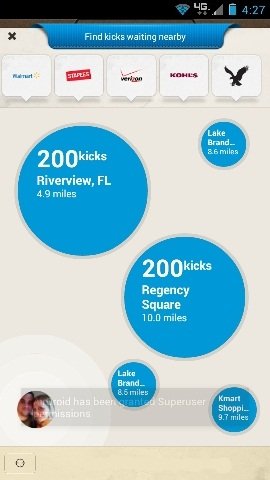 There's also a referral system, which allows you to earn more points by referring friends and family to the program. For a select period of time, you even make the exact points your referral does. So, if you were to invite your mom to the program, and she earned 500 points for walking into Target, you'd also get those points for your own account.
You can also earn extra points by connecting your Visa or Mastercard to your account. Every time you make a purchase in one of the featured stores, extra kicks will be added. Don't worry, if you would rather keep your credit card info reserved for security reasons, the program does not require you to enter your info to join.
Internal catalogs, called lookbooks, can also net you more kicks. Active lookbooks show up in your Shopkick feed, and you can earn rewards just for browsing through them. There are even hidden collectibles hidden randomly throughout the product catalogs. If you find a complete set of hidden collectibles, then you will receive even more kicks!
Needless to say, there are a ton of ways to earn reward points through Shopkick.
Of course, what would a reward program be without its prizes? You can redeem your kicks for various gift cards and merchandise via the Shopkick gift catalog.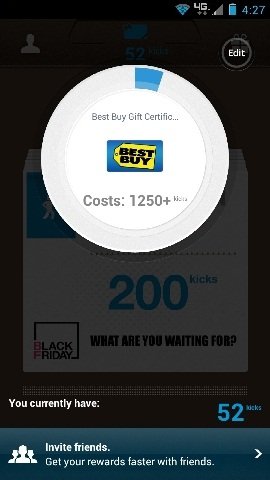 Personally, I've got my eyes on a vacation cruise. Don't snicker at me because it's 6 million points! I'll be there in no time! Just wait and see!
I'm half tempted to throw my referral link up here so everyone can use it to sign up, then I'd get tons of bonus points, but I'll spare you the headache.
Shopkick had a UI makeover in a recent update. Several new features and enhancements were added, including the location map showing nearby offers, the new lookbooks and the collectibles. Of course, there were plenty of other features added, but I've already talked about all of them.
If you want to start earning your own kicks, head on over to the Google Play store to install Shopkick. You won't regret it. I'm sure you'll probably go after a more frugal reward than I am, like a free latte at Starbucks for instance.
Oh, and if you do ever get that lovely cruise they're offering in the gift catalog, be sure to brag about it below.