Skype 3.0 for Android Implements a New Tablet Optimized UI and More It's been a while since Skype got any significant updates, or at least one that changed the UI anyways. So it shouldn't be a surprise that Skype got a pretty sizeable makeover in the latest update, which is version 3.0.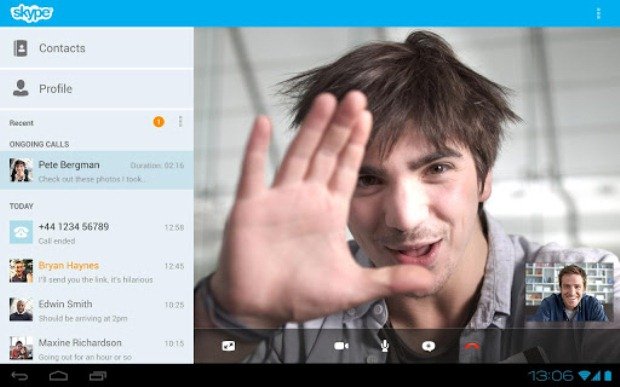 Nothing has actually been done with UI of the mobile version, so don't hop on with your Galaxy SIII and expect to see something new. The UI changes have been implemented for tablets, optimizing the overall experience on their larger screen sizes.
If you're using version 3.0 of Skype on a tablet, right away you'll see the new two-column layout. The new layout makes excellent use of the extra screen real estate, but it also locks the orientation down to landscape mode. If you're a fan of using the taller, portrait viewing mode you're not going to be happy with the new update. Hopefully this issue will be addressed at a later time.
Regardless, all the navigation buttons and key menus are now conveniently located along the left side of the screen. While corresponding sub-menus, and information panels, are housed on the right side of the screen. The new design is set up pretty much how you would expect. With contacts and menus on the left and chat windows displayed on the right.
It still looks like Skype though, right down to the bright, baby blue and white theme.
Most of the changes have been done under the hood. The biggest change is that Skype now has improved sound quality thanks to its own unique SILK codec. The SILK codec was developed, in house by the Skype team, from the ground up, specifically for use with web based video and audio chats. The sound quality during video calls is significantly better, but you won't notice a difference if you're just using your tablet or phone's internal speakers. You have to don a pair of headphones in order to truly appreciate the improved sound quality, and obviously the change is more pronounced with noise cancelling headsets.
Also implemented in Skype 3.0, is the possibility to connect Skype and Windows Live accounts. Microsoft recently retired Windows Live Messenger, and now expects everyone to use Skype instead.
If you do join both your Skype account, and your Windows Live account, you'll also have the option to import all of your existing contacts. You can even check the Skype user base for matching contacts from your Windows Live address book.
Luckily, the requirements for the latest version of Skype are relatively low. You need to be running Android 2.1, and you must have a device that is equipped with at least a 800MHz processor. Believe it or not, that means most devices currently in the market can run Skype.
If you are one of the few left out of that demographic, I apologize for your misfortune.
As always, you can get the latest version of Skype in the Google Play store.
Has anyone used Skype version 3.0 on their tablets yet? What do you think of the new two-column UI? I was delighted to discover that Skype performs much better on my own phone after the update.