Skype For Android Update Delivers Portrait Mode Calling For Tablets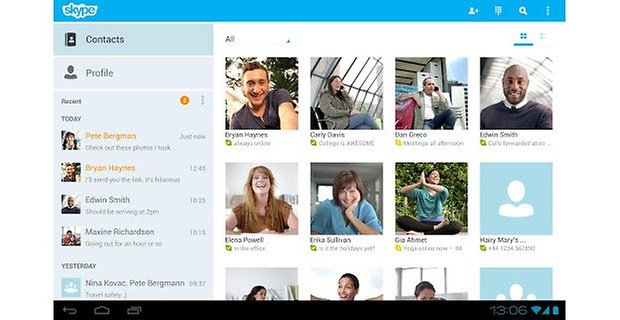 How do you define progress? Basically, something else that is released down the road should always improve on the former, but this does is not guaranteed to happen all the time. For instance, when Skype introduced a tablet interface for Android devices, it proved to be a boon for those who loved to perform video calls on a tablet, but one pet peeve of many would be the seeming impotence of Skype for Android that did not support portrait mode. After all, landscape mode works just fine for 10" tablets, but owners of the 7" tablet segment would be able to tell you it does not feel right having to hold a book-like device sideways just to carry out a video conversation.
It is then good to know that the Skype for Android update released will fix this niggling issue, as in the changelog, Skype claims that portrait mode calling is now alive and kicking. Still, the folks over at Skype seemed to have held back some of their cards, as the portrait mode has yet to be enabled for the whole app, but at least we can comfort ourselves that this is a step in the right direction.
Apart from that, additional languages have been thrown into the latest Skype for Android update, so folks who tend to jabber away in Portuguese, Norwegian, and UK English will be pleased. As with any other decent software update, performance improvements and bug fixes have been introduced that should make the entire Skype experience on an Android-powered tablet a whole lot smoother.
Have you given the Skype for Android update a go already, and how do you find it so far?