Mobile Internet Explodes: Data Traffic More Than Doubled This Year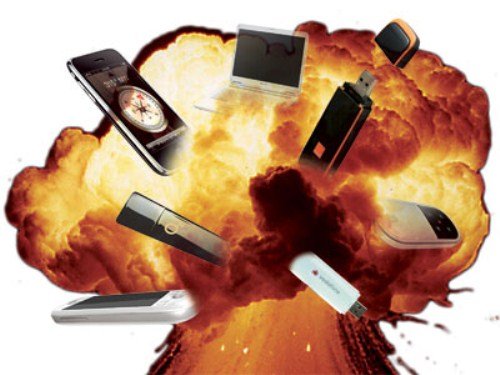 Any bozo with half a brain can tell you that there are a lot of people "using those smartphone thingies" to go online these days. But it takes a big firm like Cisco to really drive home this point. According to them, global mobile data traffic grew 2.3-fold in 2011, more than doubling for the fourth year in a row. Even more astoundingly, last year's mobile data traffic was eight times the size of the entire global Internet in 2000, all thanks to the huge number of folks now logging into Gmail while they're on the toilet.
Cisco's full report is at the source link and it's a totally overwhelming affair. There are tons of insanely impressive numbers relating to smartphone use. I honestly didn't know where to start when I began reading because there were so many interesting factoids, but here are what I consider to be the highlights:
4G users are the data-hungriest of all
The number of 4G users is a mere 0.2 percent of mobile connections today, but they already account for 6 percent of mobile data traffic. A 4G connection generates on average 28 times more traffic than a non-4G connection. So the folks who are snatching up the newest Android smartphones are also using them the most. Makes sense.
1% still gobble up much more than their fair share.
The top 1% of smartphone users still surf by far the most. In fact, they use up 23% of all data. Still, that doesn't even compare to how much the 36% these same users ate up in 2011. Likely, the end of unlimited data plans on most networks is why heavy users have gotten the boot.
Over 100 million smartphones will belong to the gigabyte club by end of 2012
According to Cysco, more and more folks are going to be consuming more and more data by 2014. Over 100 million, to be exact, will consume over 1Gb per month by the end of 2012. More data plans = more problems for carriers, and slower download speeds unless the networks get an upgrade.
Streaming music and video traffic expected to grow 96 percent a year
We also can't seem to get enough of our Grooveshark and BBC iPlayers: streaming music and video traffic on tablets and smartphones alone is expected to grow 96 percent a year, helped along by the legions of free streaming video and music apps out there.
Conclusion:
We are a data-hungry planet. It is insane to think of just how fast the mobile Internet is exploding across the world. I can't believe how far we've come and also how much more data we're going to consume in the coming years.
Perhaps it goes without saying, but it's likely this increase in smartphone Internet-use that is leading companies like Verizon and T-Mobile to charge more for their precious data, however much we may want to demonize their reasons for doing so. We just can't get enough of our mobile Facebook and YouTube.
While these factoids may seem obvious to the well-informed, the numbers themselves I still find quite amazing. What about you?