We know which 2018 devices will carry the Snapdragon 845
It's only to be expected that the new Qualcomm Snapdragon 845 chipset will be used on all top-of-the-range 2018 smartphones with the exception of some special cases (such as the Galaxy S9 and S9 Plus in Europe). But what if I told you that we already have the names and release dates of all the smartphones that will use it during 2018? Here are all the juicy details!
During an event in Hawaii, Qualcomm unveiled its new mobile chipset, the Snapdragon 845. The SoC will present new nuclei in architecture that will now be based on the Kryo 385 model and a new Adreno 630 GPU. Not only that, the entire chip will be produced with a second-generation 10nm process in Samsung's labs, providing 10% performance increase and 15% less power consumption than previous chips.
The new Kryo 385 cores are based on a company-modified ARM architecture to ensure a 25% performance increase over the last generation's Snapdragon 835. That's not all, but you can check out our dedicated article on the full specs of the new chipset for all the details. Right now, we're about to reveal to you the company's entire roadmap containing the names and dates of the smartphones that will use the new SoC.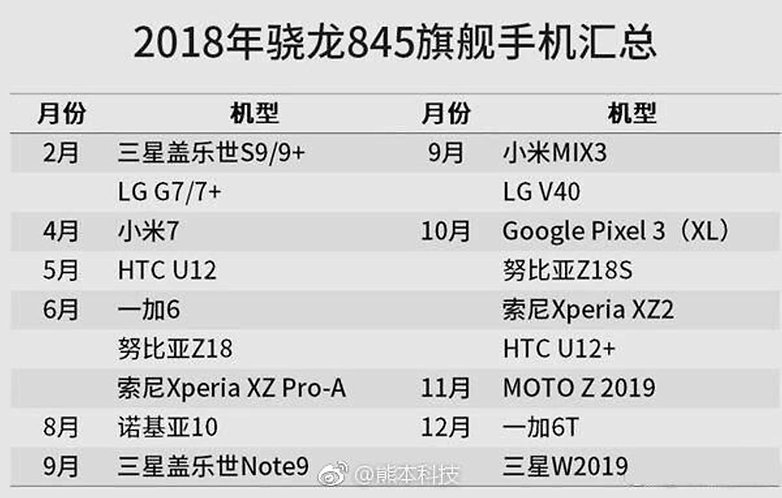 The table above indicates the smartphones that will mount Qualcomm's latest SoC, calling them by name and even indicating the month of release. Translating it into English, we find:
Smartphones with Snapdragon 845
| Month of release | Smartphone |
| --- | --- |
| February | Samsung Galaxy S9/S9+, LG G7/G7+ |
| April | Xiaomi Mi7 |
| May | HTC U12 |
| June | OnePlus 6, Sony Xperia XZ Pro-A, ZTE Nubia Z18 |
| August | Nokia 10 |
| September | Samsung Galaxy Note 9, LG V40, Xiaomi Mi MIX 3 |
| October | Google Pixel 3/3 XL, Sony Xperia XZ2, HTC U12+, ZTE Nubia Z18S |
| November | Motorola Moto Z 2019 |
| December | OnePlus 6T, Samsung W2019 |
Samsung smartphones are certainly the first to catch the eye: The Samsung Galaxy S9 and S9+ will be equipped with the chip but not on the European market; the same goes for the Galaxy Note 9. The W2019 smartphone, which does not bear the name Galaxy (usually used by the company to indicate Android smartphones), remains mysterious. Could it be the long-anticipated foldable smartphone? Or is it a new Tizen smartphone? Only time will tell.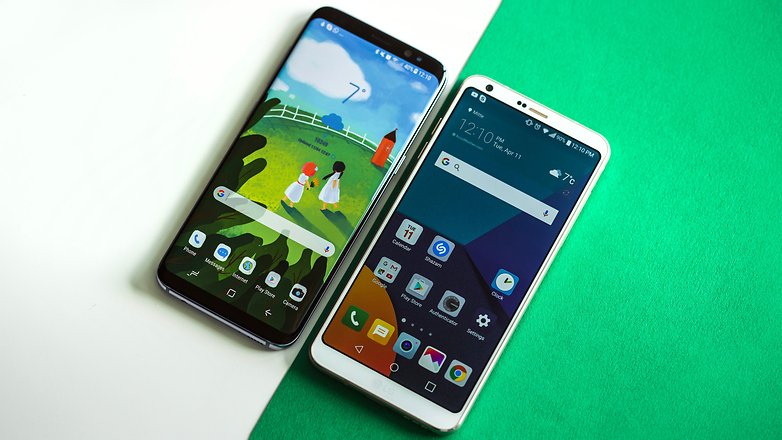 The other Korean company, LG, will release its LG G7 and G7+ in February (probably MWC 2018), even if I doubt they will differ from each other as much as with the Samsung models. The Plus version will probably be reserved for South Korea, as has already happened with G6+ and V30+. The V Series was also confirmed for 2018 with the LG V40 coming in September.
OnePlus, according to this table at least, will continue its roadmap with two annual devices, one main and one refresh before the end of the year as already seen with OnePlus 5 and 5T. Motorola will limit itself to just one top-of-the-range model called the 2019 Moto Z while Sony is expected to release a new Xperia XZ Pro-A in June followed by an Xperia XZ2 in October.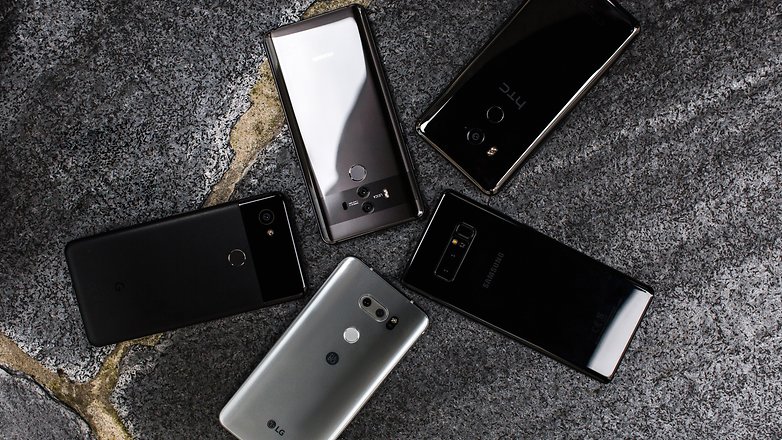 Google will adopt the powerful new chip for its third generation Pixels: Pixel 3 and Pixel 3 XL while HTC is preparing to follow the same path as in 2017 with HTC U12 in May and U12+ in October. Also important news for Chinese companies such as Xiaomi (with Mi7 and Mi MIX 3) and ZTE (with its Nubia Z18 and Z18S). The rumored Nokia 10 will arrive in August, trying to anticipate the IFA launches.
Will you be getting a Snapdragon 845-powered phone in 2018?
What do you think?
Which of these smartphones is more exciting for you?