Use Your Android on Your Computer with SnapPea Smartphones are perfect for when you're on the go. You can do whatever you need to do, right on your mobile device, and you don't even have to interrupt your errands.
I wait in line at the post office all the time, and yet, I'm still able to do my work thanks to my smartphone.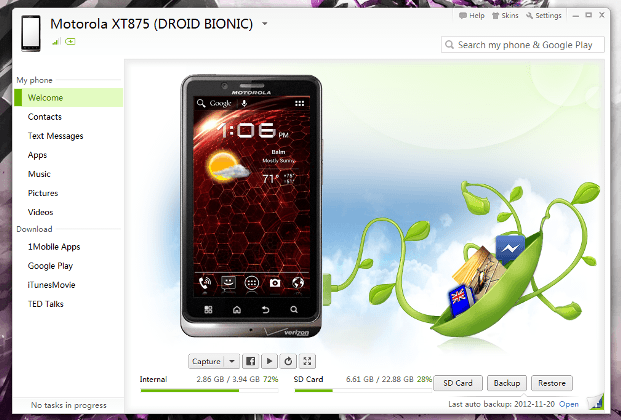 Unfortunately, the smaller display on mobile phones isn't always ideal. Not to mention, sometimes it's just awfully convenient to use a physical QWERTY keyboard- and we all know most phones don't include those anymore.
Sure, if I need a bigger screen I can always get a tablet, and if I need a real keyboard I can always get a wireless Bluetooth keyboard. But both of those options cost money, and quite frankly, sometimes you just don't have extra money to waste.
What if I told you there is a way to connect your smartphone to your computer, and still interact with it just like you would normally? For example, I'm talking about the option to send text messages, browse photos, edit contacts, and install apps all via your computer.
It's actually quite possible, thanks to a new mobile app, and matching desktop app, called SnapPea.
The software is fairly straightforward, and setup is easy too. You just download the installation file from the SnapPea website and set it up on your computer. Then, you have to make sure "USB debugging" is selected on your phone, before connecting it to your computer. The SnapPea desktop software will recognize your device and will automatically start installing the associated android app. Once everything is finished, you can browse and interact with your phone from your computer, using the SnapPea software.
Despite the fact that the SnapPea software is undergoing a public Beta, it works beautifully.
One of the coolest features of SnapPea is that you can see a mirror image on your computer, of what's on your device screen. Unfortunately, you can't interact with the interface from your computer at this time, but I'm sure the developers will work something out in the future. The mirror feature is still useful though because you can take high resolution screenshots at any time while viewing.
You can also browse, respond to, and compose text messages directly from your computer. When you receive a new text message on your phone, a notification will pop up in SnapPea. I have to say, it's extremely convenient using a full size keyboard when responding to text messages.
Those two features alone are worth downloading the mobile app and desktop software.
SnapPea will also allow you to browse, organize and backup any pictures, music, photos, videos, contacts and apps directly on your computer. You can remove any of the aforementioned media from your device after it's been backed up. This is incredibly useful for those times your storage is running low and you want to quickly backup all of your photos.
You can even import music and videos from your iTunes library to your Android device.
Surprisingly, you can also install apps directly to your device through SnapPea. In addition, the desktop software offers a rich variety of media and app stores, including Google Play, 1Mobile Apps, iTunesMovie, and TED Talks. You can even side load apps by importing the apk files into SnapPea.
Even if, you don't use the media features of SnapPea, it's a terrific way to increase your productivity. You can connect your phone to your computer while doing work, and reply to messages easily without having to look at it. I use it all day while I'm writing!
Whatever you decide to use it for, you'll be happy to know that both the desktop software and the mobile app are free of charge. You can get SnapPea here.
If you try out SnapPea, don't forget to let everyone know what you think of it in the comments below!