Songify for Android is Out, Post Your Hilarious Creations Here!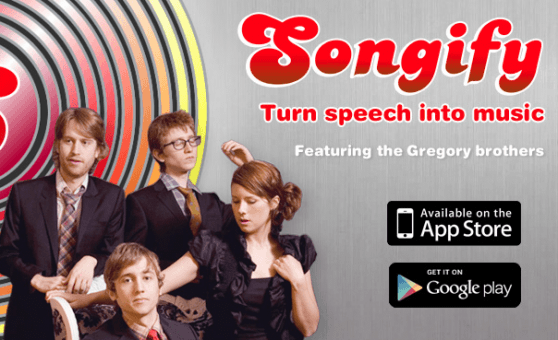 Oh, autotune. You've helped many a poorly-trained pop star sound mildly more musically talented, and now, with Songify, even the sweaty masses can sound like Rihanna. Songify app is finally out on Android, and it promises to take your pitch-poor singing and transform it into something you might hear in a Backstreet Boys album. Hooray!
The app doesn't even require you to sing. All you need to do is speak a few sentences into your microphone and Songify will transform your utterances into a tone-aware melody. For an example as to how this all sounds, take a look at this clip from the world-famous group "Autotune the News":
Hilarious!
I just recorded a song called "I have diarrhea and I need to go to the bathroom" and the app made it sound musically amazing. I'm impressed.
Listen here: Diarrhea
You can download Songify for Android right now from the Google Play store, where it is racking up hundreds of 5 star ratings. It only comes with a few tunes to match your voice but you can download far more for just a little bit of pocket change. I'm not sure how long I'll be entertained by it but I definitely think it's worth a download!
And if you like what you've recorded, post a link to your masterpiece in the comments section under the post about Songify on our Facebook page or under this blog post! Simply record the song, click share, and e-mail the link to yourself. Then copy and paste the link under the post!