Songify For Android: Can You Top These Hilarious "Songified" Videos?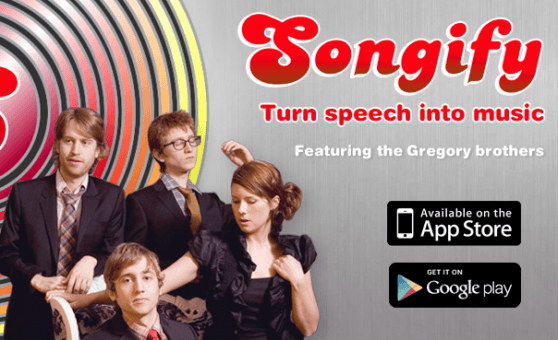 Songify finally made its way to Android last month, and anyone who's a fan of the "auto tune everything" trend currently on Youtube and the rest of the internet has probably had a lot of fun with this very silly app. The brains behind all the viral videos and the app are a group called the Gregory Brothers, and if you don't know who they are, you're in for one hell of a laugh.
The group is composed of 3 brothers and the wife of one of the brothers, and what they do is nothing short of genius. They basically take videos on Youtube that have gone viral, autotune them, create and sing backing vocals to them, edit and cut the videos to make them fit in a song, produce a song that fits the video, put everything together, and then insert themselves into the videos using a green screen. They really put a LOT of work into what they do, and it has certainly paid off (their videos have combined for over a quarter of a BILLION views on Youtube). The Android app can't perfectly mimic the hundreds of hours they put into the songs and video, but it's hands down the best autotune app on the Google Play Store, and I'm sure it will continue to improve.
The group also gives you a chance to vote for videos they should "Songify", which is a pretty clever way to promote themselves and the application. For anyone who doesn't know what they do, here are my favorite videos they have done. Their "Autotune the News" series is what turned them into stars, and once I saw this video a few years ago, I became an instant fan (Youtube link here):
There are lots of episodes of "Auto Tune the News", and I highly recommend you check out all of them if you want a good laugh. Next up is the Songified version of President Obama's 2011 State of the Union Address. For anyone interested, the original speech can be viewed here, but I much prefer the Songified version :-D Check it out below! (Youtube link here):
Next up is a classic. Actor Charlie Sheen went on an uber partying spree with prostitutes, lots of drugs, loads of alcohol, and a lot more. I honestly can't figure out how he survived. He then appeared on an exclusive interview on ABC and came up with some of most random and insane things the world has ever heard (the insane original interview can be viewed here). The Gregory Brothers naturally got a hold of it and created this amazing song entitled "Winning" (Youtube link here):
This one is just plain cute. A little boy who just learned to ride a bike is asked by his father if he had any encouraging words for any other little kids learning, and he basically says to the camera to never give up and that he knows you can do it. The original video (absolutely adorable) of his speech can be viewed here, and the Gregory Brothers Songified this one so well that I often find myself humming it in the morning (Youtube link here):
This one is just nuts. This video of a man in the projects (describing on the news how someone tried to break in his house and harm his sister) has over 100 MILLION views on Youtube. It's something that has to be seen to be believed. The original interview video can be found here, and the Songified video can be found below (Youtube link here):
If you don't already have Songify, you can download this awesome app for free here. I hope you got a few good laughs out of the Gregory Brothers (their Youtube channel "schmoyoho"can be found here) and their antics, and don't forget to post your Songified Android songs in the comments or in our forums!
P.S - Proceeds of these very viral videos ARE shared with the people who appear in them.
Picture credits: venturebeat.files.wordpress.com