Soundcloud Updated, New UI and Mobile Recording Support Soundcloud is a service specifically designed for the music minded. Musicians, and music aficionados alike flock to the service to listen to an endless supply of independent music. I know, I know there are some hefty names on Soundcloud too, but that's beside the point.
You can browse Soundcloud content on the web, or via a mobile app. The official Soundcloud app has always been good, and always performs as advertised. So, it's no surprise that the latest update just makes it even better.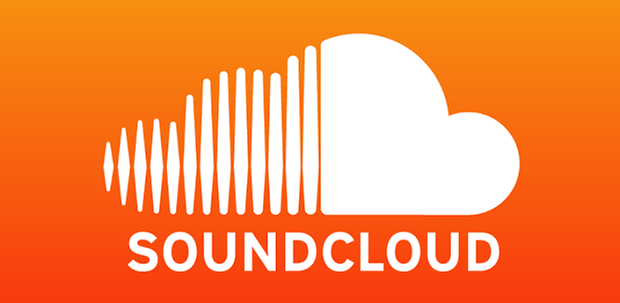 The biggest change in the new update is a complete UI overhaul. The mobile Soundcloud app now makes use of the same sliding panes as many other apps out there, it's like to what you get in the official Facebook app. Except Soundcloud makes better use of the feature, and it performs astoundingly well.
There isn't much else to say about the new UI, except that it's super smooth and responsive, and it looks pretty sexy.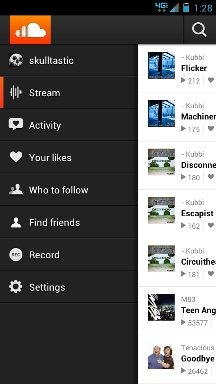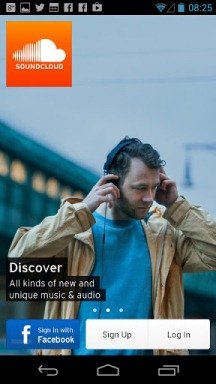 The Soundcloud developers also took the time to add in some new features:
Revamped updated UI with sliding menus and action bar
Awesome new search: find music & audio faster and easier
Lock screen playback now supported
Repost feature


Hear, favorite, repost and comment on sounds shared in your Stream

Record your own sounds with one touch and share to Facebook, Twitter, Foursquare and Tumblr

Includes optional Record Widget for the home screen
Now, you can record your own sounds directly from your mobile device. The files can then be uploaded to your Soundcloud account to share with everyone, or for your own perusal. The recording function also has some remarkably specific features that make it quite useful.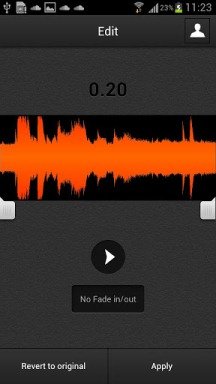 There's a pause and resume option, which allows you to pause right in the middle of a recording, and start again when you're ready. This is perfect for distractions, especially when you're out in public. Essentially, while you're recording your daily voice blog, you can wait until that pesky train has gone by. I always catch those damn trains, some days it seems like I'm waiting behind three or four of them within less than an hour after each passing.
I say down with trains! Who's with me? No one? Okay, moving on.
A newly implemented Trim feature allows you to remove any unwanted noise. To trim a piece of the file, simply drag the sliders in from the edges while the recording is paused. The excluded portion of the recording will be removed permanently. Essentially, you can record longer audio segments and just remove the parts you don't want. It's much more convenient that way.
Exclusively for Android, there are new fade in and fade out filters which you can apply to the beginning or end of a recording. iPhone users get their own exclusive feature, which I won't bother to mention here. There's no point in stirring up tension born from jealousy.
That's about it for the new Soundcloud features, but if you're a fan of the service, I promise the latest update is fantastic!
If you've never used Soundcloud before, you might want to check it out. There are a lot of talented artists using it, including top names like Justin Timberlake, Usher, Carrie Underwood and even M83 (they're reasonably well known in the States for their song Midnight City). I'm partial to Tenacious D though, and yes they have a profile on Soundcloud.
As always you can find Soundcloud in the Google Play store, including the latest update.
Now please excuse me while I go organize my first meeting for DWT (Down with Trains).