Stardew Valley: Pixel farm game now also available on Android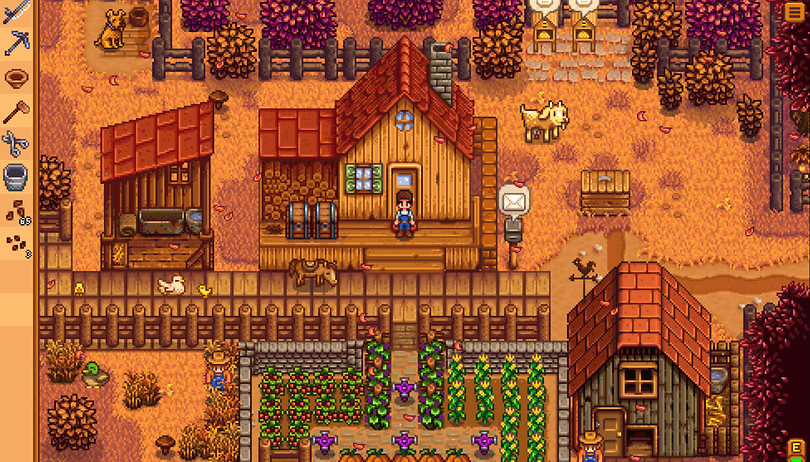 After three years the cute pixel farm role-playing game Stardew Valley finally comes to Android devices. It is available in the Play Store for a one-time fee of $7.99, so it has no further in-app purchases. The mobile version offers some meaningful adjustments compared to the desktop version, making it suddenly one of the best games on the Play Store.
Not many would have expected a pixel RPG to wait so long for its Android version. The farm adventure, based on the Super Nintendo classic Harvest Moon, has already won over over a hundred thousand players on Steam; exact download numbers are not available at all. But they should be in the range of five million; in January 2018 according to estimates it was 3.5 million. According to VentureBeat analysis, the indie title is an exceptional hit.
The Android adaptations were made by the Studio The Secret Police and bring the following features:
Everything is saved automatically, so that you can leave the app at any time confidently.
Pinch-to-Zoom allows detail view and overview like in Google Maps.
You get a virtual joystick and adjustable on-screen buttons for interaction and combat. (Physical controllers should also be supported)
Stardew Valley is now available for 7.99 dollars at the Play Store. It remains to be seen whether a DRM-free release of the Android version of Stardew Valley in the Humble Store is planned. You can choose English, German, Korean, Italian, French or Turkish. You may be able to continue using your scores from your PC in the Android app.
Stardew Valley is also available for Windows, Mac OS, Linux, Xbox One, PlayStation 4, Nintendo Switch, PSVita, iOS, Steam, Good Old Games, the Humble Store.