Smartphones and tablets are perfect platforms for playing games in your spare time. But developers need to ensure these games stay varied and well maintained. In this respect, Stunt Bunnies Circus is a definite winner! You can read all about it in today's review.
Good
✓

Funny gameplay

✓

Good implementation

✓

Perfect for in between times

✓

Quite varied
Bad
✕

Free levels played out in a few minutes
| | | | | | |
| --- | --- | --- | --- | --- | --- |
| Reviewed on | Android version | Root | Modifications | Reviewed version | Latest version |
| Samsung Galaxy Note 2 | 4.1.2 | Yes | Perseus Kernel | 1.2.4 | 1.2.4 |
Features & Use
Games like Grand Theft Auto 3 and Final Fantasy have proven that smartphones and tablets can nowadays provide solid competition against traditional handheld gaming platforms, even if, for example, the controls are not always ideal. But if you're hanging around with friends or on a tram or bus, you'll quickly realize that the mobile all-rounders are mostly simple games: Jetpack Joyride, the long-running Angry Birds franchise, Candy Crush Saga and Co.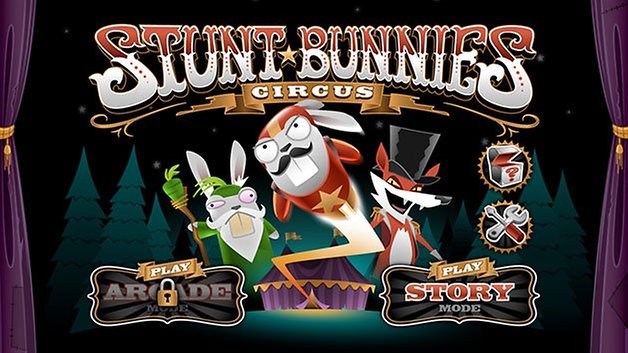 Stunt Bunnies Circus fits precisely into this established category of games. A wicked circus manager in the shape of a fox drives the poor stunt bunnies to ever more dangerous feats - and all without a safety net! But fortunately these ''wascally wabbits'' have a protector in the form of an aging mentor, and you will play the game as this old rabbit! But what can you do if it starts raining bunnies? Very simple: equipped with a jetpack, it's your job to pluck those poor bunnies from the air and return them safely and gently to the ground. There's a maximum of five rabbits that you can carry before you have to land. A simple tap on the screen is enough to make you fly to the selected position, and you can scoop up multiple rabbits in a single swoop, but you have to set them down safely before rescuing more.

Sounds tricky? It actually isn't really, at least initially. But then, like in Angry Birds, there are various types of rabbits with different qualities: strongman rabbits are much heavier and fall faster while ballerina bunnies sail gently to the ground with an umbrella. And as if that wasn't enough, there's many obstacles to overcome: you have to dodge the angry circus lions, then the juggler and his fireballs. At the same time one should be aiming to save all the hares and post higher scores by collecting several hares at once with one tap!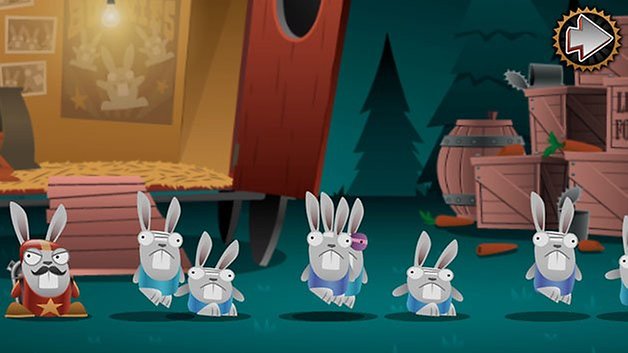 You can unlock powerups and even acquire magic with coins earned in the game. Powerups include mattresses for those rabbits that you're not quick enough to catch, rocket fuel for a jetpack speed boost and with the green carrot you can even slow down time, a la The Matrix.
Screen & Controls
Stunt Bunnies Circus is more than just solid. The 2D graphics are in a unique style and look great, and the game idea is witty, well animated and superbly implemented. The control doesn't even disappoint: whether navigating through menus or the game itself, there are no problems with the very simple controls.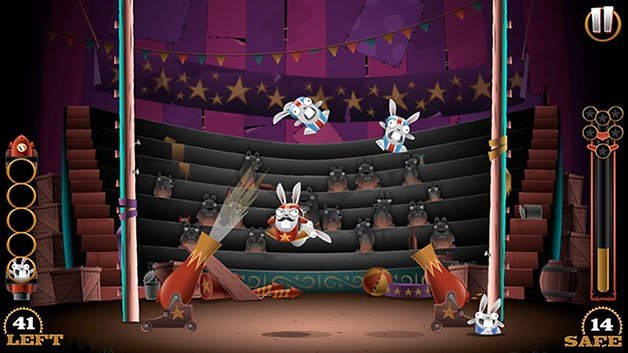 Speed & Stability
Again, there is nothing negative to say here! The load time is only a few seconds and Stunt Bunnies Circus runs fast, fluid without any stability problems in the test.
Price/Performance Ratio
Stunt Bunnies Circus is available for free in the AndroidPIT App Center as well as in the Google Play Store, but advertising is displayed. Unfortunately, in the free version one must be content with the first eight levels - which are played through in roughly a quarter of an hour. Each of the other five chapters can be purchased for 0.70USD, or alternatively you can grab them all for 2.00USD. Once you have completed the second chapter, arcade mode is also available. All in all, 2.00USD seems a perfectly fair price for the game. Too bad that the first chapter is played through so fast though.
Final verdict
Stunt Bunnies Circus is a very well made game that endlessly entertains thanks to emerging game elements that keep you engaged right up to the last level. The gameplay and the whole idea is very funny and enjoyable! It gets a clear recommendation from us.