Sygic: all-round navigation success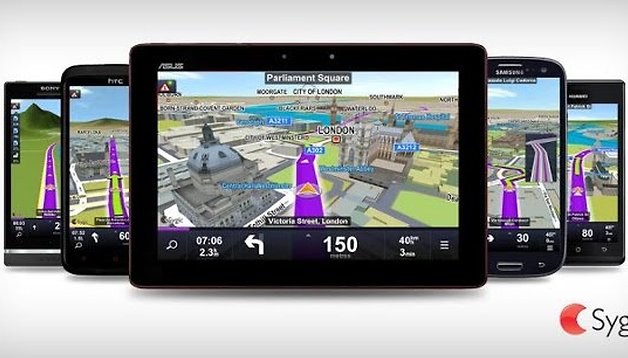 Sygic is a navigation application for Android. With high-quality maps, including TomTom, the app is just as convincing as other navigation gadgets with extensive (and expensive) high-quality features. What distinguishes the Sygic app and why a purchase is worthwhile, you will discover in today's review!
Good
✓

TomTom maps in 2D & 3D

✓

Intelligent and useful functions

✓

No mobile internet required
Bad
✕

Operation in need of improvement
| | | | | | |
| --- | --- | --- | --- | --- | --- |
| Reviewed on | Android version | Root | Modifications | Reviewed version | Latest version |
| Google Galaxy Nexus | 4.3 | No | | 13.4.2 | 17.3.13 |
Features & Use
Upon the first start of Sygic, the user can either purchase a map or activate a free trial. For the purposes of the free trial, any map can be downloaded. Sygic will let you use the map and the app with almost full functionality for a whole week before you are asked to purchase.

The maps that Sygic uses come from TomTom and will be stored on the device. The map for the whole of Germany, for example, consumes about 600 MB on the device, which should not be much of a problem if your device is equipped with an external SD card. The fact that the maps are stored on the device means that an internet connection is not necessary for navigation. This also allows the app to be used on tablets which do not have mobile internet. The location works solely by GPS and was accurate and responsive during the test.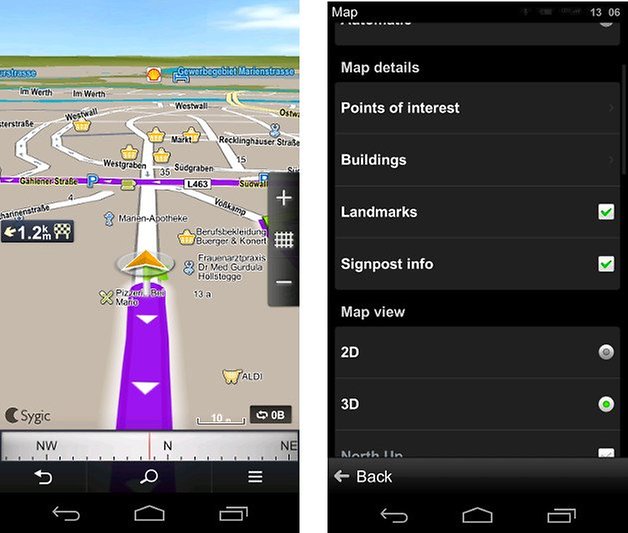 Sygic boasts a variety of functions. This includes, of course, normal navigation through the input of a desired address: simply select the appropriate country, enter a city, street and house number and you can start your navigation. In addition, a home address can be stored. This allows the user to get directions either to or from home quickly and easily. You can also search for past addresses, and places of interest or attractions can be found quickly too. In addition, you will find all interesting places in the immediate vicinity under "Nearby POI". These include sights, restaurants, shops, parking and much more.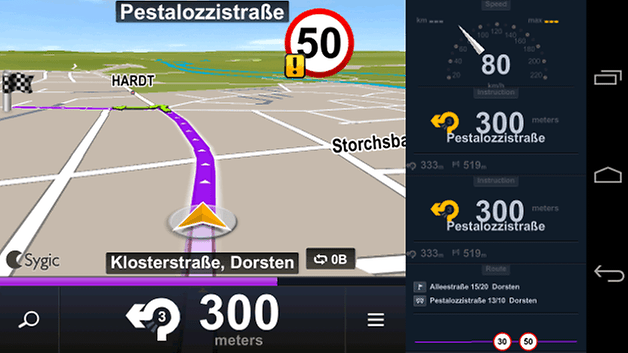 Sygic also lets you save favorites and access those routes later. If you and your friends have a Sygic account you can access your friend's favorites and share addresses. A Sygic account offers several other advantages: in case of the loss of a device it is possible to recover all of your purchased maps on a new device. Also, backups can be created for favorites and navigation history. Another option is to search via GPS coordinates. Simply enter the appropriate coordinates and have the corresponding place on the map displayed.

Within the navigation function, Sygic offers many useful features, some of which do require a mobile internet connection, but the majority are available without one. Thus, the user can edit an entered route in many ways. If, for example, you want to travel via a particular place or otherwise change the route, this is possible before you start. You can also preview the route to be taken in the app before you start navigating, so that once you begin you'll already be familiar with key turning points or landmarks en route.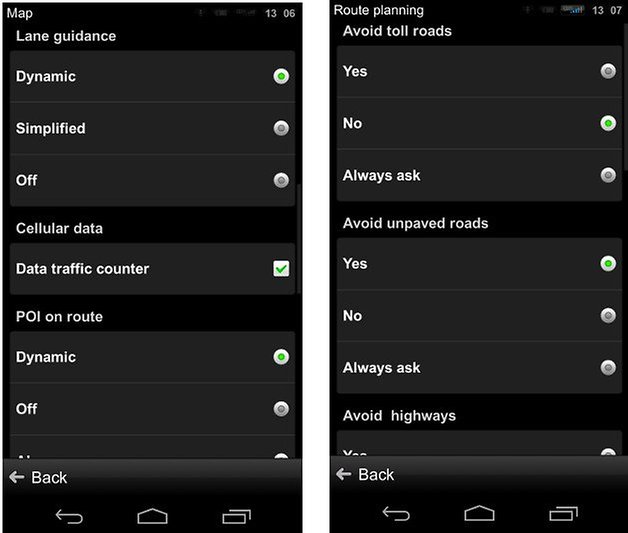 The display is very accurate and uses quite unmistakable symbols. In addition, you will find course information on distance, estimated travel time, current speed and driving time in the navigation pane. The speed limit is displayed and the user is warned if it is exceeded. In some places, however, the maximum speed specified by Sygic did not agree with the actual speed limit, which could have unpleasant consequences for the driver, so you would be wise to still keep an eye on road side signs. Warning functions for speed cameras and traffic jams are also integrated, and should you come across a traffic jam or speed camera that has not yet been reported, you can log the data for others.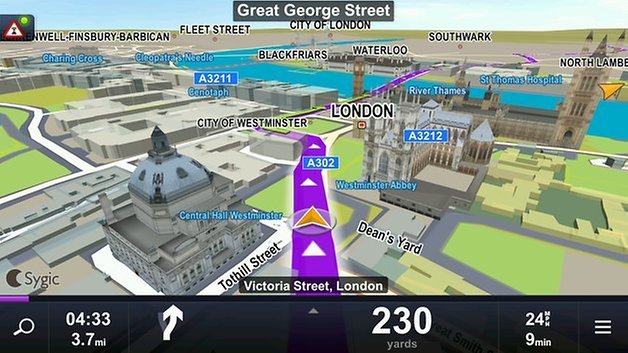 All voice commands are issued by a pleasant female voice so the driver can concentrate fully on the road. There is also the possibility to use voices of Homer Simpson or celebrities like Snoop Dogg. In addition, Sygic offers various warning functions, for example for sharp curves. You can also set tolls, unpaved roads, ferries and highways as things to be avoided. These notifications can be customized and extended by the user to suit their particular needs. Similar functions are of course also available for pedestrians when pedestrian navigation mode is enabled.
Another neat function is the so-called Travel Book, in which the user can find statistics on their recent trips. The SOS feature is also very useful and intelligently implemented: if necessary, an emergency call can be placed directly from within the app. In the corresponding window the last known position is displayed along with nearby emergency departments such as hospitals, pharmacies and police stations. The audio output of the app can be connected via Bluetooth to the car radio.
Screen & Controls
In the settings, the user can adjust the view in the navigation pane to your own wishes. For example, in landscape mode a speed indicator can be displayed, along with other information which would otherwise be found at the bottom of the screen. 3D maps are another useful addition which provide better orientation and can be disabled easily when required. The graphical design and interface is quite good overall and does not allow much criticism. For night driving, Sygic also offers a head-up display. In this feature your smartphone display can be mirrored so you can project onto the windshield.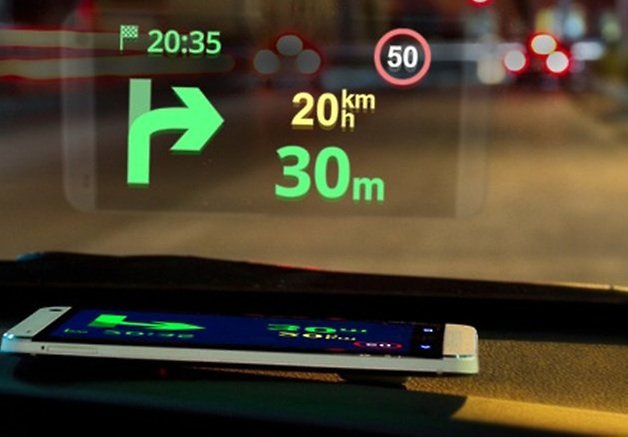 When it comes to the operation of Sygic, however, there are some problems. This might be mainly because the application was obviously ported from iOS, without making too many adjustments for Android. The operating structure could still be improved, as could the design, if Sygic wanted it to in any way match familiar Android design principles.
Speed & Stability
Sygic cuts a nice figure in this category. Crashes never occurred during the testing phase and there were no lags or hangs to report.
Price/Performance Ratio
As mentioned above, prospective Sygic users can first test the usefulness of the service for seven days free of charge. If you want to continue using Sygic after that point maps must be purchased. For the complete package, meaning the world map, you currently pay €69.99 (that's €20 off). This price includes all available maps. For Europe only one currently paid €39.99 (that's €10 off). In comparison with prices for a separate navigation system that performs the same functions, this is not so much.
Final verdict
Sygic is a very successful navigation application for Android. In addition to the essential functions Sygic offers a whole range of well-developed and useful additional features. The price is also okay, even if some aspects of the operation could, in my opinion, still be improved. Because the core functionality of accurate and reliable navigation is fulfilled very convincingly though, Sygic still deserves a solid four stars.