Synagram - Your child is safe!
It should already be clear to most people that the smartphone is the all-purpose tool of modern times. Our current test candidate promises to expand the feature set of the smartphone yet again, this time turning it into a guardian angel for your children. Synagram is a safety-tracking app for caring parents. How Synagram aims to facilitate this and what that could mean for your child's safety and your peace of mind, you will learn in today's review!
Good
✓

"Check in" and "emergency" buttons

✓

Encourages interaction with parents
Bad
✕

GPS tracking seriously drains battery
| | | | | | |
| --- | --- | --- | --- | --- | --- |
| Reviewed on | Android version | Root | Modifications | Reviewed version | Latest version |
| Google Nexus 4 | 4.3 | No | | 1.0.014.1101 | 2.1.00.0113 |
Features & Use
When you first start the app you will immediately notice the special structure of the application. Synagram draws a distinction between a parent and a child at the outset. As a parent, you must first create an account and then log on to the respective device. This registration creates the parental account on your smartphone with which your child's account will be connected. Once the registration is completed, the child must then enter a code that is displayed on the device of their parents in order to finalize the pairing.
Once set up, Syngram offers a whole range of functions that can bring peace of mind for parents. From the child's perspective though, the application is divided into three separate tabs. There is a news section that will let the child keep up with current and upcoming events that are important for the family. This could include a dental appointment, visiting relatives, family field trip or a large equestrian show, for example. The only thing you can't plan for is whether or not your kid will ever actually look at this schedule.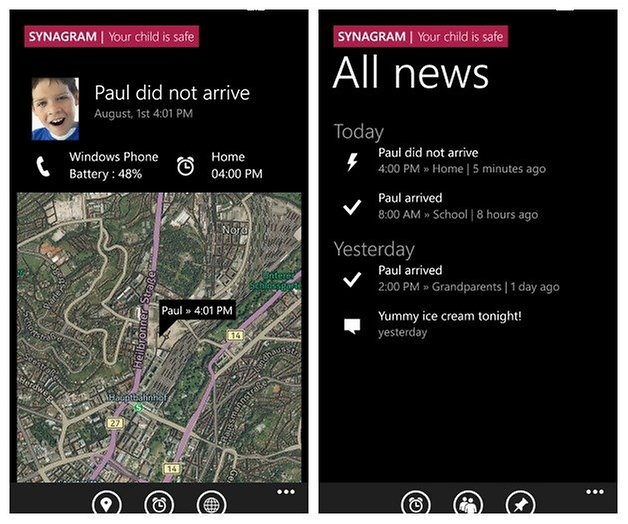 There's two main buttons in the app, upon which most of what follows is based. As already mentioned, Synagram is a security and tracking application. Accordingly, young users need to ''check in'' to the locations their parents expect them to be at whatever time they arrive – at home or school for example, so their parents know they have safely reached their destination. This simple feedback loop lets parents breathe a sigh of relief and allows children to demonstrate that an agreed-upon schedule was met – part of growing up and becoming a responsible adult.
This pleasant green ''check in'' button is, of course, positioned right next to a more ominous button color. Across this red button is emblazoned the words "emergency" and pressing it will establish a direct connection to the parents. The trick behind the emergency connection is that it is done silently on the child's side, so if they are in company, no alarm sound is activated, which could make the situation worse. On the parental side, however, the smartphone will begin to loudly indicate that trouble is on the horizon so they can act immediately. There are various measures that can be taken, including accessing the child's location, sending a message, or calling them.
The simple access to the fundamental functions particularly appealed to me during the test period: in a real emergency, it would be absolutely unreasonable for a user to have to navigate through endless menus.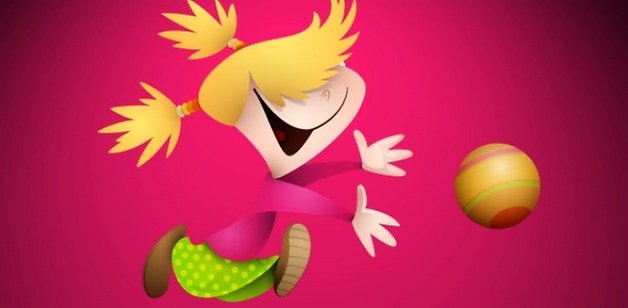 Beyond the essential safety component of Synagram, there is a whole host of other functions from the parent's side that allows them to be their child's "guardian angel". For example, the battery level of the child's smartphone can be viewed. This is especially useful with today's battery performance and battery-guzzling apps, so if you see your child's battery is about to die, you can check in beforehand and make sure everything is OK before they drop out of contact.
Another helpful feature is location determination, whereby you can get a GPS fix on your child's smartphone location. Here, of course, you will require the cooperation of your child, because they will need to actively turn on the GPS tracking on their device. We must also distinguish between the levels of supervision available between the "Monitoring'' or observe mode for smaller children and ''Supervision'' or guide mode for older children, because children of different ages require different levels of autonomy and parental oversight.

Ultimately, however, the question remains open whether this monitoring is tolerated. To the resolution of this question, I asked friends and acquaintances, both parents and children in the target age, whether such "monitoring" is at all required. As with all matters which concern the parent-child interaction, there is no clear answer in this case. The lowest common denominator was that an open and honest communication must take place on both sides. If parent and child together decide to use the application, then Synagram makes sense and the family can exploit its considerable strengths. But if the child does not agree, then the circumvention of the application is a breeze and requires few inputs, and this can not be attributed to the developers of the app.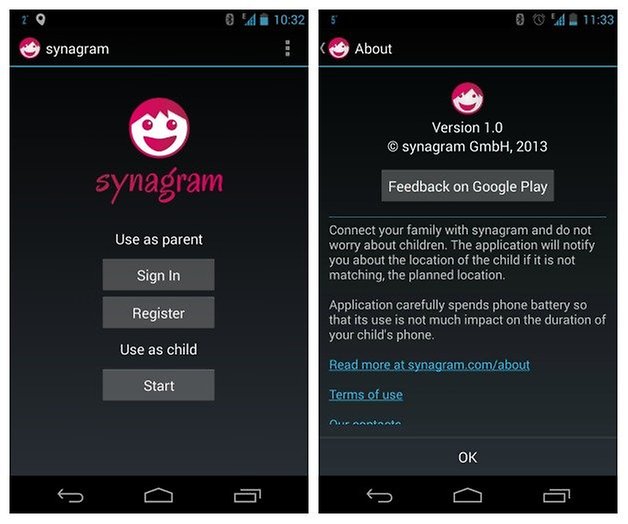 Screen & Controls
Synagram is clearly structured and follows the Holo design guidelines. The operation and the graphical presentation is well done and the overall picture is very consistent.

In particular, the focus on the main content is commendable and does not distract from the main task of the application which is all about safety and tracking.
Speed & Stability
Synagram ran the test period without crashes and was consistently stable.
Price/Performance Ratio
Synagram is available free of charge.
Final verdict
Synagram is an absolute recommendation for all parents and children, but it is important that they openly and honestly discuss the use of the application and work as a team to implement it properly.

Synagram offers great benefits to both sides. Parents can dispel worries about where their children are and whether or not their phone battery may have died, and kids have a direct line to their parents in an emergency and can spare the nerves of their loved ones. If the app is mutually agreed to by both sides of the generation gap it is a really great addition to the family.