The Google Play Store is brimming with puzzle games and so it's difficult to judge which will be a huge success, and which will get only a few installs. Tafu is a new easy-to-pick up, difficult-to-put-down Android game. But does it have what it takes to compete with the thousands of other Play Store puzzlers? Find out in our Tafu review.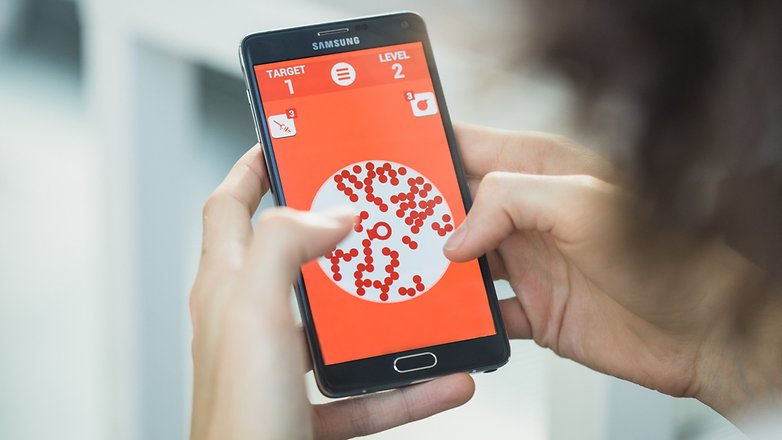 Good
✓

Rewards patient play

✓

Provides an authentic challenge
Bad
✕

Sometimes too slow-paced

✕

Repetitive by nature

✕

Occasional performance issues
| | | | | | |
| --- | --- | --- | --- | --- | --- |
| Reviewed on | Android version | Root | Modifications | Reviewed version | Latest version |
| Google Nexus 6 | 6.0 | No | | 1.2 | 1.3.1 |
Features & Use
In Tafu you are given a target number of balls which you must fire from a rotating canon in the center of the screen. If you successfully reach the target, then you complete the level. But the balls stack on top of one another and if they reach the launcher which you fire them from, you fail the level.
It's crucial that you avoid the balls already placed in fixed positions around the circular area you fire within. If you misplace a ball, and it sticks closer to you than you would like, it makes shooting past it that much harder.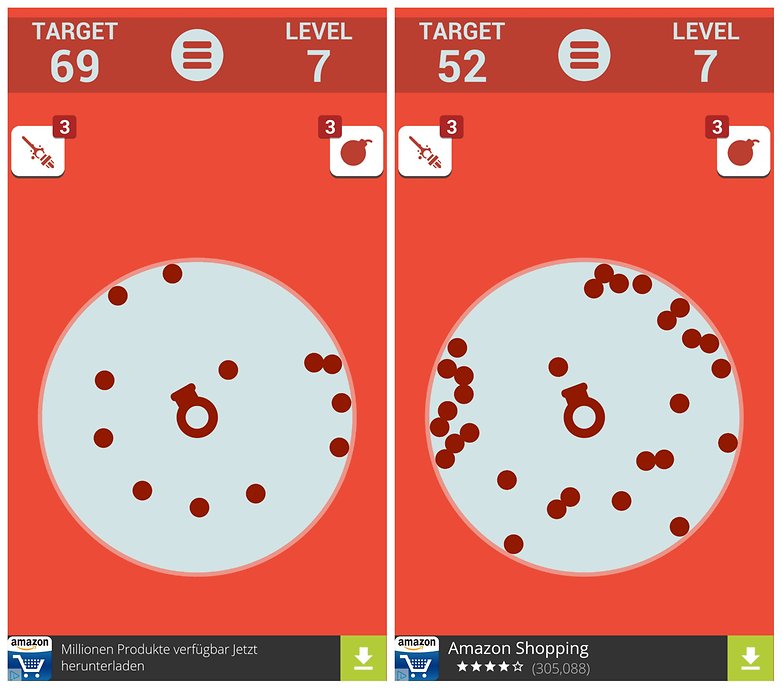 There is an element of skill involved in Tafu as you must time your shots correctly; Tafu really teaches you to be patient. If you place a ball in the wrong place, it will remain there. And it will haunt you. As the balls edge closer towards, you begin to regret your past placements more and more. It's rare for a game to stir this kind of emotion in its players.
That's basically all there is to the levels. They present different challenges in terms of where the starting obstacles are placed on screen. It works, but Tafu would really benefit from a timer for each shot. While I appreciate that it makes no attempt to go for the tired three-star system like most other Android games, the problem is that it becomes as much a test of patience as one of skill.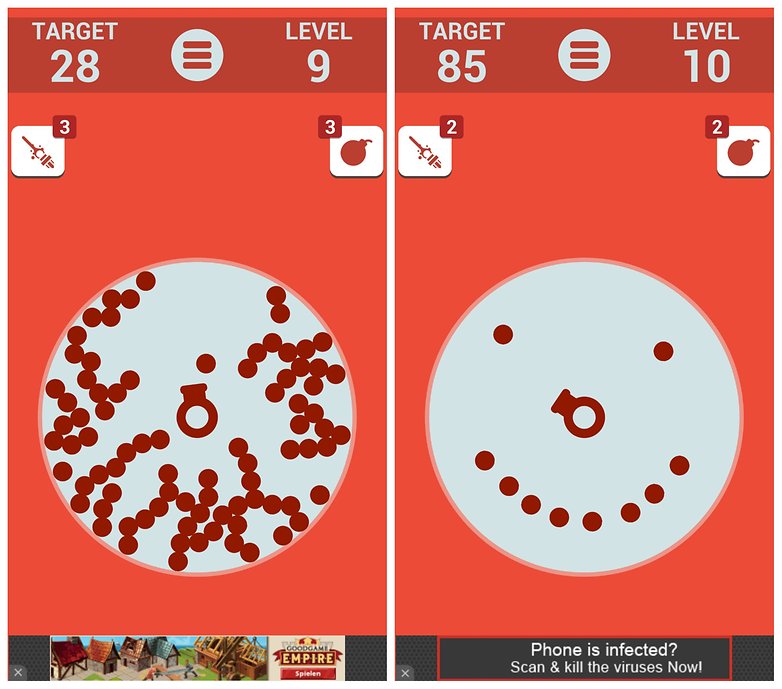 Having a time limit on each shot would mean that you couldn't rely on playing the waiting game to get the perfect shot. It would decrease the round length while maintaining the challenge and rewarding quick thinking. That being said, Tafu does become brutally hard even on early levels and a more gentle learning curve would help ease early frustrations.
Screen & Controls
Any game which requires precision must have controls to match. Thankfully, Tafu is responsive and easy to handle. It only has one action; you tap the screen to shoot the ball, but it never fails.
It's minimalist in design, relying on only a few basic shapes and a handful of colors, but that's all it needs. The clear distinction between the balls and the background is essential. Better to nail a simple idea than fail at a grander design.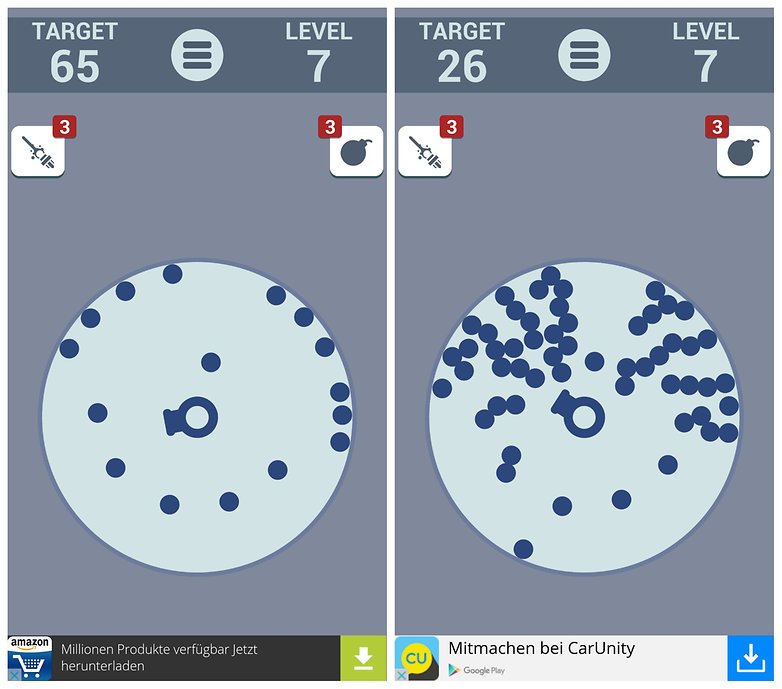 Speed & Stability
Tafu had no problems with load times or crashes during our test on a Nexus 6, but there were some performance issues with it on the Galaxy Note 4. The Note 4 arrived at around the same time as the Nexus 6, and it has the same processing power and RAM, but the frame-rate dips frequently on the Samsung device.
That being said, it takes mere seconds to start playing and we didn't observe these performance problems on other devices: it's as accessible as it gets on Android.
Price/Performance Ratio
Tafu is a free-to-play title with ads and in-app purchases. There is no in-game currency, so any special items must be paid for outright, or else earned by inviting friends to play the game via Facebook. The good news is that even the cheapest of the in-app purchases has the added bonus of permanently removing the ads.
Like many of these free-to-play games, though, the purchasable items are used to help you beat a level. This means that using them almost feels like cheating and it ruins the feeling of success upon completing a level.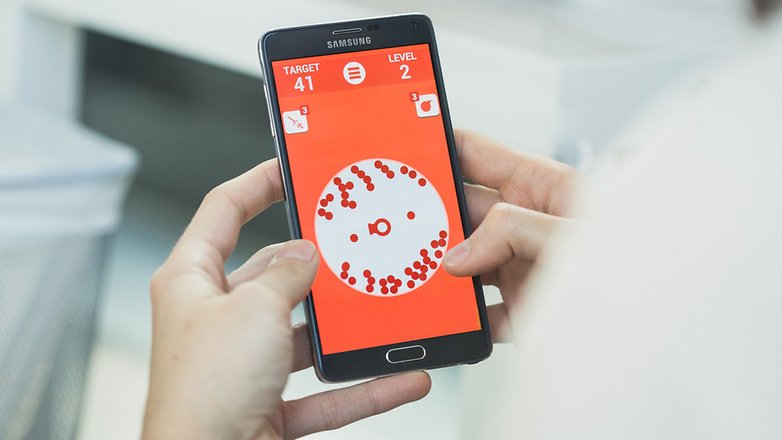 Final verdict
As far as "one-tap" style games go, Tafu is a success. It's fair, accessible and the controls work well. You can easily jump in and kill some time. Tafu is tough, but it rewards the patient player who considers the next move. Pop the Lock is a hugely popular title right now and is similar in its style and simplicity – there's no reason why Tafu couldn't sit alongside it.
Tafu is available right now in the Google Play Store and Apple app store as a free download.