Tandem launches language learning icebreaker game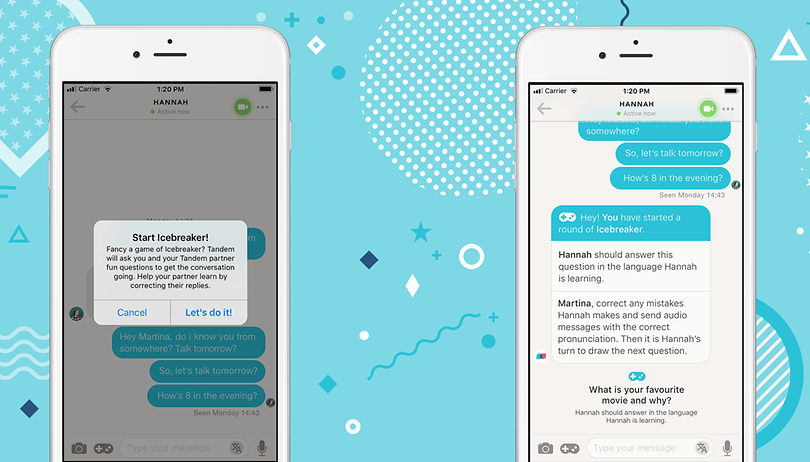 Today, language learning app Tandem launched a new Icebreaker feature designed to make sure you will never run out of things to talk about with your language exchange partner. Part of the app's latest update, the Icebreaker game encourages partner feedback via text and audio.
Tandem, the largest global community for language learners, released the new feature with the goal of making it even easier to learn a language in 2019. The app is hoping to provide its members with a feature to help them stick to their goals and reach fluency next year.
Tapping on the gamepad icon in the Chats tab will start a round of what Tandem is calling an "icebreaker game". The app then generates questions for each person to answer in turns. Learners are encouraged to correct their partner's mistakes by using the message correction function, as well as sending audio messages to improve pronunciation.
An estimated 80% of New Year's resolutions in the US fail by mid-February, by which time holiday remorse wears off and life catches up with your new goals before they can be met. Tandem says that its new feature is designed to combat that drop-out rate.
The Icebreaker feature completes the release of Tandem's new 3.0 iOS release and 2.0 Android updates, which introduce a redesigned onboarding process, improved privacy with email login and firework animations that are triggered upon the completion of language learning actions.
CEO and Co-Founder of Tandem, Arnd Aschentrup, said: "Our goal is to build technology that makes learning fun and social. With Tandem, anyone can learn and teach languages while making friends around the world. Our new Icebreaker feature is the first step in developing a smart assistant that guides one-on-one Tandem partnerships from the very beginning all the way to fluency."
Tandem's Icebreaker feature will start rolling out to all members on Android and iOS today.
Have you used Tandem or a similar language learning app? Share your experience with us in the comments below.