Tegra 3's FIVE Core Quad Core Architecture Dubbed the " 4-Plus-1"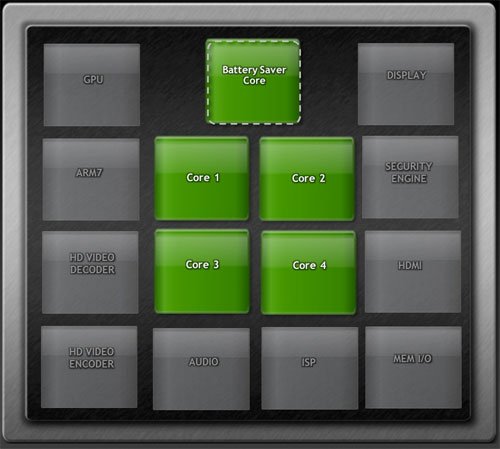 (picture from Engadget)
"Five Core Quad Core Architecture"? Confusing right? NVIDIA has always been known for using terms such as "ninja" or "companion" when describing it's Tegra 3 quad core (with an extra) arcitecture. The technical description for this architecture is actually dubbed "Variable Symmetrical Multiprocessing", which in all honesty, isn't a very marketable name. So in an effort to create a name that immediately makes a statement, the offical new name of the architecture is now 4-PLUS-1. That's a little easier than "Variable Symmetricalal Multiprocessing" right?
Mobile business general manager Michael Rayfield stated that "Our customers wanted a name that's unique and descriptive, a name they could put on a box or a store sign that immediately represents its value".
Expect to see the new name pop up a few times next week in Barcelona.
I'm still not sure if I'm more interested in Tegra 3 or Qualcomms Snapdragon processors, but both companies seem to be dong a lot lately to move our devices to the next level. Who knows...maybe a new quad core contender will enter the market soon.