Telegram - A safer alternative to WhatsApp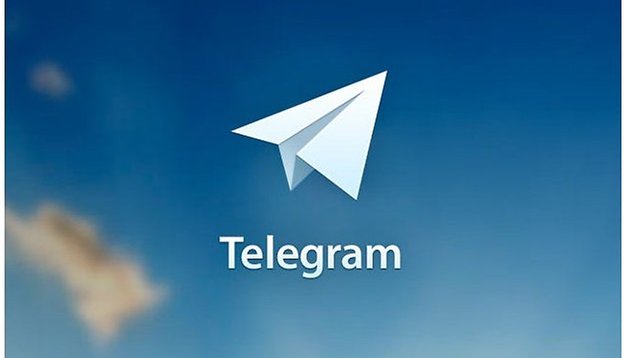 Telegram is one messenger among many, however, this app has some important advantages over the others, advantages that set it apart from the very things for which WhatsApp and Co. are always criticized. That's right, Telegram is set apart by its secure transmission of messages and files and the ability to use the app on multiple devices. To see how the app performs in practice, you'll discover in today's review.
Good
✓

Quick and secure with end-to-end encryption

✓

Self-destruction of messages

✓

Unlimited cloud storage

✓

Use on multiple devices

✓

Video-delivery up to a GB
Bad
✕

Few users so far

✕

No voice messages
| | | | | | |
| --- | --- | --- | --- | --- | --- |
| Reviewed on | Android version | Root | Modifications | Reviewed version | Latest version |
| Samsung Galaxy S2 | 4.1.2 | No | | 1.2.6 | Varies with device |
Features & Use
Telegram works very similarly to many other messengers. After starting the app, you must first verify your mobile number. You will then receive a code via SMS. This is either automatically confirmed or you must enter it by hand. Then you'll instantly be able to see which other contacts in your phone book have already installed the app via the Telegram contact list.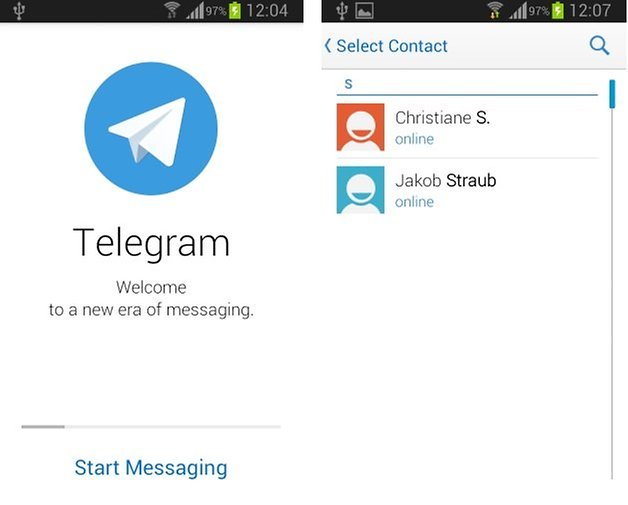 One thing is clear immediately: Telegram, by design, is very much reminiscent of WhatsApp. Anyone who has the popular WhatsApp messenger on their phone already will not have any trouble finding their way around Telegram. Profile information of your chat partner can be accessed with a quick tap on the small profile picture at the top right. You will also find their last-seen status, phone number, and you can set a custom notification ringtone for each contact. Previously exchanged media such as videos, photos and location data can be found under "Shared Media".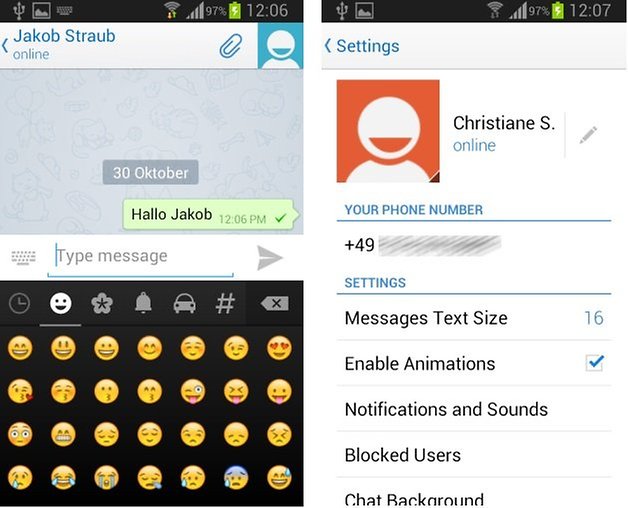 What makes Telegram so special is the end-to-end encryption of messages that you can set as an option in the profile of the chat partner. "Start Secret Chat" will open your chat in a new chat window with end-to-end encryption. This means that encryption is used on all transmission stations for your chats. Your data is encrypted on the server side and again until unraveled at the receiver's end. No data is stored on the Telegram servers. You'd have to read the source code of the app to know exactly how secure this is, but Telegram is claiming any Secret Chat will be 200% secure, which certainly sounds confident.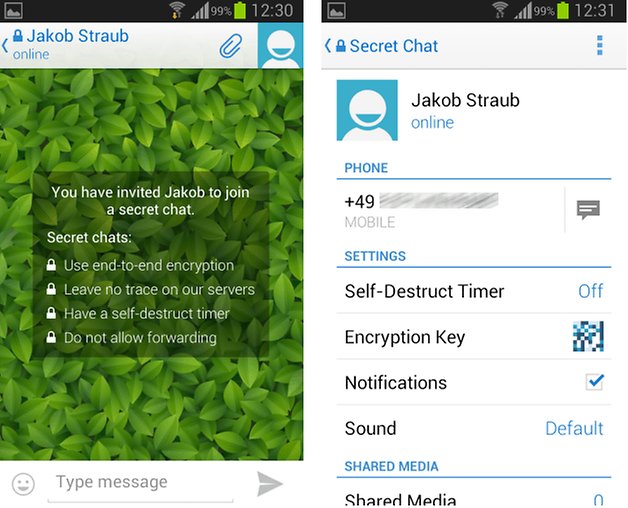 Once you start an encrypted chat, your chat partner will be notified that you wish to start a Secret Chat and will have to confirm your request. Once this happens, you'll find new options in the profile information. For example, you can view the encryption key, which must be identical to the key found in the chat of your contact.

However, the most interesting thing about these new settings is the self-destruct timer. If you choose to enables this, you can specify how much time will elapse between sending a message from your device to the receiver before it self-destructs. This means not only are the messages never cached but they are also irrevocably destroyed after a set period of time. The selectable duration is between one week and two seconds configured in various set stages. In the test the destruction of the messages worked immediately, leaving traces nowhere on either device.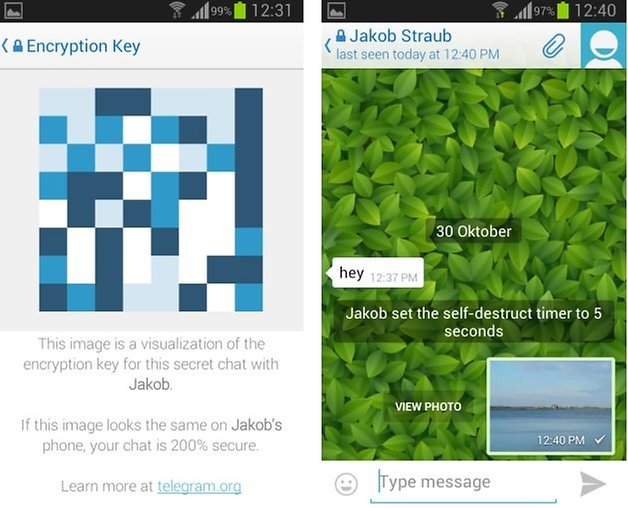 Besides the function of a secure chat messenger, Telegram has all the usual features you would expect from such app. The user interface is, as already mentioned, very oriented towards WhatsApp. The smiley selection and transmission line are almost identical. Only the voice mail feature is missing. However, with the app's group chat you can carry on a conversation with up to 100 people. Also, by using the paper clip icon you can send your pictures and videos from your gallery with a size of up to one gigabyte. Your location can also be shared and if you want to, you can store messages in the app's own cloud.
In the settings you can edit your profile, set the text size and activate animations. Notifications and sound options can also be customized here. In addition, you can put a contact on a blacklist and change the background for your chats. For this you have several templates available, but you can also use images from your gallery. If you have questions about Telegram, you can message the developers directly from within the app. The log-out feature is also found in your profile at the bottom.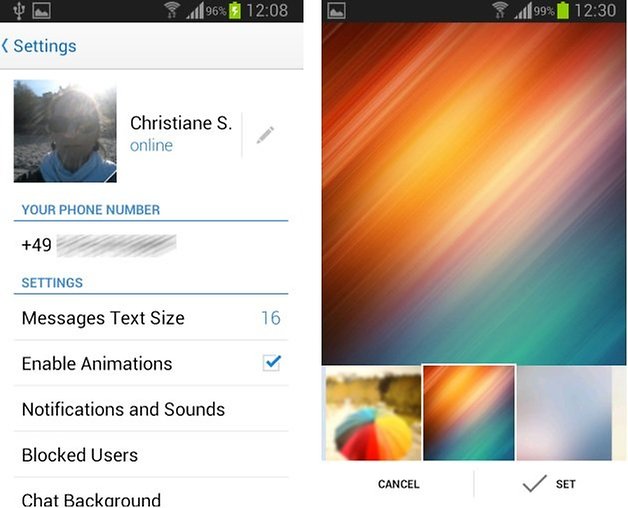 Overall, the Telegram messenger paints a pleasant picture. The chat app fails on one thing, however: as far as my contacts go, Telegram usage is negligible. None of my friends had already installed the messenger - that means once again a lot of convincing was required to fully make use of the app, because I really liked it. Of course, this is a good way to spread the app around, but it doesn't make it easy to use at the start.
Screen & Controls
Telegram is easy and intuitive to use. The messenger app boasts a clean and clear interface. In the settings, there are not quite as many options as, for example, in WhatsApp, though the smart Messenger is definitely functional. The encryption of chats is set up quickly using the specific contact's profile page. In addition, backgrounds and sounds provide some nice ways to personalize the app.
Speed & Stability
Telegram ran with very stable and reliable performance and the messages were delivered without delay. The messenger stood up to its claim to be one of the fastest messenger apps available. Even with the self-destruction mode enabled all chats worked flawlessly.
Price/Performance Ratio
Telegram is free to download. The app contains no advertising or additional premium content. There are also versions of the Messenger available for iOS.
Final verdict
Telegram convinced all along the line – the only thing missing was the pre-existing user base. It's a tall order for any WhatsApp alternative in the highly competitive instant messenger market, but Telegram has a decisive advantage that is bound to catch on, especially in times of eavesdropping and wiretapping scandals thanks to its encryption and self-destruct functions.

Starting from the clean user interface, to quick and reliable delivery of messages, Telegram is presented as a worthy competitor to other messengers - and especially to WhatsApp. The final cherry on top is that Telegram can be used on multiple devices, something WhatsApp still can't do. For me personally, the app is a really good alternative for which I was happy to convince my friends to use.