Telekinesis FREE - Telekinesis The Puzzle
Puzzles and mind games are among the most popular game genres for Android. Whether they are classics like Free Flow, Dots or Cut the Rope, many of the best sellers come from this genre. The game Telekinesis FREE, which has only just become available, pursues a principle already slightly familiar, but offers something quite peculiar. What makes the game unique and you can find out in today's review!
Have you ever heard of OSIRIS?
Choose "Yes, I have!" or "Never heard of it.".
Oops! Seems like something went wrong. Reloading might help.

Oops! Seems like something went wrong. Reloading might help.
Good
✓

Interesting and tricky gameplay

✓

Many levels

✓

Still challenging even after many games
Bad
✕

The tutorial could be better designed
| | | | | | |
| --- | --- | --- | --- | --- | --- |
| Reviewed on | Android version | Root | Modifications | Reviewed version | Latest version |
| Google Galaxy Nexus | 4.3 | No | | 1.00 | 2.0 |
Features & Use
Telekinesis FREE follows a similar gameplay to many other puzzle games. Thus, the challenge is to move all the TVs so that they line up in the places provided for them on the screen. The little story behind it: Vincent works in a TV store, and when new supplies arrive he must classify them. However, the character has a special ability in that he can move entire chains of TVs simply by the power of thought in up to four different directions simultaneously. What sounds simple at first quickly turned out to be quite challenging!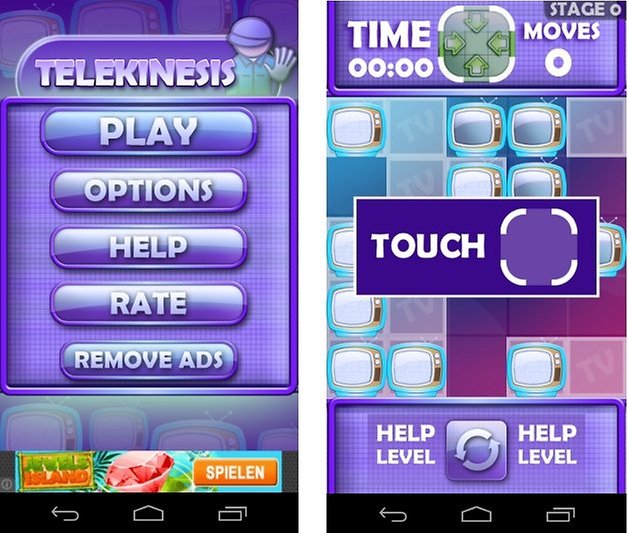 The game consists of a total of 1500 different levels and three different difficulties. In addition, the player can use a limited number of tips and play a small introduction level. The latter, however, I found to be not very useful as explanations are entirely missing. Thus, the player must teach themselves through "learning by doing." Although the game is not very complicated, a better tutorial would be helpful.

At the beginning of each level the TVs are distributed throughout ''field.'' The button with the four arrows at the top shows in which direction the telekinetic movement will be, ie whether TVs are pushed or pulled. Note that not only the nearest television is moved, but all televisions in a row, which can be individual TVs or a chain of TVs, depending what's in the row and which TV you tap.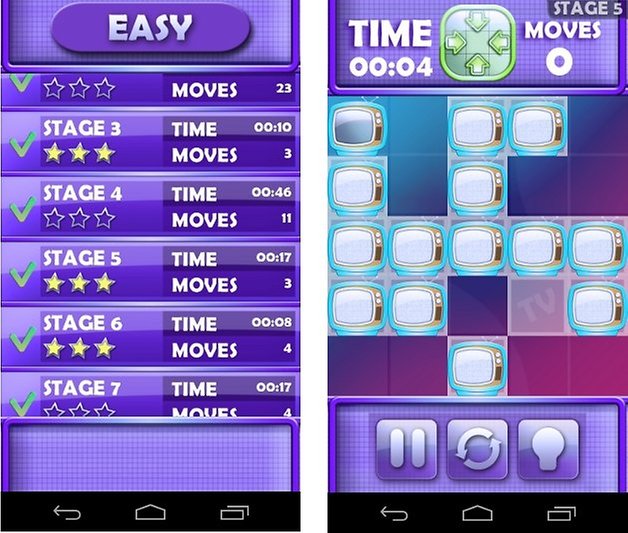 It is actually quite surprising how few moves are usually used to solve a level. First of all, thinking through all the possibilities in your head first is definitely worth it, otherwise you might need 30 moves to solve a level rather than just a few.

In addition to the game play, the time is measured along with the number of moves in order to evaluate your score for each level. If the player get stuck, there is the possibility to use one of the hints. The hint shows the player a step-by-step guide to help in solving the level. By solving a level with three stars new hints are added, so they do not get used up too quickly.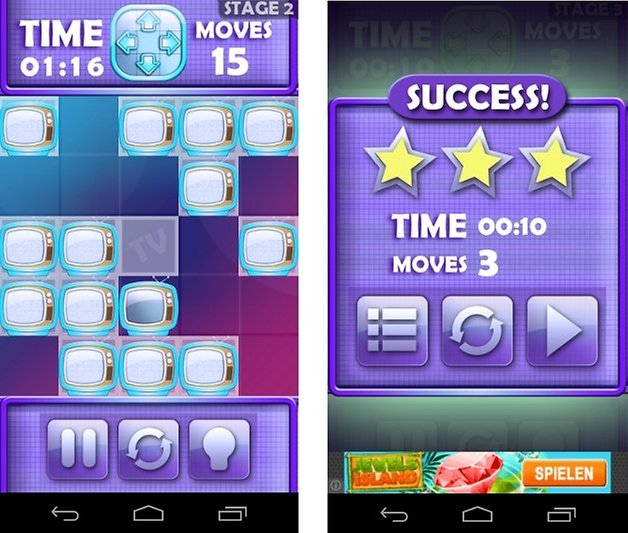 In the settings, the player can change the volume of music and sound effects. Under Help you find the previously mentioned tutorial. In the free version of Telekinesis, advertising is displayed; this disappears if you buy the full version. You also get unlimited advice in the paid version.
Screen & Controls
Telekinesis FREE is clearly designed so that the player can immediately find their way around. Graphically there is still a little room for improvement, but the app certainly doesn't strike you as having bad design or poor implementation. Everything is well made and makes for a good game. My only criticism is the operation at the start. Although this is quite simple and intuitive, you need some example games with instructions on the rules to get into it easier. A better tutorial with additional explanations would be quite helpful. But all in all, this game was very satisfactory in this category.
Speed & Stability
Telekinesis FREE was fine in terms of stability and speed. Everything went as it should and no problems were experienced whatsoever.
Price/Performance Ratio
Telekinesis FREE is, as the name suggests, free of charge. Advertising in the free version will appear, which may be removed by the payment of 99 cents. In the premium version the player is also entitled to unlimited hints.
Final verdict
Telekinesis FREE was quite convincing as a whole. The gameplay is not groundbreakingly new, but has nevertheless been implemented in quite an interesting and peculiar fashion. Due to the very large number of different levels and different levels of difficulty Telekinesis FREE is still challenging even after some playing time. All in all the game is pretty well done and therefore receives four stars in the overall rating.