Temple Run 2 Coming Next Week to Google Play Store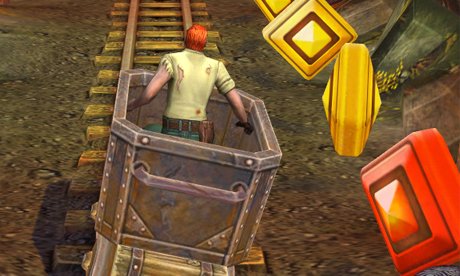 The successor to the wildly popular Temple Run is coming to Android next week. The app has already hit the iOS App Store and the Android version is "close to finished," according to the developer Keith Shepherd.
The gist of Temple Run 2 is the same as the first game: you're running away from danger and you've got to collect coins while being careful not to fall into the abyss. But the game does bring plenty of new elements to the mix, including mine cars, zip lines, new powerups and better graphics.
Yeah, it mildly stinks that Android owners don't get new games as quickly as iOS users, but it's only a week late. And think of it this way: the iPhone owners are the beta testers. Android owners get a more finished product.
The first Temple Run was released on Google Play on March 27th, 2012, more than a year after it first debuted on the iOS App Store. It was download 1 million times in under 3 days, and spawned numerous copycats and spinoffs.
Check the video below for an extended gameplay trailer that should give you a very good idea of what this game will be like to play. I think they've updated the graphics perfectly, and made the game far more exciting. Will you be downloading?