 Ten Things You Could Buy For The Price Of A Samsung Galaxy S3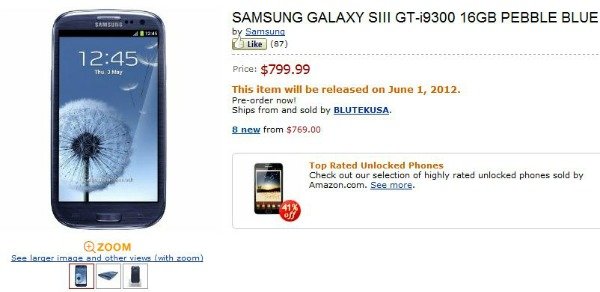 800 dollars...let me write that again..eight...HUNDRED...dollars. That's the current Amazon pre-order price of the newly arrived Samsung Galaxy S3. However badly you want the device, one thing is certain: 800 dollars is no small chunk of change folks. I know that most people will get it subsidized on a contract, but the fact of the matter is, there are a lot of people that are prepared to (and will) spend this amount of money on the phone. Now make no mistake, I LOVE Android phones and Android tablets, and I love playing with new electronic toys that hit the market. I threw money at Samsung for my Galaxy Nexus and for my recently retired Galaxy Tab 10.1, and I can say without hesitation that their products are top notch. That being said, do you actually know what you can buy for 800 dollars? Can anyone really justify shelling out almost a GRAND for a phone?
This article is for anyone who is currently debating on paying that price for this device, and before you do that, I urge you to have a look at 10 things I have found that you can get for the same price (and cheaper) as the Galaxy S3 off contract. After reading it, let me know in the comments if you still feel that this phone is worth this amount of bank.
CyberpowerPC Gamer Xtreme Computer - Price: $768.00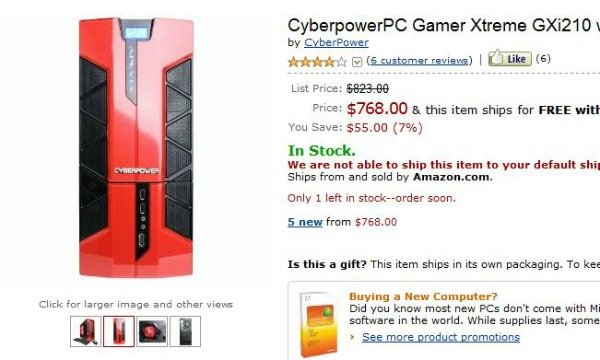 For even less than the price of a Galaxy S3, you can get your hands on this beastly gaming computer. Intel I5 quad core processor, GeForce GTS 430, 8 gigs of DDR RAM, 1 Terabyte hard drive, and Windows 7 included. This computer would certainly bring lots of joy to gamers, and you could always upgrade by simply replacing the parts (PC can be purchased here). Speaking of gamers...
Xbox 360 with Kinect + PS3 with Call of Duty 3 + Nintendo Wii Black Edition with Mario Kart - Total Price for all 3: $768.22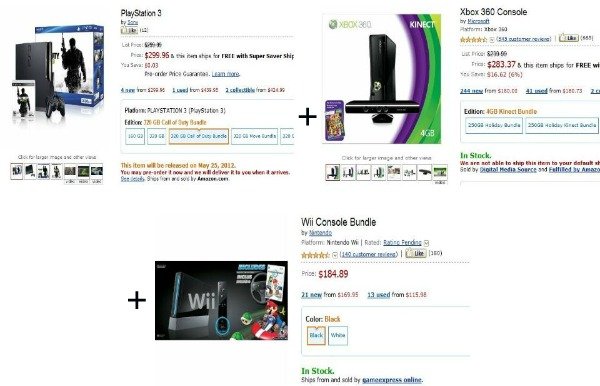 You're reading that right. For LESS than the price of a Galaxy S3, you can buy ALL THREE consoles with games and accessories and still have cash left over. That's EVERY home gaming console on the market for the price of 1 phone. A gamers dream I tell you (PS3 here, Xbox 360 here, Wii here)...But what if gaming isn't your thing?...

PRS SE "Tremonti" Paul Reed Smith - Price: $565.00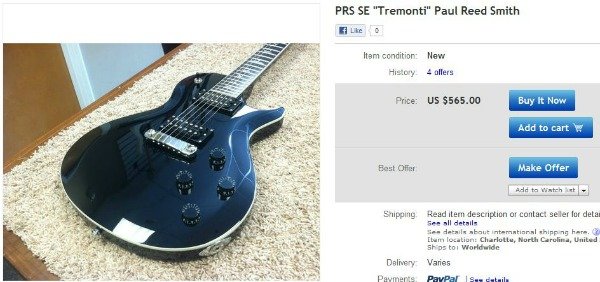 Mark Tremonti has been recently voted one of the greatest guitarists of all time (Creed & Alterbridge lead guitarist) and this is a verion of his guitar with Mark's stamp on it. More than 200 dollars cheaper than the phone, and something that will last you for life. I play the guitar myself, and I can tell you that for this price, you are getting a seriously good electric guitar. If you're interested, it can be purchased here for a limited time.
Three Day Trip To Las Vegas For 2 People With Flight And Hotel Included - Total Price for 2 People: $765.15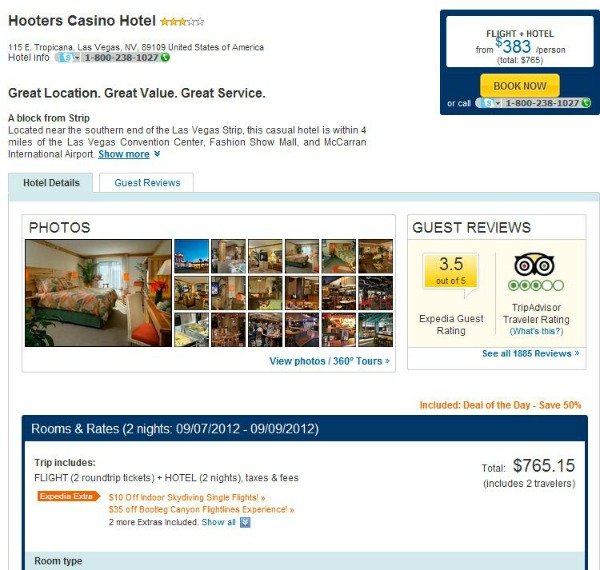 Oh yeah. Vegas baby. As you can see from this offer on Expedia, you get a package for 2 people including flight and hotel for a weekend trip to the City of Sin. You will naturally require additional funds for all the corruption Vegas has to offer, but the fact that the flight and accommodations for this trip for 2 are covered for almost 40 dollars cheaper than the phone really makes you put things in perspective a bit.
ROLEX TUDOR SOLID 9CT GOLD 15 RUBIES - Price: $513.44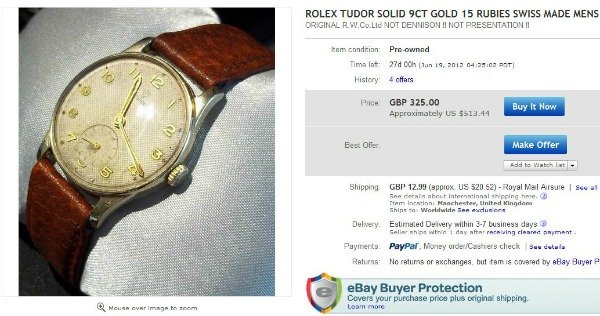 If you're a watch lover, then you could be the proud owner of this Rolex made watch for almost 300 dollars cheaper than what you would pay for the GS3. A great gift from a company with a hell of a reputation for quality. If you're interested, it can be purchased for a limited time here.
Jacuzzi 7263959WH Nova 6 Acrylic - Price: $733.57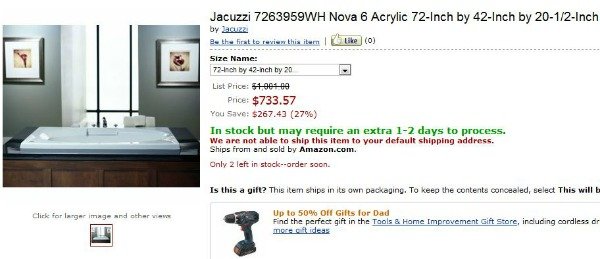 This one is pretty crazy as well. For almost 70 dollars less than the S3 (minus installation of course), you and your lady could get this beautiful Jacuzzi installed in your bathroom, which would provide you with a LIFETIME of romance and relaxation. It also looks pretty freakin BOSS as well. If you're interested, it can be purchased here.

NEW A-10 Warthog Remote Control Electric RC Fighter Jet - Price: $645.95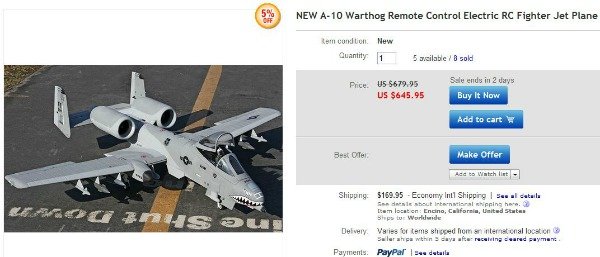 I had to laugh at this one, but it's just too cool for my immaturity to ignore. For less than the price of a Galaxy S3, you can own a freakin twin engine remote controlled fighter jet. Baller? Indeed it is. These things are so much fun to fly, and are not only a blast for adults, but are a great way for dads to bond with their teenagers :-) Twin engine remote control fighter jet = WIN. If you're interested, the jet can be found here.
2010 Coolster Atv's Mountopz 110 - Price: $685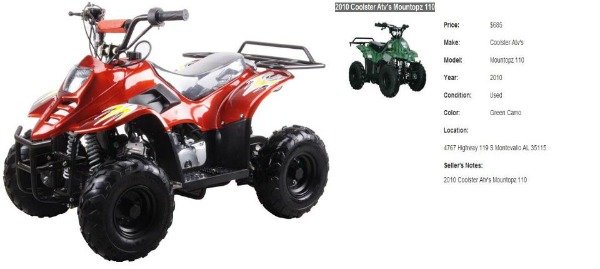 SCORE! Took me a while to find this one, but for over 100 dollars less than an S3, you can have your very own 2010 Coolster quad. It's used, but this particular model is known for being a great beginner ATV. Fun? You have absolutely no idea....The ad for it can be found here.
HTC One X - Price: $584.76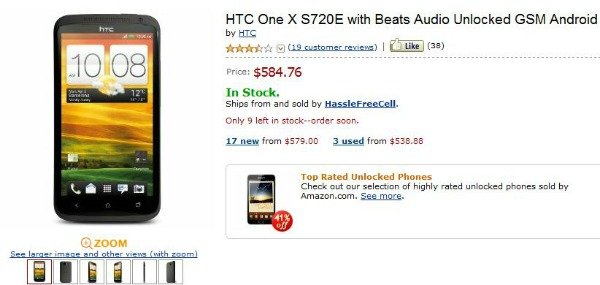 Naturally, if you're looking for a quad core phone, there's always the HTC One X. Packing a Tegra 3 processor, a beautiful display, very solid build quality, and the best camera I have ever used on a smartphone, it will cost you over 200 dollars LESS than the quad core Galaxy S3. You can get your hands on it for this price here.
LG 32LM6200 32-Inch Cinema 3D Smart TV - Price: $649.99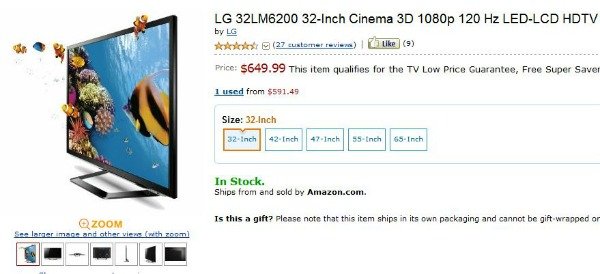 This one is a whammy. For 150 dollars less than a Galaxy S3, you could have a new LG 32 Inch 1080P Full Hd Smart TV including 6 pairs of 3D glasses. Do I need a 3D TV? No. Do I want one? Hell yes. If you're interested, you can pick it up at that price here.
Bottom Line
So there it is folks. Whether you love phones, gaming, computers, musical instruments, outdoor fun, traveling, luxury items, or TV's, there certainly are lots of cool things you can buy for 800 dollars. That being said, that 800 bucks would also get you one of the best and most powerful smartphones in the business, and it will without a doubt be the Android phone to have in 2012. Is it expensive? Umm...yeah. Will I still get one? Well...yeah. :-)
Either way, if you do decide to get it, I'm sure Sammy and all the carriers working with them will give you plenty of options to get this powerful device very cheap on a subsidized plan. Gotta love subsidization and monthly financing, right? :)
Bring on the S3!!!
Picture credits: Amazon, Ebay, Expedia, and carsunder1000dollars.us
(Prices and availablity of these items are subject to change, but were for the quoted prices when I researched the article today).