Tennis Buddy app Find partners - Game, Set, Match!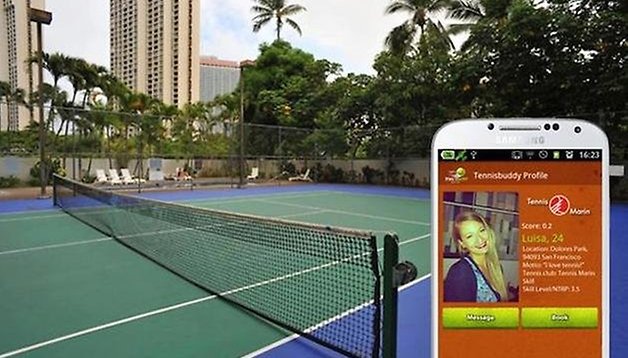 Many sports depend on the availability of teammates and opponents. In today's app test report, we take a look at Tennis Buddy app Find partners, the name already describing its purpose. Whether or not it can find you an worthy opponent will be explained in today's review.
Good
✓

Useful Idea

✓

In theory, a great and quick way to find tennis partners
Bad
✕

Not enough registered users to find anyone nearby

✕

Lack of modern and Android integrated user interface
| | | | | | |
| --- | --- | --- | --- | --- | --- |
| Reviewed on | Android version | Root | Modifications | Reviewed version | Latest version |
| Google Nexus 4 | 4.3 | No | None | 1.0.13 | 2.1.10 |
Features & Use
Tennis is fun and ensures that your body and mind are kept fit. The sport requires good physical fitness and technical skills. Even beginners can learn quickly, providing they have a suitable partner to hit the ball back and forth.
A key problem for tennis players is finding a good partner. So naturally, the local tennis club might be the first place to look, but for whatever reason, someone might not available. Therefore, the internet offers many opportunities to find a partner. But where could you find your kindred spirit easier than via the vast ocean of modern bulletin boards? The app was based on this exact idea: a simpler way to find friends with whom to play!
When first starting up Tennis Buddy app Find partners, it works quite easily. The application requires a login using either Facebook or Google, though it promises not to post anything on your timeline. My first point of criticism for this type of app is the lack of log-in via email address. I personally don't understand why I should share my most sensitive accounts with this app. So much information is gathered via your Facebook account, and I am even very reluctant to share personal details on Google.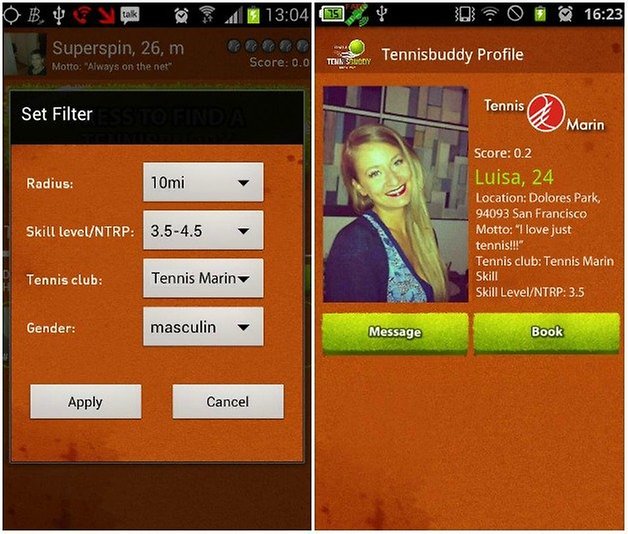 The application's next step is providing data about yourself. The user can upload a picture, share their own personal motto, and most important, specify their level of ability in tennis. While this information might be slightly skewed in the eye of the beholder, it at least allows a rough estimate of which players could turn into your BTBF (best tennis buddy forever). The next stop is looking for that special soul mate. First users who take a chance will come into contact with a huge range of potential tennis co-players or opponents, hoping to socialize and make friends and new acquaintances.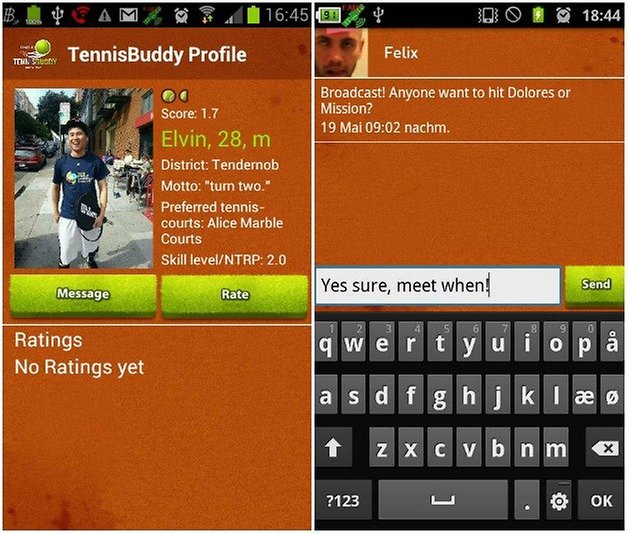 Unfortunately, this hope turns quickly into a boulevard of broken dreams. This is due to the above-mentioned variable "user". The creators of this kind of platform really rely on users for success. The more people download the application and sign up, the more players can be found by a new user. Wiithin a 10km radius around Cologne (i.e one of the largest cities in Germany and in the middle of a metropolitan area), only 3 players were registered (including myself). This can discourage new users, even posing a problem for more populated areas like mine where there are still slim-pickings. This is a hard one to solve for developers and can have a negative impact on user experience. What's the point of having an application for finding new players, if no one has registered? It's a vicious cycle, and hopefully some of our readers will take action and revive this platform after reading this. I'll at least give it a chance and wait.
Screen & Controls
The controls for Tennis Buddy app Find partners were well done and entries can be input quickly and without any lags.
Unfortunately, the graphics were slightly outdated. It does have its own charm, since the graphics look like a tennis court, but it doesn't quite fit well into the overall look of the operating system.
Speed & Stability
Unfortunately Tennis Buddy app Find partners could hardly do much to impress in this category. While the application ran smoothly and fast, there were frequent crashes on my Nexus 4.
Final verdict
Tennis Buddy app Find partners is a great idea and with more users, the application would absolutely be a valuable recommendation for all tennis enthusiasts. The lack of users and therefore potential players really is unfortunate. This vicious circle can only be broken with a push for new users. Maybe more people would use the application if registering with Google and Facebook was not mandatory?