 Text-to-911 Service to Roll-Out in 'Merica by May, 2014
Have you ever had one of those emergencies where you were so incredibly desperate, so ridiculously harried that you wished you could just send a darn text message to 911! After all, who wants to deal with those annoying call center reps! They're always asking for the most obvious information like your address. Like they don't know it already!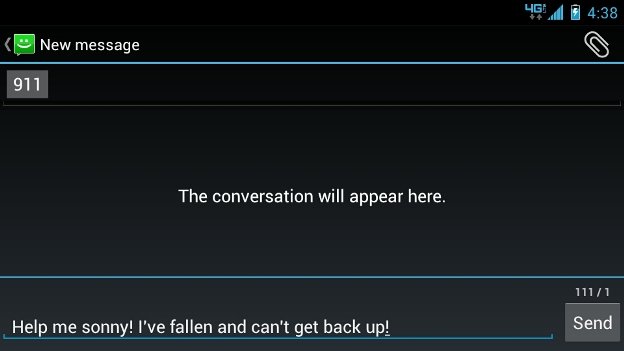 Well, apparently, kicking off in 2014 is a service that will support emergency text messages to 911. That's right folks, in the United States of America ('Merica!) we will be able to send just a text message in the event of an emergency.
The biggest carrier names including AT&T, Verizon, Sprint and T-Mobile have all signed on to support the text-to-911 service nationwide. To make sure everything is in order, the aforementioned mobile carriers will be working directly with the 911 Association and the Association of Public-Safety Communications Officials International.
Of course, the FCC says that they've been working with the big four in order to 'fast track' the new service.
The general plan is to have the service available for mobile customers by 2014. Unfortunately, when the service launches it won't be available everywhere, but will instead grow in total support over time. The carriers have identified a desire to have the service entirely functional nationwide by May 15th, 2014.
Make no mistake about it, this service will require lots of work to implement. It will require a whole slew of new hardware and software along with employees that know how to use them. It will also require training for emergency response teams, particularly regarding how they will obtain the necessary information through a text message. Regardless of what resources the service will require, it's refreshing to see so many parties decide upon a fixed launch date.
So there you have it everyone! We'll be texting away to 911 by 2014. It's good to know I can always count on good ol' texting when I'm under duress.
Just remember, it's still going to earn you a ticket if you text after an auto accident. Cops are even demanding to see phones now after a wreck, to make sure you weren't texting before the incident. Texting and driving is obviously an extremely dangerous thing to do, so don't do it. Breach of privacy can be just as damaging, however keep in mind that in no way am I saying it's just as dangerous, because it's not.
I don't want my phone content viewed without permission by authorities, so this is why I have a numerical passcode on my phone that will not be divulged without a warrant. No, I'm not naïve enough to think that they can't get the information in other ways, because they definitely can. I'm just protecting my data and best interests in the short term, and you should too!
Anyways, text-to-911 is coming in the States!