 Hands On With "The Bards Tale": Easily My New Favorite Android Game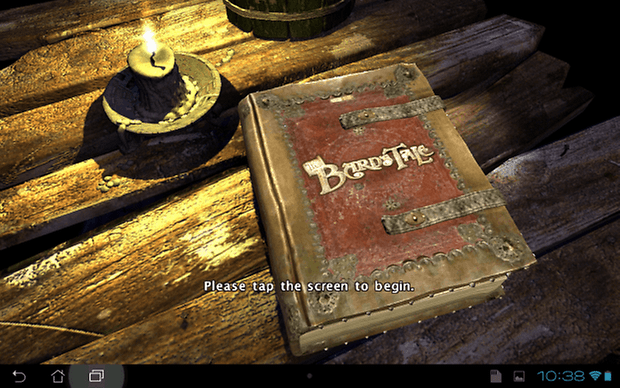 If you're a 1980's baby who plays video games, you have probably heard of The Bards Tale. If you're a 1980's baby that plays video games who does not know The Bards Tale, SHAME ON YOU! :-D The Bard's Tale is a role playing game that was first released in 1985, and received critical praise for its high quality graphics and great gameplay. The title was so successful that it spawned 3 additional sequels, and I'm very happy to announce that this amazing Tegra title has just now been officially released for Android. Nvidia was nice enough to give me an early taste of the game, and after playing it for a few hours, I am absolutely blown away that I'm witnessing such amazing quality on a tablet.
History
As I mentioned earlier, the game was originally released in 1985, and made its debut on the Apple II computer, which was developed by Apple co-founder Steve (the Woz) Wozniak. It was then ported over to the Commodore 64, Apple IIgs, ZX Spectrum, Amstrad CPC, Commodore Amiga, Atari ST, MS-DOS, and Apple Macintosh. The game showed up in the Apple App Store back in December of 2011 (currently holds a 5 star rating), with development team inXile Entertainment touting it as the "#1 RPG in 73 countries, including USA, UK, Australia, Canada, France, Germany, Italy, Spain, Russia, Japan, and China! ".
Graphics
If you happen to own a Tegra device, you are in for some very tasty eye candy. The Bard's Tale will look familiar if you are into games like Dungeons & Dragons, and boasts some truly beautiful graphics, especially for a mobile device. Now be warned: When downloading the game, you are given the option of downloading low resolution or high resolution graphics. The low resolution download is between 1.5 to 1.8 gigs, and the high resolution download is 3.5 gigs. So make sure you have some space!
The characters in the game are very detailed, and less than 1 minute into the game I was greeted by an NPC character who didn't hesitate to show off her "details" to convince me to carry out a task. The rooms/world is very rich in detail as well, and everything from the stone walls, the scratched wood floors, and the trees and grass look good on the game. It does a great job of creating a wonderful atmosphere, and I'm having tons of fun so far.
The game is played from a slanted overhead view, and scales down more to an eye level when you're having a conversation with someone. I very quickly grew comfortable with this viewing angle, and had no problems getting adjusted to it.
Here are some screenshots I took of the game with my Transformer Prime: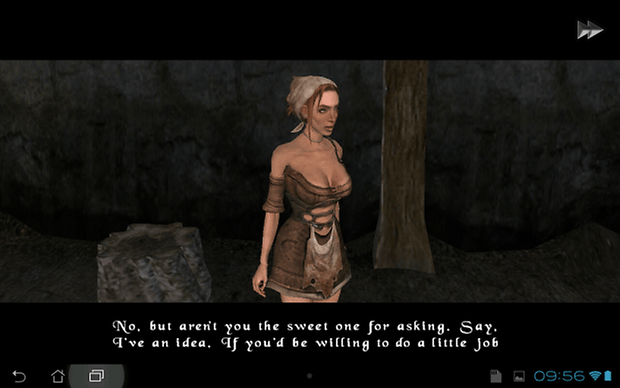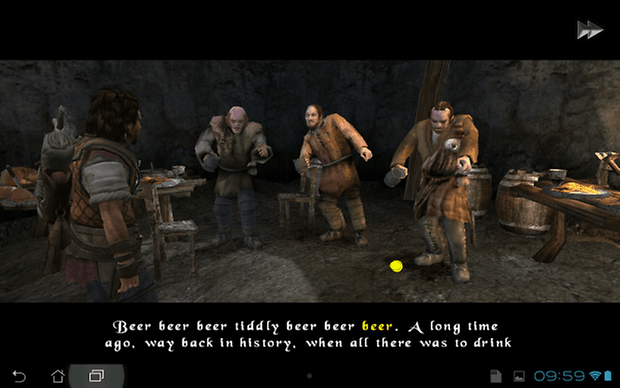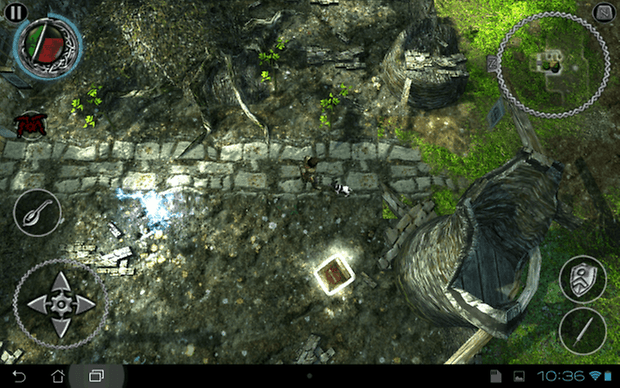 Controls
I have to admit that I was VERY pleased with how easy it is to move my character around and interact with the environment. On the bottom left of the screen is a directional pad that keeps movement limited to a circle around it (great system). On the bottom right you see the button that lets you swing your sword, along with a block button. There is also a separate button above the directional pad that allows you to summon/cast spells, and play your magical harp. It's all put together in a way that makes things very easy to organize, and I never had issues with flipping between weapons or items. There are also tutorials to show you how to fight and equip items, which does a good job early in getting you used to the mechanics of the game.
You can interact with people on the game simply by walking up next to them, which triggers an on screen prompt that you can press to interact. You are also given the option of responding in a nice or mean way to people (hint: the flirty girl at the beginning likes a man that talks a bit rough to her), and you can freely loot objects from slain characters. You can also smash barrels and interact with the environment, and within 20 min I had a little dog as a companion that alerts me of nearby enemies and buried treasure: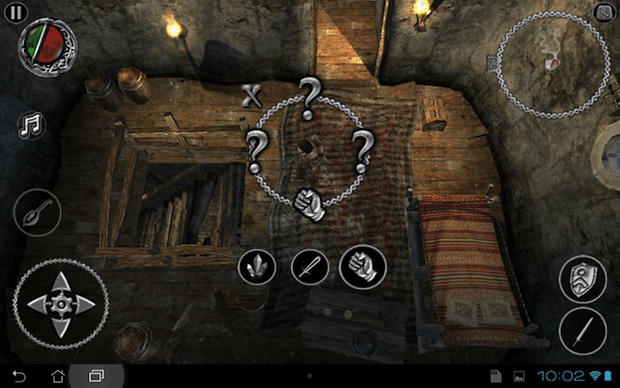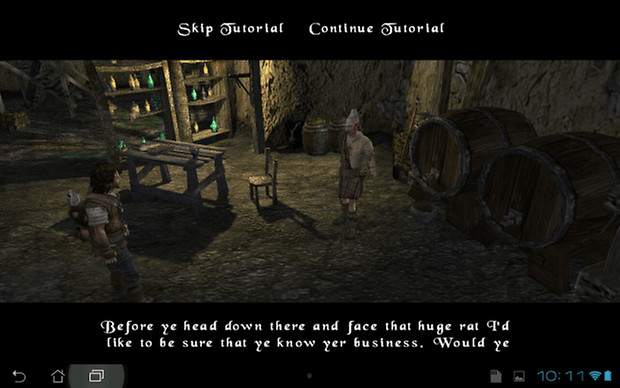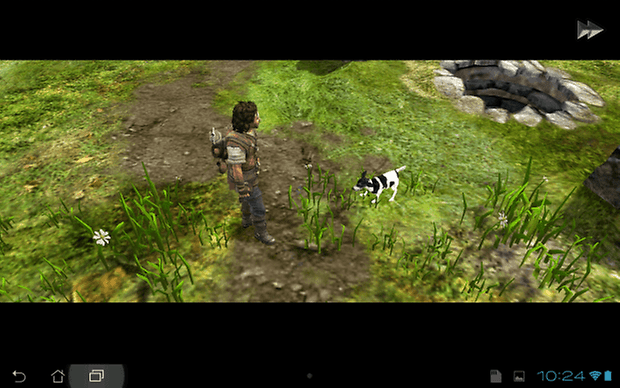 Sound
If you're looking for a game with awesome dialogue, look no further. The sounds, the singing bar drunks, the flirty women, the sounds of combat, and so much more are extremely pleasing to the ears. The audio for the game is second to none, and it's great to see a game where real effort was put into the voice acting and the audio. The sound compliments the already awesome atmosphere even more, and made the game a real treat to play when I was laying in my bed with my headphones on. There are lots of moments that literally made me LOL when playing the game, and I can see why the IOS version was praised as being one of the funniest mobile games ever made.
Gameplay
The Bard's tale is an RPG with a pinch of Dungeons and Dragons, a great story, and lots of things to do. You play as the Bard, and basically move around the world performing quests for people in need. What's your mission? To put it bluntly, money and women (your character has a thing for breasts). Good news is, there are plenty of ways to get both!
You can fight with your hands, with swords and other weapons, can summon beings with your magical harp to help you fight (I like the lightning spider), and you can constantly improve your character's abilities when leveling up. Fulfilling these tasks are rewarded with looted items, money, and spending the night with the damsel in distress that hired you for the job.
The level system basically allows you to improve attributes such as strength, vitality, luck, ect, and you get the chance to adjust them whenever reaching a new level. You can also naturally purchase items from an online shop, which will help you with various tasks throughout your adventure. The game features an autosave feature, and you are also able to find save points throughout the game. I am only a few hours in, but the developers state that it takes a good 20 to 30 hours to complete the game (I would hope so for a 3.5 gig download!). I certainly hope it takes that long, as I'm unable to put it down everytime I pick it up: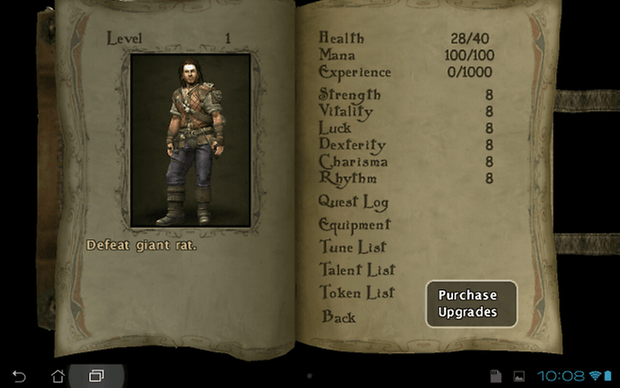 Performance
After playing the game a few hours on my Tegra 3 powered Transformer Prime, I can tell you that the performance is very stable. I didn't run into any crashes or freezes, and the only issue at all I faced was an occasional framerate drop with a second or 2 or stuttering. This happened so rarely that I can hardly call it an issue, and the game runs more or less perfectly smooth on my tablet.
Additional features and sequels
As you can see from the title page of the game, there are social media options for FB and Twitter, video content, game options (for performance, sound, ect), and even a page that allows you to play the orginal game from 1985 (with the sequels shown as coming soon):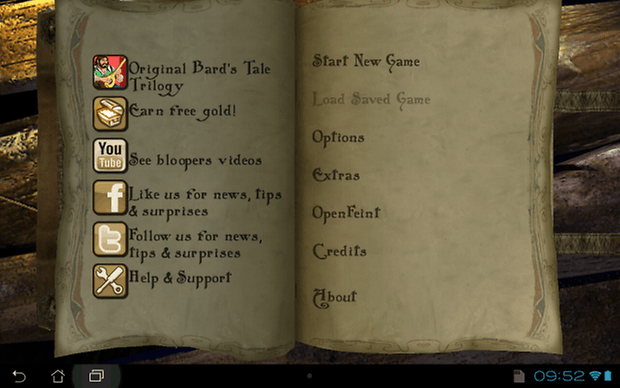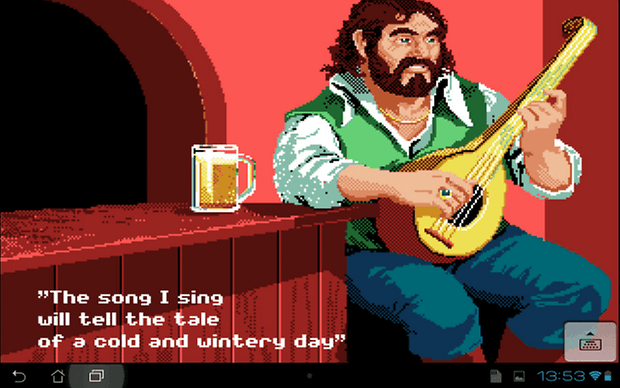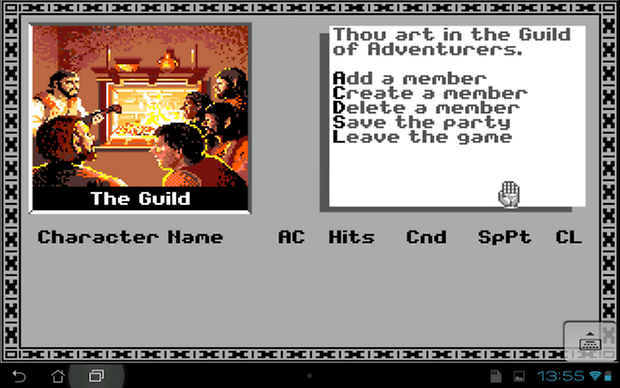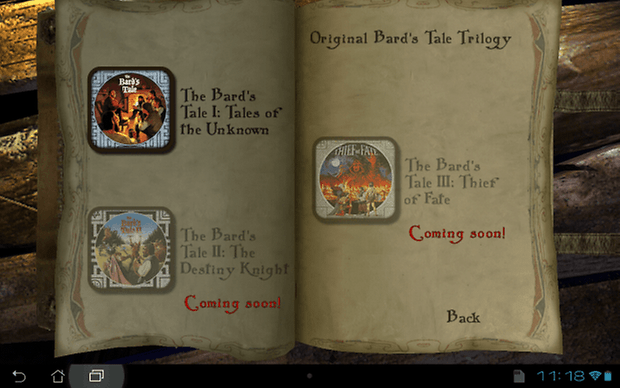 Conclusion
The Bards Tale is even more proof that high quality Android gaming has arrived. Great graphics, amazing story, high quality sound and dialogue, and plenty of adventure easily make this title my new favorite mobile game (I'm an RPG freak), and I don't see that changing anytime soon. When I'm not hacking away at Skyrim on my Xbox, I'll gladly hack away at The Bards Tale, and I can't applaud inXile Entertainment and Nvidia enough for the work they have done on this amazing title.
You can purchase The Bards Tale from Google Play for 5.99 (trust me, it's worth it) here, and more details can be found on the Nvidia Tegra Zone here.
More titles like this PLEASE!!!