 The Horror! Facebook Graph Search Will Expose the Hypocrisy of Us All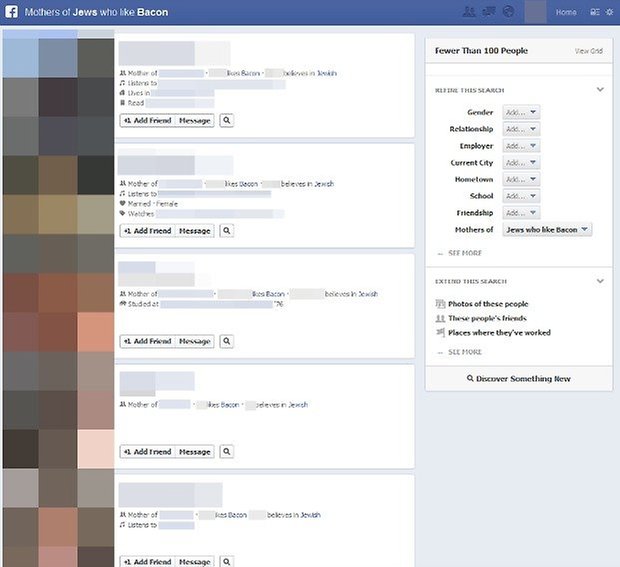 Holy wow, what fresh hell hath Facebook wrought?
Tom Scott, a tech commentator, has compiled a list of hilarious (and horrifyingly personal) Facebook graph searches he's performed and – Jesus! — I can't believe how many crazy things we will now be able to search for via Facebook. Among the uses for Graph Search I did not predict: finding cheating spouses, exposing hypocritical Catholics and proving that Jewish moms love bacon.
ActualFacebookGraphSearches.Tumblr.com is aring out all of Facebook's dirty laundry and while the owner of the site has blurred people's names and faces, others might not be so kind. Time to comb through all of your "likes" and discard any that may incriminate, post-haste!
Among Scott's findings:
Soldiers serving in the US Air Force like "racism" (ironically, I hope).
Lots of married people like prostitutes (I guess this one's to be expected)
Catholic mothers like the condom brand "Durex"
Social conservatives who like "Focus on the Family" also happen to be fans of out gay celebrity Neil Patrick Harris.
Even more worrisome is the fact that governments could use this tool to persecute minorities. Already, the blogger has shown how a simple query could expose gay men living in Tehran in one fell swoop.
This is such a huge invasion of privacy, that I'm pretty sure the entire world is going to rise up and burn down Facebook HQ in 3...2....1...