The new Asus generation hands-on: mid-class tablets, high-end events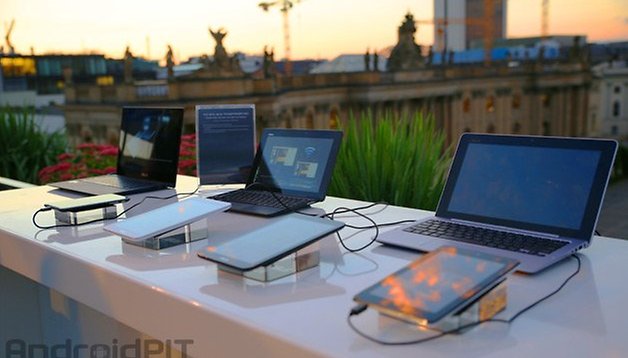 The IFA hasn't even officially started for the general public and already Asus has presented its new devices, and by doing so, a whole new generation of tablets, phablets and hybrid Notebooks (7 to be exact) have been born. The Taiwanese manufacturer obviously decided to splurge and held the press conference in a very luxurious atmosphere, as well as including a pompous dinner on the roof top of a hotel. Here you'll be able to catch a glimpse of what went down during the press event and catch a short presentation of the featured devices.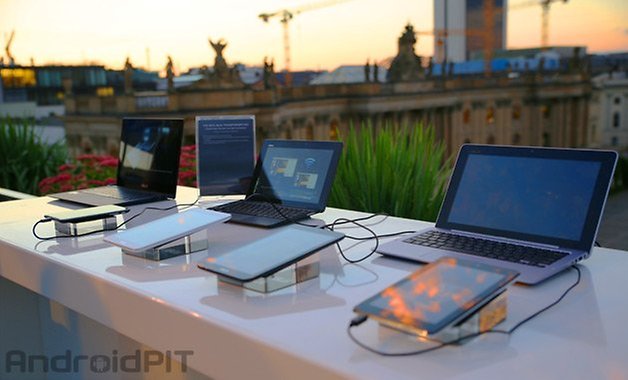 Hotel de Rome in Berlin Mitte, 15:30 – my colleague Isabel Valencia and I are picked up by the VIP shuttle and a whole series of formalities, small talk, hands-on tests and perks is set into play. A complete gallery of the hands-on and event pictures can be found at the end of the article.
First the work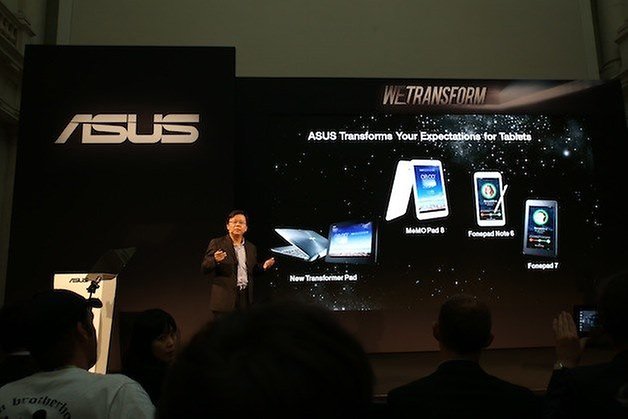 First off, there was a Meet and Greet with the Asus PR people in the hotel lobby with orange juice and champagne. The press conference was a real media circus. Big players of Asus product management used hyperbolic sentences in describing their newest products: ''We transform our expectations of...'' was their repeated slogan. The Wi-Fi connection, just like at the Samsung Unpacked 2 event attended by our Editors Loie and Camila, was horrendous and pretty much non-existent, exactly like Asus rep's fluency in English. Thankfully, with a lot of imagination I could make out what they were saying with charades.
Then the most interesting part came: being able to get our hands on the devices, which turned out to be total anarchy. First come, first served. Bloggers and journalists had to use this hectic time to get a device and do hands-on videos, as well as do some short interviews, write articles and send all of their material via their Mac Book Air to their home editorial team. Three important devices were presented:
Fonepad Note 6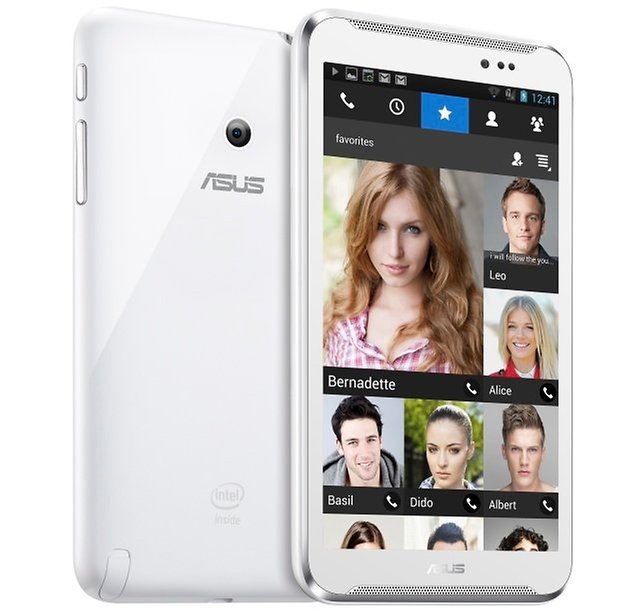 This is Asus' attempt at building a type of Galaxy Note, but unfortunately it doesn't give off the same high quality look. It feels really thick and clunky and with its glazed plastic finish as the main choice of material, looks really cheap. A few differentiating design elements are the prominent front-facing speakers, which is likely to have been borrowed from the HTC One. The device comes with a stylus, though without a soft tip, meaning we could hear a clicking sound every time it touched the screen and I was constantly worried that I would scratch it. Unfortunately, this pen element was also quite cheap. On the other hand, the system ran smoothly and the price is set a lot lower than the Galaxy Note. The Fonepad Note 6 serves its purpose as a money-saving alternative.
Fonepad 7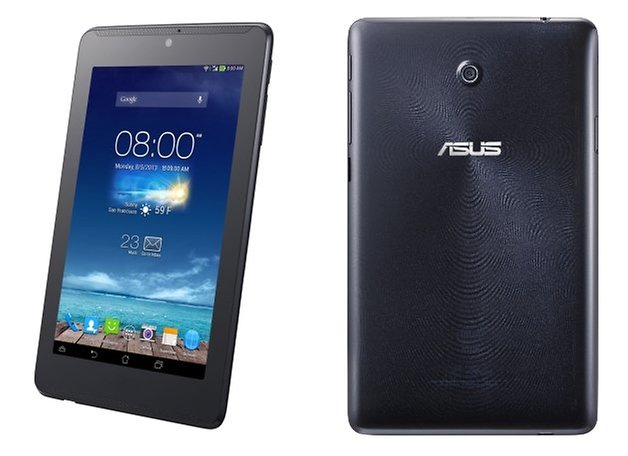 Like the rest of the Asus tablets, the Fonepad 7 is quite sleek and has learned a thing or two from the noticeable speaker found on the HTC One. From a design perspective, it's most similar to the Fonepad Note 6 than the rest of the portfolio. The display is found on a tapered bezel which creates relatively sharp corners. The rear side is rounded and matte, which also appears to be a little cheap-looking due to the slightly glittering material. What really stood out to me is the fact that the Fonepad 7 ran more fluidly than the other tablets, though this was no hard chore to do. Just like with the Fonepad Note 6, Asus tried out a serious new look which is strongly reminiscent of the HTC One.
MeMO Pad 8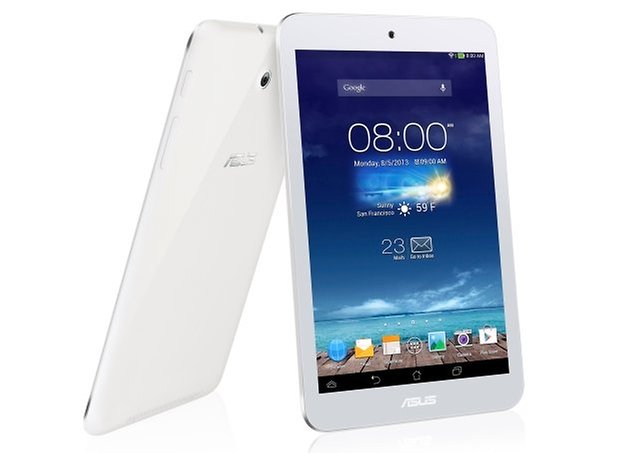 My first impression of this was quite positive as it didn't give off the same cheap look and feel of the previous two offerings. In terms of design, it reminded me a lot of the Nexus 7, especially with the rounded buttons. But when taking a closer look I was able to see an irregular gap between the front and back panels, which means that the craftsmanship isn't very clean. In fact, this device could be easily split with just a little force. It was the same story with the MeMO Pad 10 as well. The system was obviously glitchy and despite not having any apps open, worked quite slowly.
| | | | |
| --- | --- | --- | --- |
| | Fonepad Note 6 | Fonepad 7 | MeMO Pad 8 |
| Display | 6-inch, 1920x1080 pixel Super IPS+, 367 ppi | 7-inch, 1,280 x 800 Pixel, IPS, 216 ppi | 8-inch, 1,280 x 800 Pixel, IPS, 251 ppi |
| Processor | Intel Atom, Dual-Core, 2 GHz | Intel Atom, Dual-Core, 1.6 GHz | Asus Quad-Core, 1.6 GHz |
| RAM/Memory | 2 GB / 16 GB | 1 GB / 16 GB | 1 GB / 16 GB |
| Camera | 8 MP (back), 1,2 MP (front) | 5 MP (back), 1,2 MP (front) | 5 MP (back), 1,2 MP (front) |
| Connectivity | Bluetooth 3.0, Micro-USB, Micro-SIM, GPS, WLAN | Bluetooth 3.0, Micro-USB, Micro-SIM, GPS, WLAN | Bluetooth 3.0, Micro-USB, Micro-SIM, GPS, WLAN |
| Dimensions | 164.8 x 88.8 x 10.3 mm | 196.6 x 120.1 x 10.5 mm | 212.4 x 127.4 x 9.95 mm |
| Weight | 210 g | 340 g | 350 g |
| Battery | 3,200 mAh | 3,950 mAh | 3,950 mAh |
| System | Android 4.2. Jelly Bean | Android 4.2 Jelly Bean | Android 4.2. Jelly Bean |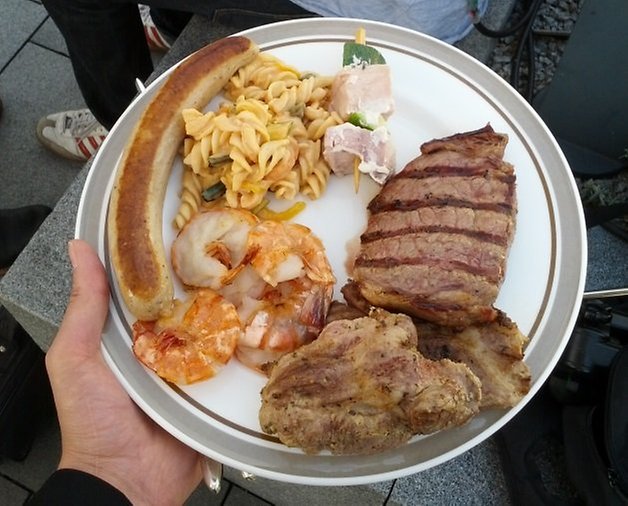 That was the work part of the event anyway, then came the pleasures of the evening, where there was a lot of networking involved. On the rooftop of the hotel, we were served an opulent buffet and sat on stylish seats under parasols. The devices were also sprawled across the tables and it was a non-stop feast of entrecôtes, shrimp cocktails, steak, and real cocktails. It seemed like the money they saved on manufacturing the tablets was splurged here instead.
Bottom Line
So what is there left to say? The entire atmosphere of luxury and exclusiveness and the exquisite food couldn't hide the fact that Asus wasn't able to produce devices of high caliber and really don't stand a chance next to other high-class devices like Nexus smartphones and tablets. And it leaves us wondering why? It's all fine and dandy if they choose to provide cheaper alternatives to the top tablets on the market – and this is indeed what the devices are – but I can't really fathom why one would buy these over other tablets. Asus will have a hard time making its place in the market and scoring big. Even if the press event put on by the Taiwanese company pulled out all the stops, it really was just a cover-up show which won't suffice to hide the reality of these devices to consumers.