The Verizon 4G LTE Network is Two Years Old Today It's been two years since the inception of Verizon's 4G LTE network. They seem to be celebrating openly about it, and released a few key figures and stats detailing current LTE coverage.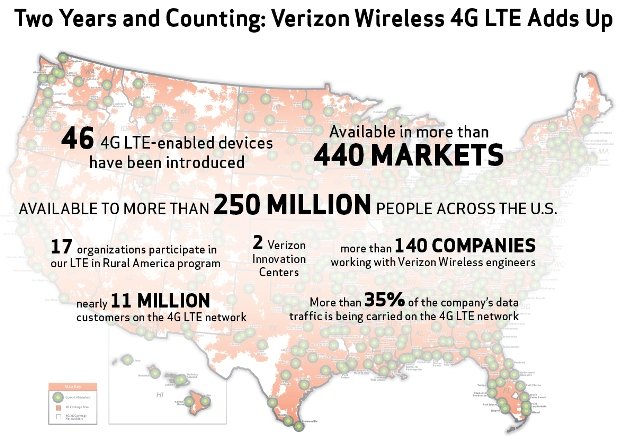 Did you know that Verizon 4G LTE sees coverage in more than 440 markets worldwide and is available to more than 250 million people across the US? I didn't either.
Verizon estimates that nearly 11 million customers use the 4G LTE network on a daily basis. Here is what Verizon has to say about the memorial event:
4G LTE wireless networks mean that what was once considered only in the realm of desktop computers – or someone's imagination – is now seamlessly mobile. Video is now available from anywhere with mobile streaming. Whether it's watching user-generated clips, favorite entertainment programs or video chatting with friends and family, the growth of 4G LTE has changed the way we watch and share video. Games can support better graphics and multiplayer options over 4G LTE, and users can take advantage of smart accessories like the Helo TC Touch Controlled Helicopter, a helicopter controlled through a smartphone application.

Conducting business as well from a smartphone or tablet, or using a mobile hotspot to connect other devices to a Wi-Fi connection, is increasingly common as entrepreneurs, real estate agents and traveling healthcare professionals can stay in touch with clients and the home office from anywhere. Small business owners are not only sending email and graphic-rich presentations over 4G LTE from moving trains, airports and other locations away from the office, they can also promote their companies effortlessly and instantly through social media accessed and managed on the go.

Connected devices, including solutions that monitor home utilities and security, mobile payments and shopping, and vehicle diagnostics, are becoming part of the everyday personal smartphone portfolio.
The changes in our mobile lifestyles since the introduction of 4G LTE in just the past two years are worth celebrating, and the advancements on the horizon are equally exciting.
I currently have service through Verizon, and I use 4G LTE every day. I can attest to the fact that it has helped more people conduct business right from their mobile devices. Personally, I start my mornings doing most of my work on my phone, especially when I'm sitting around waiting for my class to start.
The main thing I'm trying to say here, is that I salute you 4G LTE network for all that you bring to the table, or tablet (wink wink). If you're a Verizon customer also, be sure and take a moment to honor the network you call home- at least before your battery life dwindles down to nothing.