This Fake Galaxy S3 Looks Just Like the Real Deal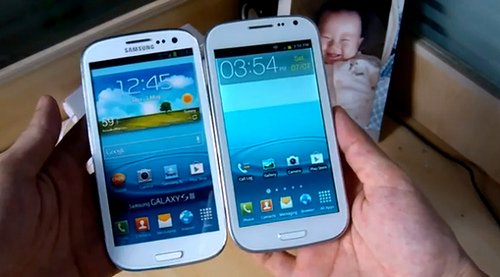 This Samsung Galaxy S3 clone looks just like the real thing and costs about half of what you'd pay for the real version.
A Chinese vendor by the name of China E-Cart is selling a $273 Galaxy S3 knockoff with a 1280x720p display (not Super AMOLED), 8MP back camera, 1.3MP round front, 1.2 GHz dual-core MT6577, 1GB of RAM, GSM radio, 16GB of internal storage running Android 4.0. In case you're wondering, those specs are nearly identical to those of the Galaxy S3 (minus the Super AMOLED).
But what I find even more incredible is how similar these devices look to the real thing. Just look at the picture of the aformentioned model side-by-side with an even cheaper clone on the right. Can you tell these two apart from the real deal?
China E- Cart is selling the higher-end model from their store and they ship internationally. Given the global shortage of Galaxy S3 smartphones, this sounds like a smart business plan...except for the whole stealing part.
Would you ever buy a budget knockoff?